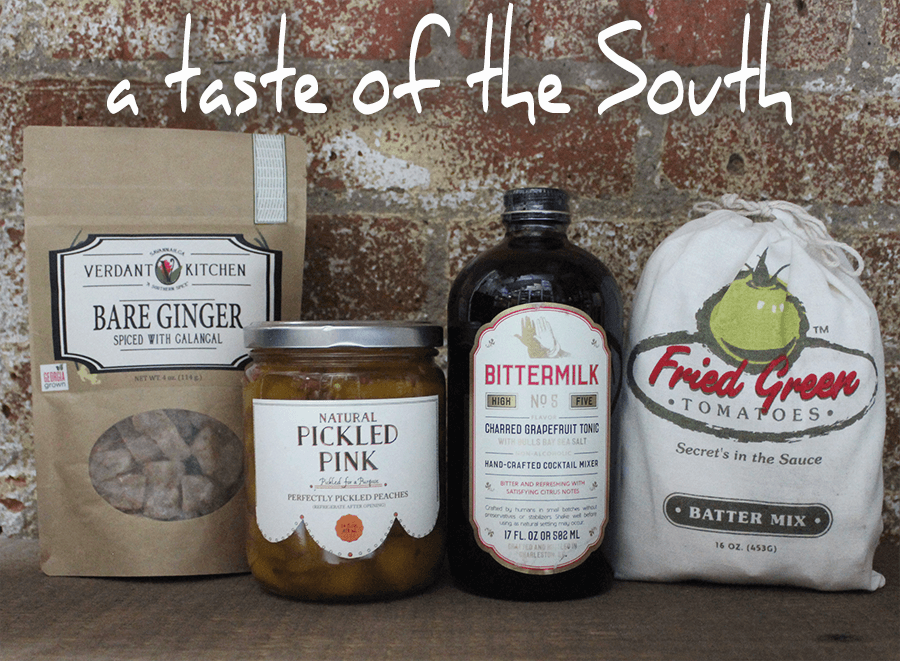 Hospitality, cooking and deep roots are entwined in the South. In the languid summer, slower is better, an idea foreign to Yankee sensibility though we'd do well to embrace it. Borne from  pride of history and place, the locavore and artisanal food movement is thriving below the Mason-Dixon.
When we exhibited at the Atlanta Gift Show we got to know the following makers and their products, all now featured in our store and on our website.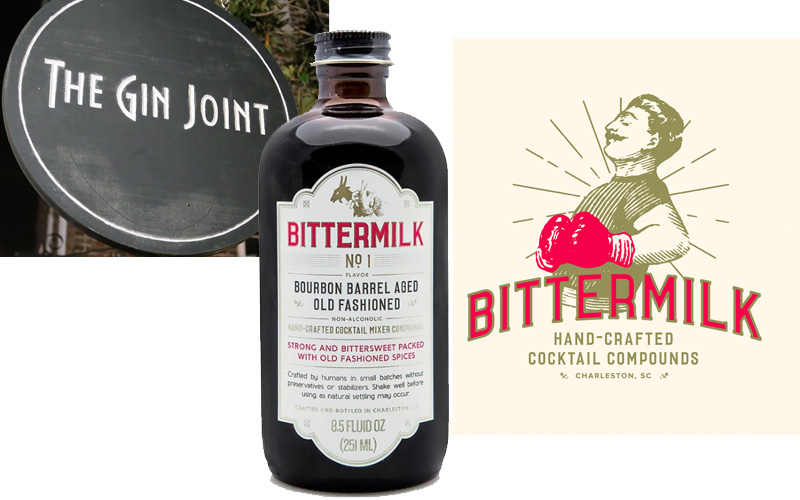 BITTERMILK Hand-Crafted Cocktail Compounds  – Charleston, South Carolina
The young South Carolinian chefs and mixologists who nod to the past while continually looking forward mark Charleston, South Carolina as the Brooklyn of the South.
Marielena and Joe Raya met at the Culinary Institute of America and opened The Gin Joint, a cocktail bar and restaurant focused on pre-prohibition cocktails, drinks known for their complexity, delicacy and labor intensiveness for even the most experienced bartender.
Frequent requests for the Gin Joint's cocktail recipes inspired the Rayas to introduce Bittermilk, a line of five hand-crafted mixers and compounds made with ingredients not usually found in the home bar. Bittermilk's clever vaudevillian branding announces that while the ingredients may be serious, cocktails are not.
To the cocktail section of the store and the website we are pleased to offer:
Bourbon Barrel Aged Old Fashioned (Bittermilk no. 1) The quintessential gentleman's drink, the intensely bitter mixer contains gentian root and cinchona bark along with burnt sugar, spices and orange peel. Bittermilk takes the unusual step of aging the mixer in bourbon barrels which imparts a deep richness. Stir one part Bittermilk no.1 and four parts rye in a glass with ice.
Charred Grapefruit Tonic with Bulls Bay Sea Salt (Bittermilk no.5) 

Not your typical tonic, it combines lime and lemon juice with cinchona bark, the source of tonic's quinine, fresh grapefruit with charred skins and a touch of local Bulls Bay Saltworks sea salt to pull out savory caramel notes. The Rayas suggest equal parts Bittermilk no.5, a light spirit and soda water over ice.
Each allows you to make multiple cocktails and are great to have in the pantry for company and are $18. 

FRIED GREEN TOMATOES – Old Hickory, Tennessee
The ultimate regional food in the eyes of Northerners and Southerners alike, Nashville-based Fried Green Tomatoes does one thing and well. Fans and home cooks asked proprietress Holly Gatlin Cooper to package the batter mix and dipping sauce from her namesake food truck, which she did in 2015. We are thrilled to bring a taste of Tennessee to New York City.
To the Fried Green Tomatoes Batter Mix of cornmeal and spices, the home cook need only add buttermilk and green tomatoes (unripened red tomatoes.) Use the mix to batter and fry anything – zucchini, okra, pickles (try Pickled Pink's "Sweet Gourmet Pickles") or fish.
Dip your creation into  equally revered Fried Green Tomatoes' Secret Sauce, a blend of lemon juice, spices, horseradish, Worcestershire, onion and parsley to which you'll add mayonnaise and sour cream. Batter Mix is $8.95 and the Secret Sauce mix is $3.50.
 
PICKLED PINK – Roswell, Georgia
Of the two or three things they know for sure, Southerners swear by sweet tea and vow anything can be pickled. While the Atlanta-based company is only three years old, it was founded to reintroduce to the world proprietor Charlie Stephenson's ("The Big Pickle") 110 year-old family recipe.
The proprietors suggest pairing the pickles with any grilled protein, in salads and sandwiches, paired with pimento cheese and even as a dessert topping!
Committed to its community, Pickled Pink donates a portion of all sales to a local hotline for troubled teens and only uses packaging made in the U.S.
Among the Pickled Pink offerings we feature in the store:
Spiced Watermelon Pickles  Watermelon rinds tenderized in a brine in a spice blend of allspice, cinnamon, cloves, ginger, and mustard seed.
Sweet Gourmet Pickles Thick cut, crunchy, and seasoned with mustard seed, cinnamon, garlic, cane sugar, and black pepper. Fry 'em up using Fried Green Tomatoes  batter and dipping sauce.
Perfectly Pickled Peaches, We're pleased to be the sole New York City vendor of Pickled Pink's newest creation.
Each jar is available is available in a 16-ounce jar are $7.50-$9.50.
We've created a charming hostess gift Picked for A Purpose ($49) featuring three 16-ounce jars of Pickled Pink products presented in a woven, lidded basket.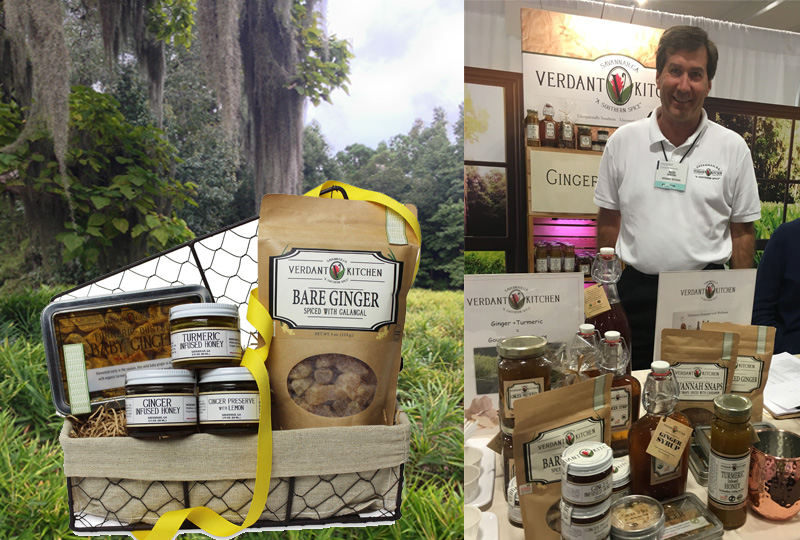 VERDANT KITCHEN – Norcross, Georgia
In the loamy, Lowcountry dirt near Savannah Georgia, Verdant Kitchen has successfully farmed 1,000 organic acres of ginger and turmeric, a member of the ginger family. Ginger is a particularly finicky crop; most of the spices consumed in the States are imported from southern Asia where pungent ginger and the earthy, peppery flavor of turmeric are prominently featured in both cuisine and in tea and holistic remedies.
Australian expat Ross Harding recognized that Savannah, Georgia's climate and sandy soil were similar to his native Brisbane where ginger crops flourish.
In the store we have introduced:
Bare Ginger, soft, young ginger dusted in galangal, a Thai ginger. We like to eat it straight from the bag, but it would be a terrific addition to salads. Each four-ounce bag is $8.95.
Turmeric Dusted Baby Ginger handsome windowed tins of soft ginger pieces dusted with organic turmeric. It is a healthful and easily portable snack, but would also pair beautifully with cheese and yogurt. Each tin is $9.95.
Ginger Infused Honey and Turmeric Infused Honey little jars of local wildflower honey that have been deeply flavored with Verdant Kitchen's organic crops. The ginger honey is ideal in tea, over fruit, with cheese or as a glaze. The turmeric honey has a warm yellow hue and adds a sweet wellness boost to smoothies. Two-ounce jars are $5.95. The turmeric honey is also available in a larger eight-ounce bottle for $18.
Ginger Preserve with Lemon the kick of ginger, the sweetness of molasses and the sour tang of organic lemon. Ideal for toast, ice cream or as a glaze on a fruit tart. Each two-ounce jar is $5.95.
We have also created the Verdant Kitchen Ginger Gift ($65) in a rustic wire lidded hamper that includes Verdant Kitchen's infused honeys, lemon ginger preserves and turmeric dusted baby ginger.
---
We loved our most recent time in Atlanta and Charleston and celebrate those times with the above along with more that is in-store. If you are able to plan a visit, you should (and when you do, we're happy to share dining and shopping recommendations). We very much like the above product lines based on their stories and their ingredients and take pride in including them in our assortment. Visit our New York City store or order online to treat yourself or your family and friends. As with most things Southern, these creations evoke sentimentality – even if you've never been down south – and warmth that can even charm New Yorkers.