Since so many of us are working from home these days, it is the perfect time to expand your skills as a home chef. We recently began importing products from the Belazu Ingredient Company, which specializes in Middle Eastern and Mediterranean ingredients such as harissa and preserved lemons. While these ingredients are not that common in our country, they are great ways to create simple flavored-packed dishes and do it with a minimum of fuss.
Harissa and preserved lemons are condiments common in cuisines of North Africa and the Indian subcontinent. Harissa is a paste made from chili, garlic, oil, and other spices. We are importing three different Belazu harissa recipes: Rose Harissa, Apricot Harissa, and Smoky Chilli Harissa. Preserved lemons are simply lemons preserved in a salt brine so that the entire lemon is edible minus the seeds. They add an intense lemony salty flavor to foods that go well with savory dishes. The Belazu Beldi Lemons are a bit smaller than others and have less peel or pith.
Here are a few recipes to whet your appetite for these ingredients.
Burrata or Stracciatella Cheese with Preserved Lemon & More
David had this in a restaurant in Greenpoint Brooklyn last year named Chez Me Tante and was amazed at how good this unlikely combination tasted. Stracciatella (or Burrata which is more easily available) cheese with Marcona almonds, preserved lemons, and currents, served with garlic-rubbed bread is a combination of different flavors that somehow meld beautifully together. He has recreated this many times and has included capers and roasted red peppers a little bit of fruity olive oil. You too can be creative with this combination.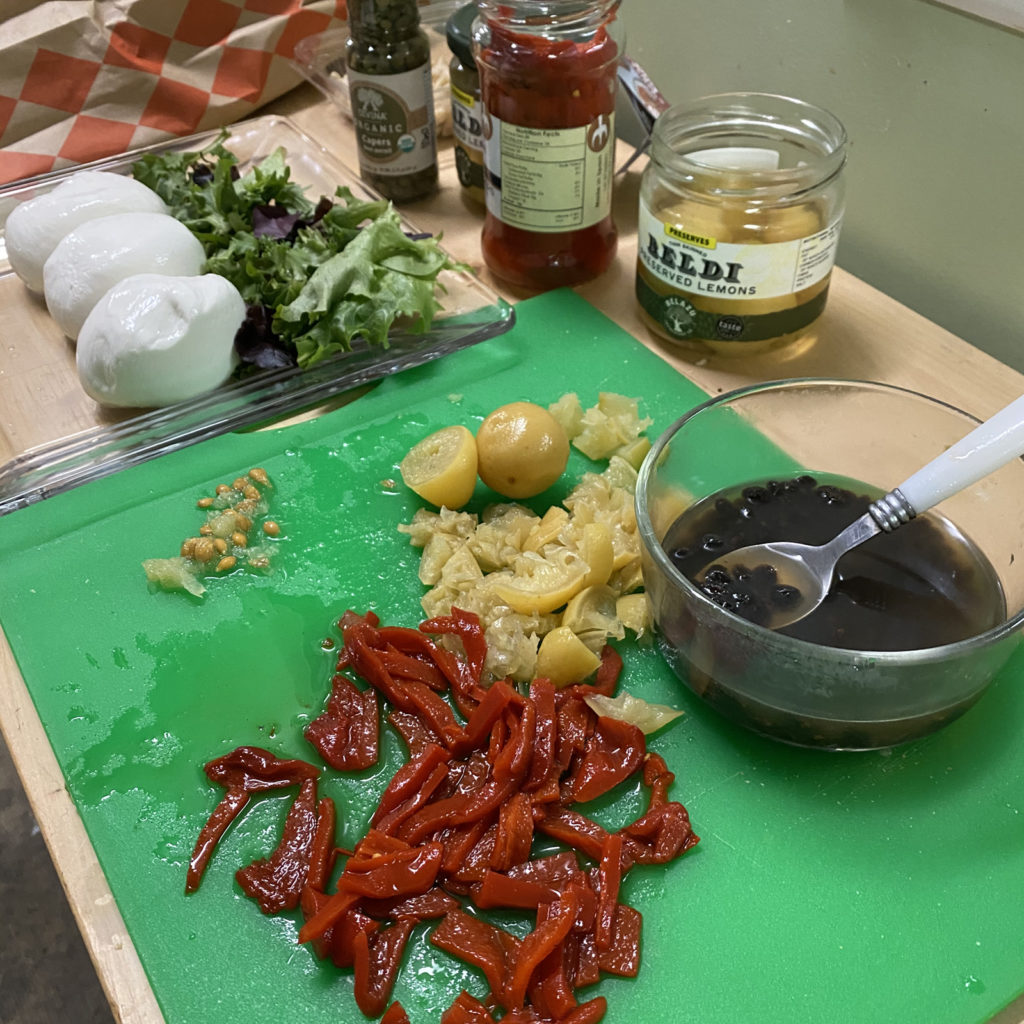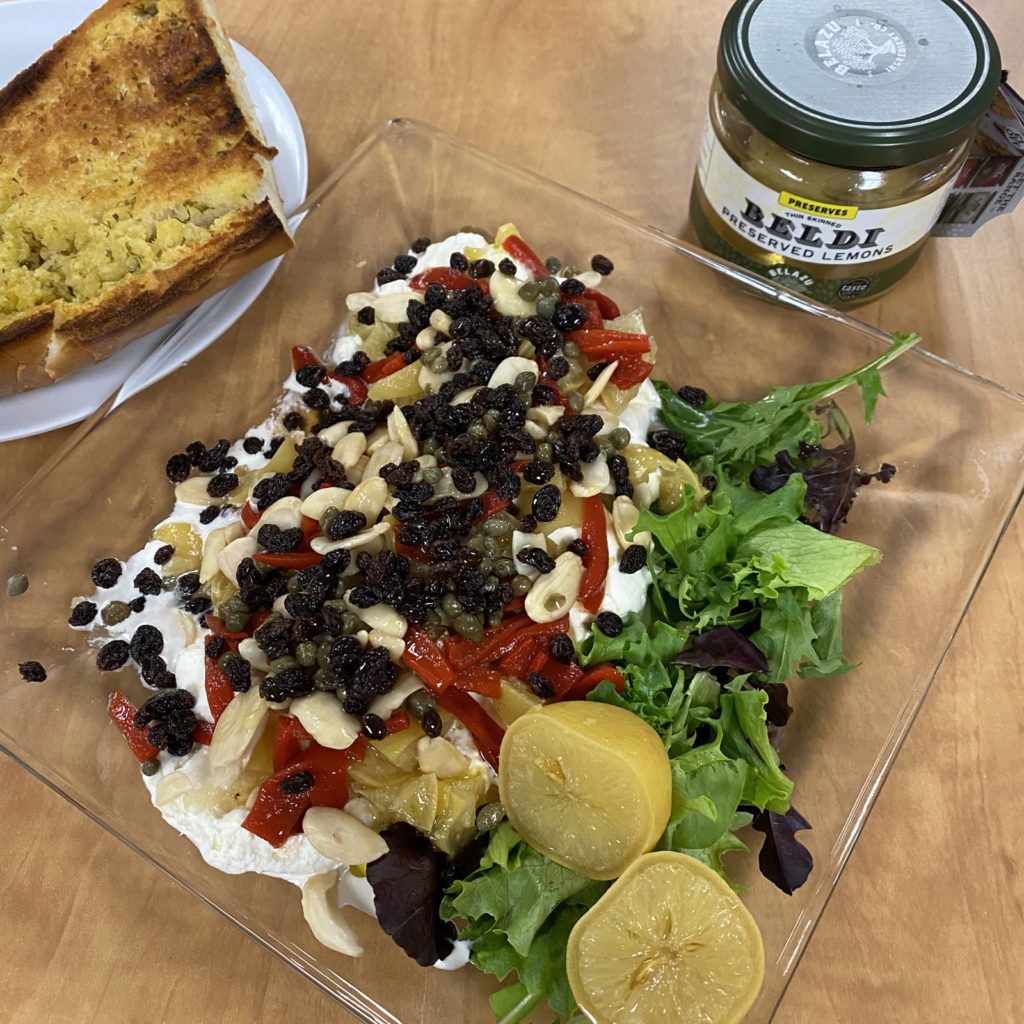 Burrata or Stracciatella Cheese 8 oz
3 tablespoons of dried currents plumbed in some hot water, drained
1/4 cup Marcona almonds
3 or so Belazu Preserved Lemons chopped coarsely without seeds
2 tablespoons Olive Oil
1 or 2 cloves of garlic for the bread
To add more flavors, add roasted pepper strips, and capers.
Assemble in layers and pour olive oil over the top. Serve with toasted bread rubbed with garlic and enjoy as an appetizer.
Beef Steak with Harissa with Tomato, Pepper, and Lemon Sauce
This is preparation is based on a recipe in the sophisticated cookbook SIMPLE by Yotam Ottolenghi (page 224). In this recipe, Rose Harissa is used to marinate the steak. We cooked the bells peppers and steak on the grill and it worked out very well and we were able to do everything in about 40 minutes. The harissa gave the steak a herbal flavor with very gentle heat. The tomato sauce made with yellow peppers and preserved lemon was the perfect complement to the steak and made for a very delicious low-carb dinner. The acidity of the preserved lemon in the tomato mixture added an unexpected flavor that really added to flavors of the grilled steak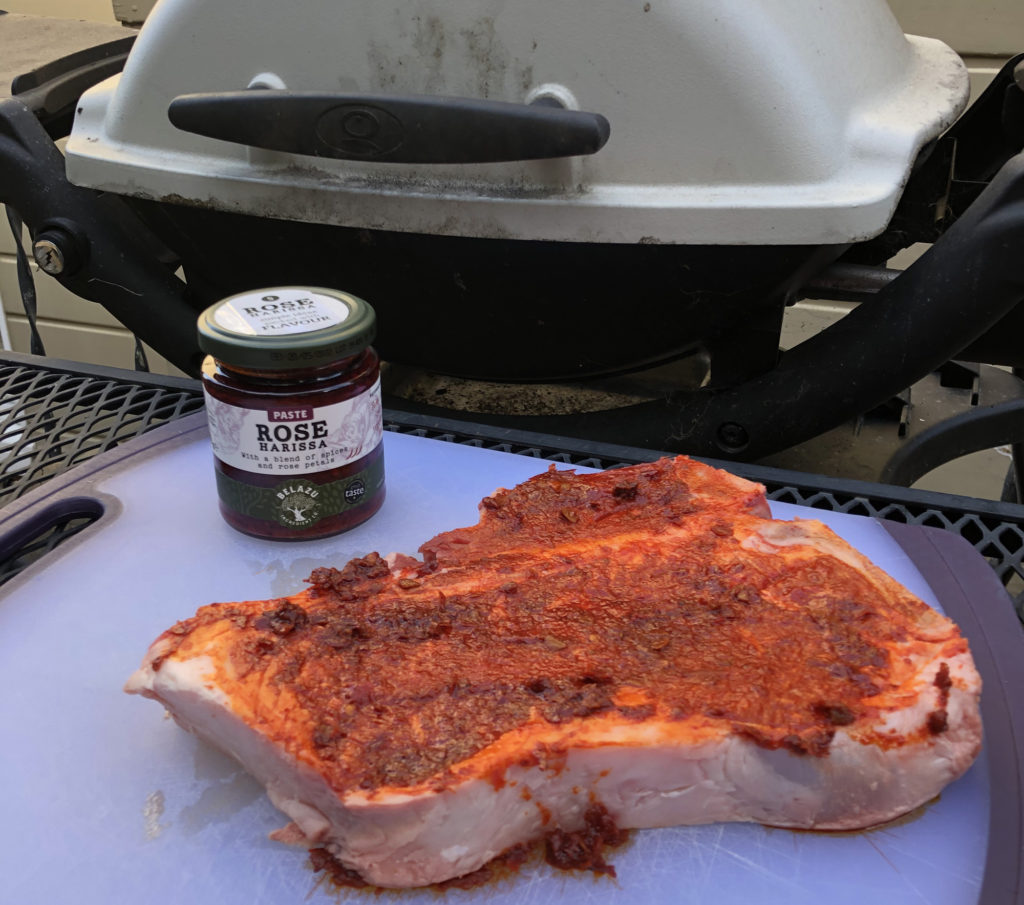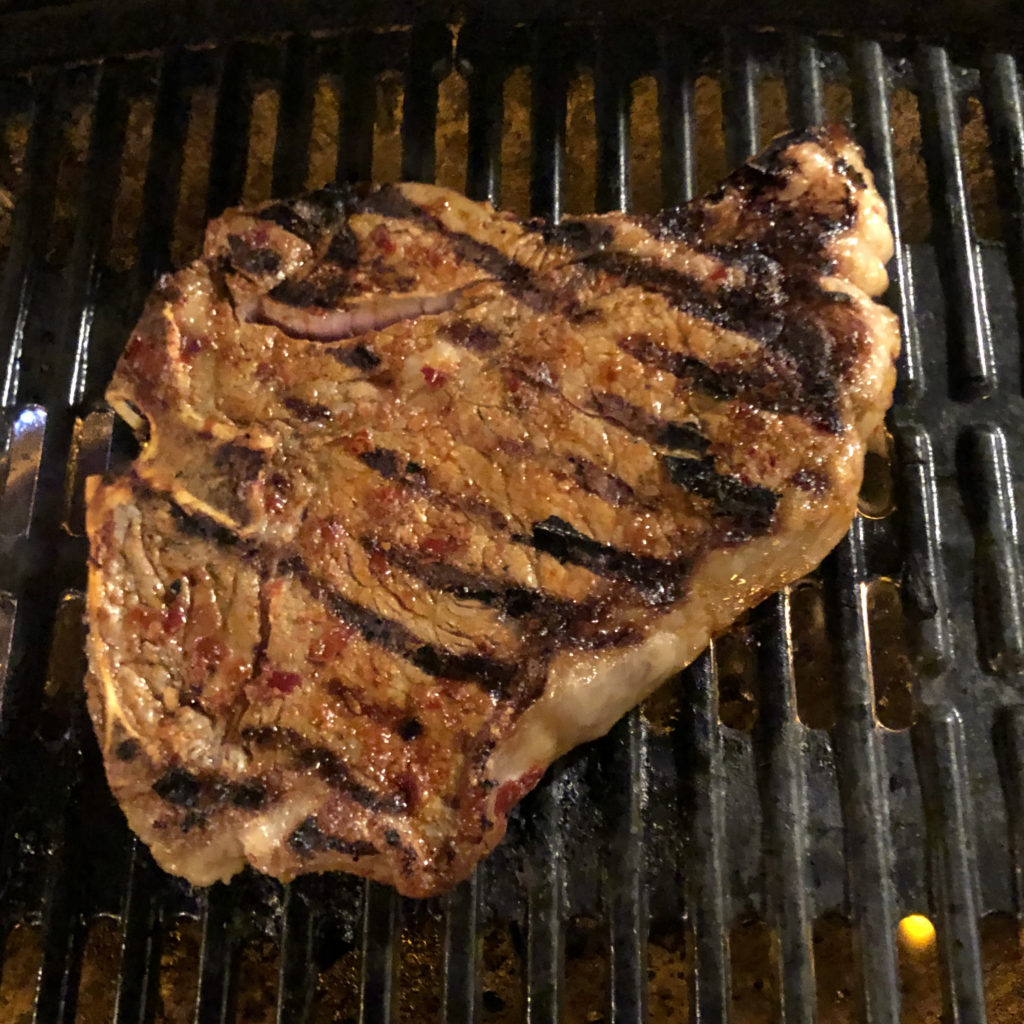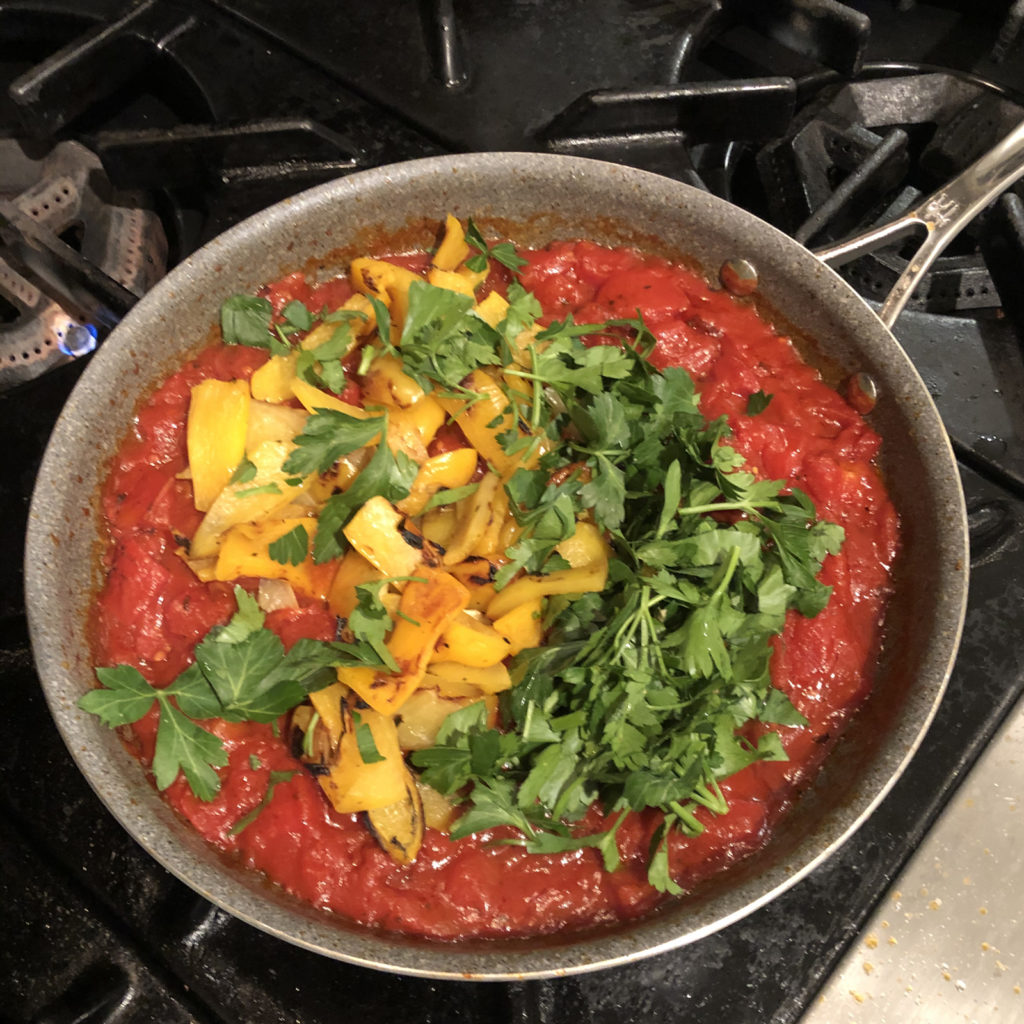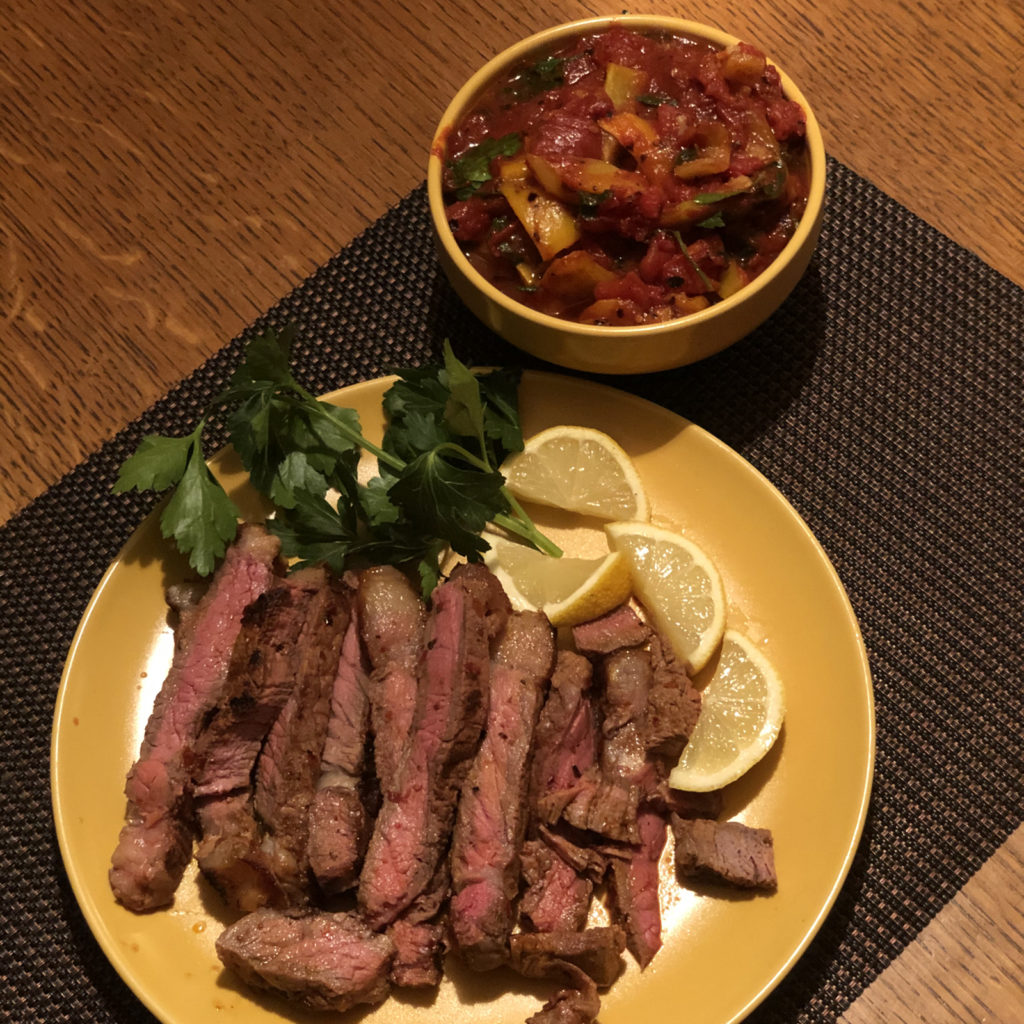 Beef Steak – 1-2 lbs
1 tablespoon Belazu Rose Harissa
Sea Salt and Black Pepper
2 Large Yellow Bell Peppers cut into wide strips
2 tablespoon Olive Oil
1 garlic clove
1 28oz can of diced peeled tomatoes
0.5 teaspoon paprika
1 small preserved lemon with seeds removed
0.5 cup of chopped parsley
1 lemon sliced for serving
Salt and pepper and steak and rub on Belazu Rose Harissa and let it marinate in the refrigerator for at least 8 hours.
Grill the yellow bell peppers for about 10 minutes so the skin is charred. Once cool, remove the charred skin from the peppers and slice into small pieces.
In a medium frying pan fry the garlic in olive oil for a few minutes. Add can of tomatoes with juice, paprika, and salt and petter. Cook for 7 minutes
Add peppers, preserved lemon and chopped parsley to the tomato mixture and cook for another 7 minutes.
Grill the steak for about 5 minutes on a side to medium-rare. Let the steak rest for about 5 minutes.
Slice the steak and serve with the tomato mixture, garnish with fresh lemon.
Roasted Eggplant Shakshuka with Belazu Smoked Chilli Harissa
This recipe is based on a recipe from the cookbook East Bay Cooks (page 150) by Carolyn Jung and originates from the spice aficionados behind the outstanding Oakland Spice Shop. Shakshuka is a middle-eastern dish that includes poached eggs and is usually made with bell peppers but this recipe uses eggplant instead. This dish makes for a simple one-skillet vegetarian dinner or a flavorful brunch dish. We prepared this dish with Belazu Smoked Chilli Harissa instead of making the harissa chili paste from scratch as outlined in the cookbook recipe.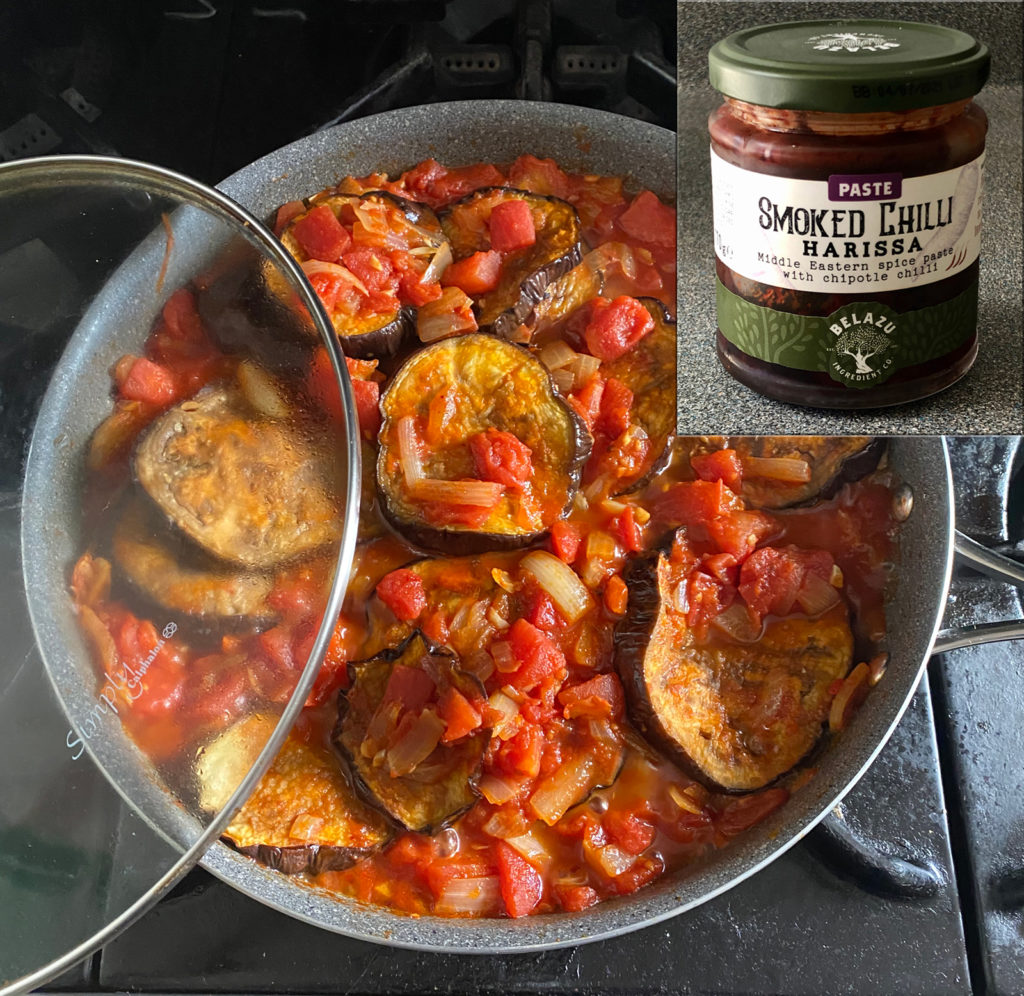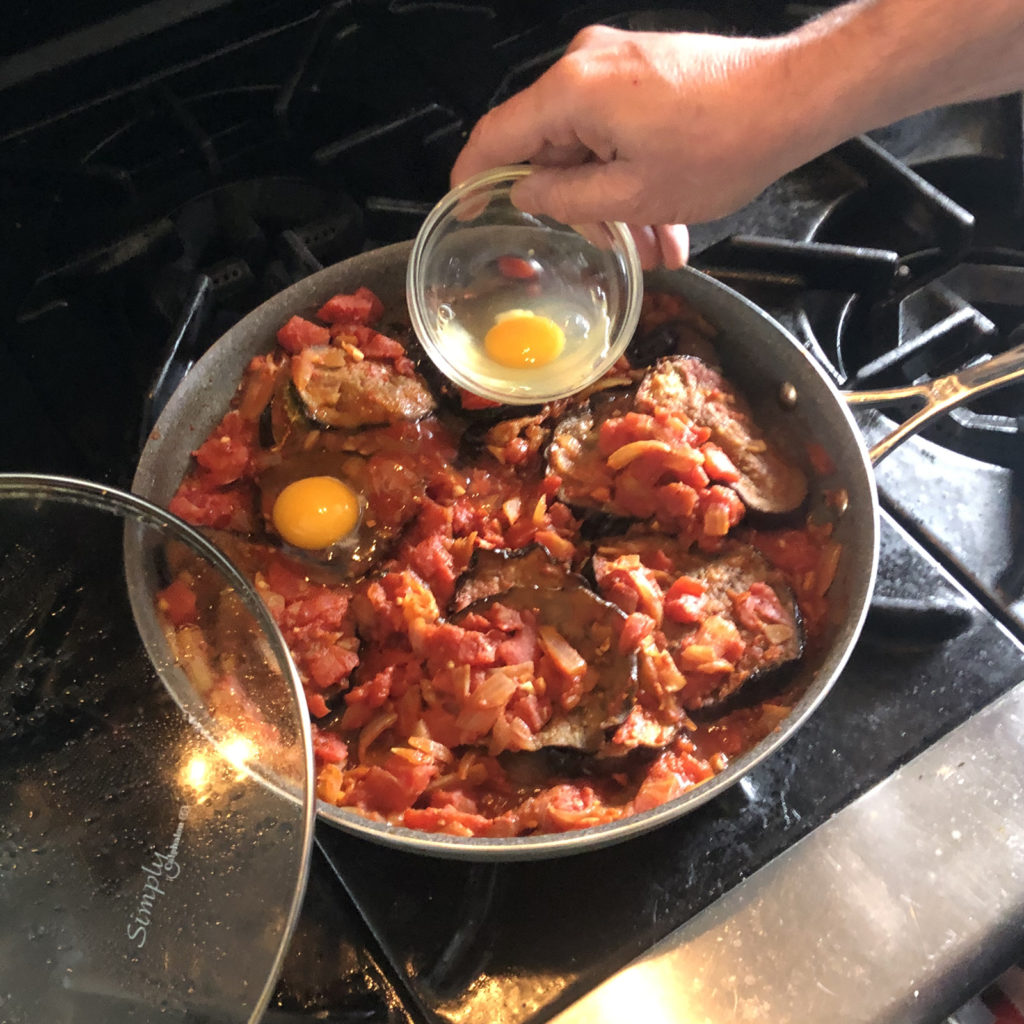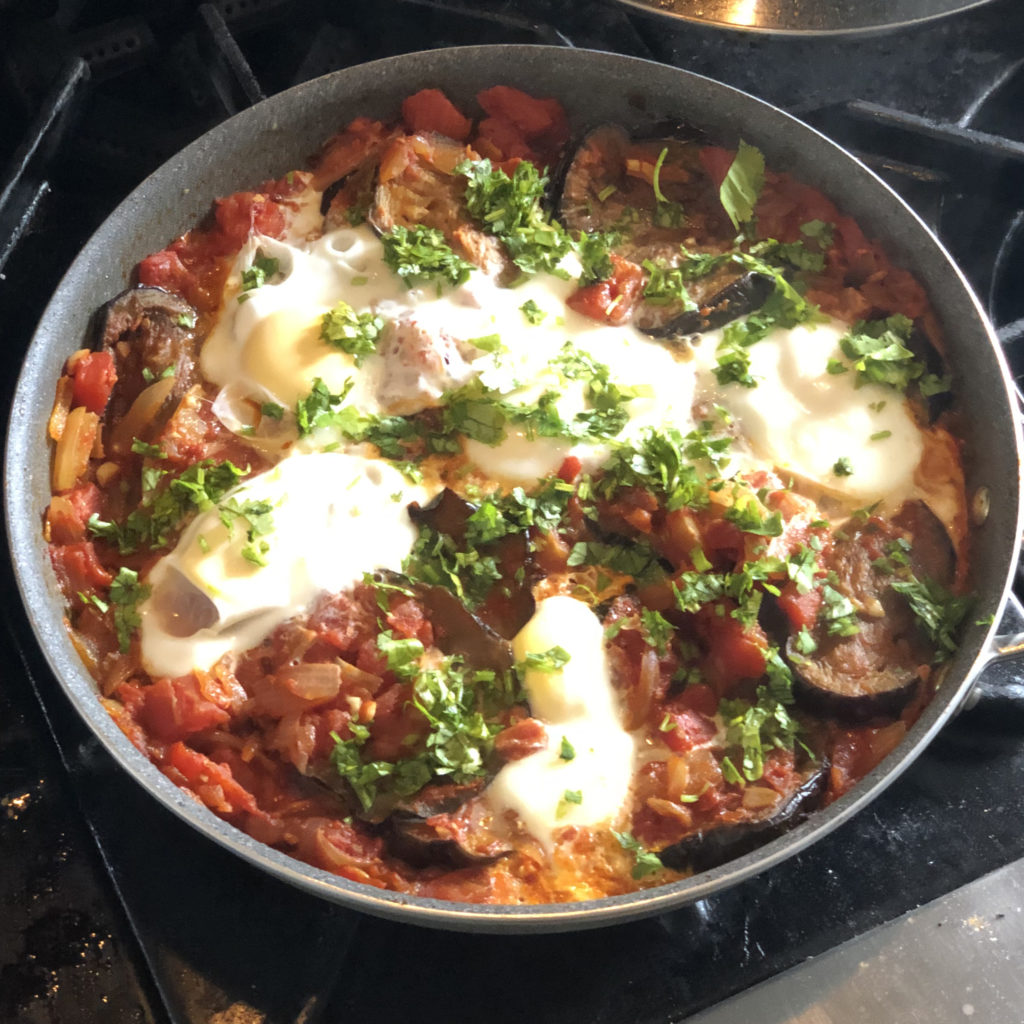 1 large eggplant
2 tablespoons of olive oil
salt and pepper
1 onion finely chopped
2 cloves garlic, finely chopped
2 Tablespoon Belazu Smoked Chilli Harissa
1 large can of peeled and diced tomatoes
4 large eggs
Cilantro leaves for Garnish
Slice the eggplant into 0.25-inch slices. Salt the eggplant slices and let it sit for about 20 minutes and drain. Rinse the salt off the slices and pat dry.
Preheat the oven to 400 deg Fahrenheit. Brush the eggplant with olive oil on both sides and place slices on a baking sheet. Bake the eggplant for about 8 minutes on either side.
Heat 2 tablespoons of oil in a large skillet. Add slides onions and garlic and cook for about 5 minutes. Add tomatoes, eggplant, and Belazu Smoked Chili Harissa. Simmer covered for about 20 minutes.
Make four indents in the sauce, and carefully add eggs to each, and salt each egg. Simmer covered for about 3 minutes until eggs are poached but still have runny yolks.
Garish with cilantro and serve with crusty bread.
These recipes are just a tease for these ingredients, there are many uses and they are very easy ways to add flavor to all sorts of dishes. Harissa is a versatile ingredient to add to roasted veggies such as carrots or to make a fast and hearty chicken stew in the Instapot.
Curious to learn and taste more? Stop by our store or order Belazu products online from our website.