Chelsea Market Baskets was started to pursue foods that taste good, and although we primarily sell gifts online and have an urban general store in Chelsea Market, we're always looking for great-tasting products to share by offering them in our store and to our online customers. This is my seasonal review of what is cooking so to speak for this summer. Here are several products and brands that stand out for summer 2021.
Pickled Pink and especially their Spiced Watermelon Pickles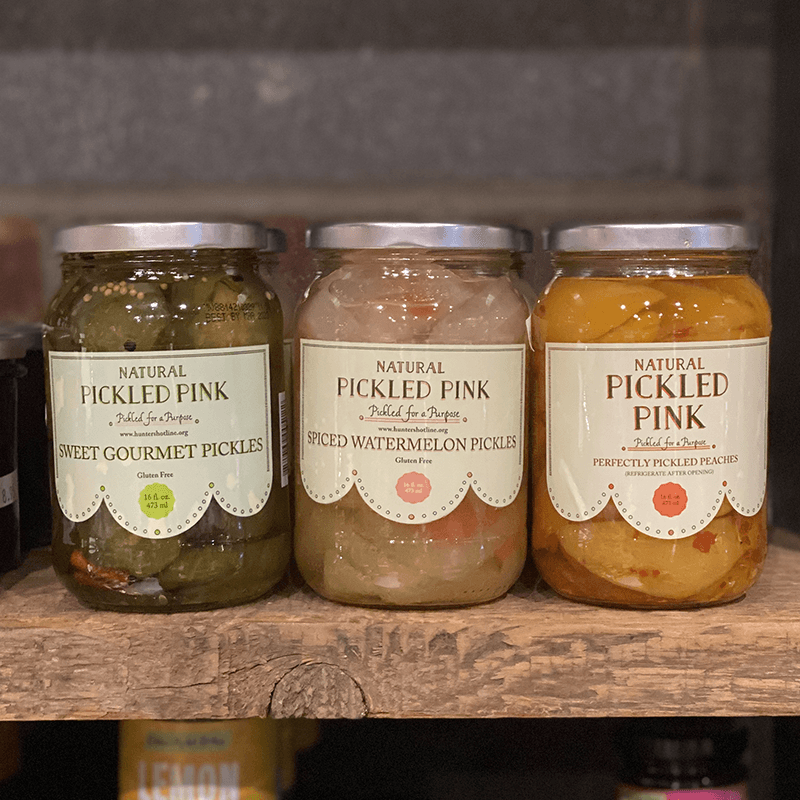 This very southern company was started by two old friends in the south based on a family recipe for spiced watermelon pickles. It is labor-intensive to cut watermelon rind, hence it is a hard-to-find product in modern times. All their pickles, and this one, in particular, have the right amount of savory and sweet seasoning and make for a perfect addition to a picnic and an outstanding complement to cold fried chicken. Their bread and butter pickles along with their pickled peaches, all taste like good comfort food from the old American South. View Pickled For A Purpose- Pickled Pink Gift.
American Spoon Foods & their BBQ Sauces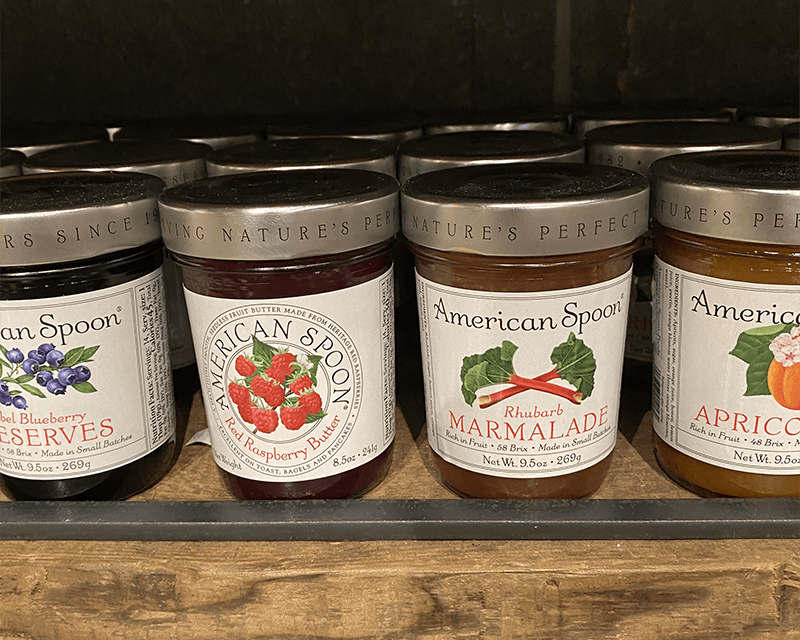 Strangely, the search for good BBQ sauce takes us to Michigan, the home of American Spoon Foods started by Marc Fagione's father, Larry Fagione. He was the chef behind the trendsetting restaurant An American Place in NYC, a good generation ago. This iconic American Michigan company makes all its products in-house. We have carried their jams in the store for decades, including the Michigan Sour Cherry Jam and their Rhubarb Jam. Most jams that use rhubarb as a flavoring use it with other fruits, but theirs use only rhubarb. We offer their BBQ sauces online, including the Smokey, the Cherry, and the Maple Grilling Sauce. Each has a distinctive angle for this tasty and necessary summertime sauce. Whether you use them to marinade, as a finishing sauce before the food comes off the grill, or as a dipping sauce, you can't go wrong with any of them. I can't decide which one I like best; it depends on what kind of food I'm grilling and what I'm in the mood for.
Queen's Majesty Hot Sauces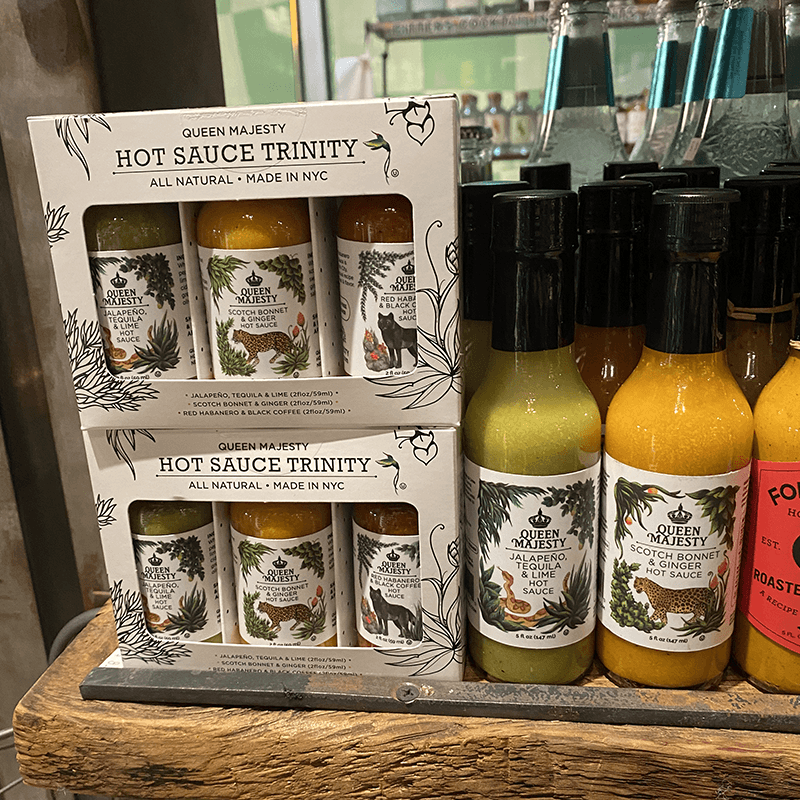 We sell lots of hot sauces in the store, but one that especially stands out and we offer online in a gift pack is NYC's own Queen Majesty Hot Sauce. This business is based in Brooklyn and was started in 2013 by Erica aka Queen Majesty. The favorite flavor is the Jalapeno, Tequila & Lime, which smells like a spicy summer breeze and is a condiment that is not too spicy hot and can lift almost anything to make a great summer fair. Try mixing it with butter and grilling corn on the cob.
Smoked Salt from Greece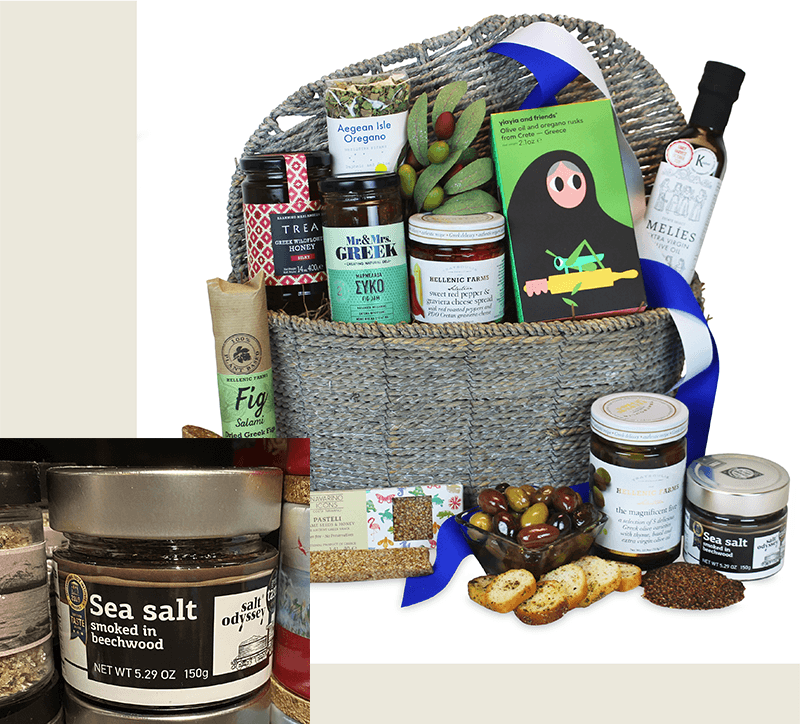 Mediterranean and Greek foods, to me, taste like Summer. I tasted a beechwood smoked salt from Greece a few years ago at a London Food Show and have finally found it here in the USA through a Greek Importer, and we now sell the salt in the store and component of our Trip To Greece gift. The gift is the perfect accompaniment to an outdoor grilling dinner. Just thinking about it reminds me of warm summer nights in Mykonos, eating freshly grilled fish with olive oil, oregano, and a sprinkle of this smoky salt. It is especially challenging now to get there but let this salt or gift help you or your fortunate friends set sail!. Our Trip to Greece Gift Hamper includes an assortment of Greek specialties that your friends can savor in different courses of a Greek dinner.
Isle of Mull Cheddar Biscuits from Island Bakery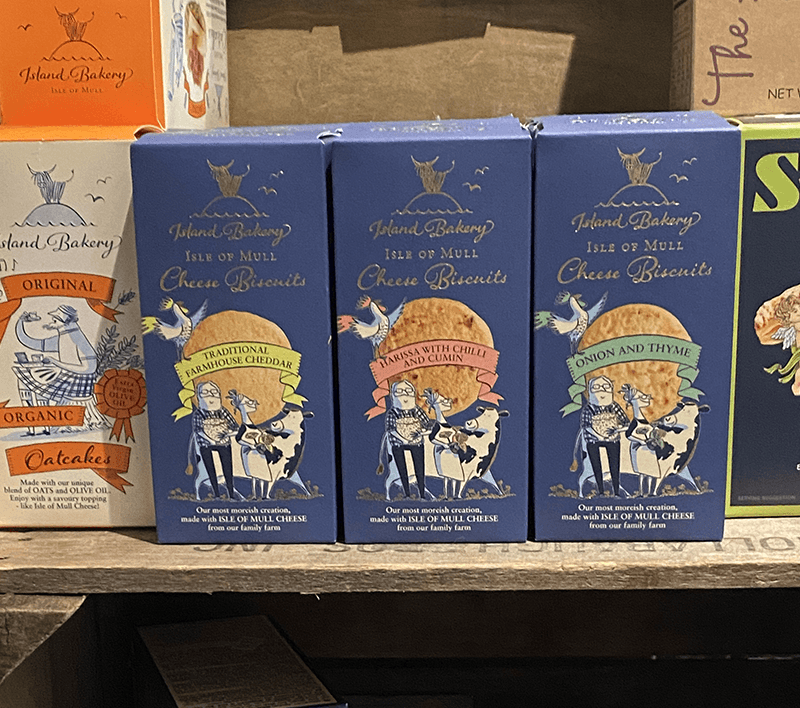 We sell lots of great cookies or biscuits, and they are good all year long, but in the summer, something savory can help make a cocktail or beer more enjoyable. The new Island Bakery Cheese Biscuits hit the spot for casual summer entertaining. These biscuits are baked by a small bakery on the Isle of Mull off the coast of Scotland. These cheese biscuits come in 3 flavors, Chili & Cumin Cheese, Onion & Thyme Cheese Biscuits, and Traditional Farmhouse Cheddar Cheese. And all are made with the award-winning Isle of Mull Cheddar Cheese, which happens to be made from cow's milk that graze just outside the bakery. These biscuits are truly a family affair, as Joe runs the bakery and his brother Brendan runs the Isle of Mull Dairy Farm. View all Island Bakery Organic Products
Ohza Sparkling Champagne Cocktails (as in Mimosa)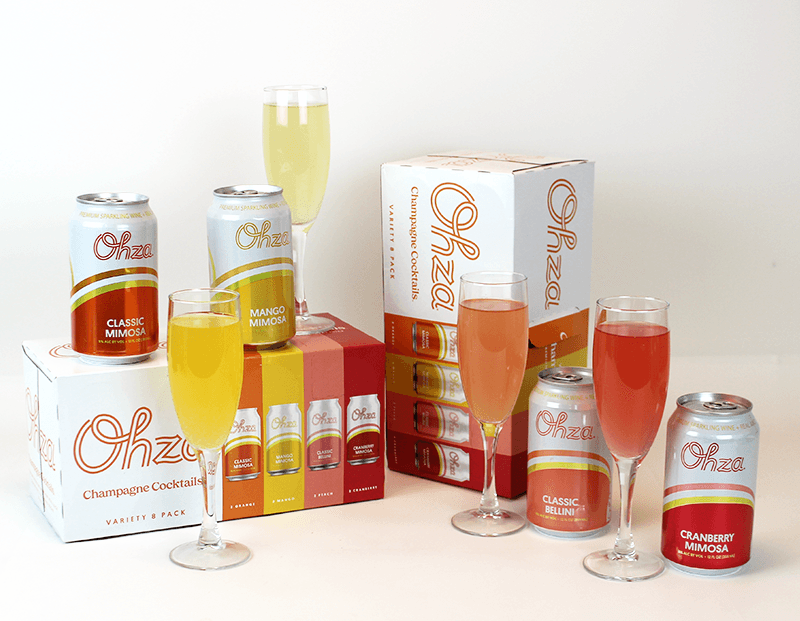 Speaking of drinks, we have lots of options, and I enjoy finding out what is new in the way of beers, ciders, and seltzers, and we have a fresh and great assortment in our store. A new line is the Ohza line of sparkling beverages. The idea for these fruity drinks appeared when 4 friends attempted to mix mimosas on a boat off the coast of Cape Cod. Besides a mess, they got the inspiration for this fruity summer drink. We are selling an assorted pack online that includes the Orange Mimosa, Cranberry Mimosa, Mango Mimosa, and the Bellini. All have 20% or more fruit juice, with less sugar and 5% alcohol. I liked the Mango, and others in the office are crazy for the Peach or Bellini. For a mere $30, you can send or stock your summer bar with refreshing summer drinks. Order online, and you can easily add the Ohza 8-Pack to our Snacker Gifts so that you can send your friends or family an instant party!
We are always looking for new and unique tastes and incorporating them into what we sell in our store, online, or as components in our gifts. On Fridays in our warehouse, we often have a staff lunch in which we try and test products we are considering. A new pastime on Fridays is to have a 5:00 pm afternoon libation and check out our bar section, Aundra in the office takes charge as captain or bartender. We often sell what we like to eat and drink, and we enjoy being busy testing and tasting products to inspire your shopping and tasting journey.