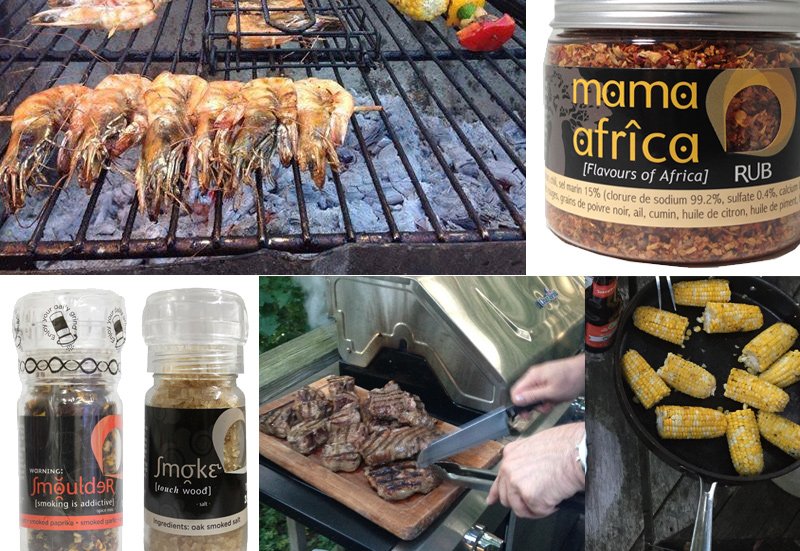 Kalk Bay is just outside Cape Town, at the southern tip of South Africa or the Cape of Good Hope, which in earlier times was the gateway to the East. Cape Town was a major port on the sea route to India where spices traveled on their way back to Europe. That tradition continued in South Africa with its multicultural people after the Dutch helped to settle it in the 1600's and developed domestic spice and herb companies. The land is large and fertile, so spice and seasonings are grown domestically and they continue to trade in spice.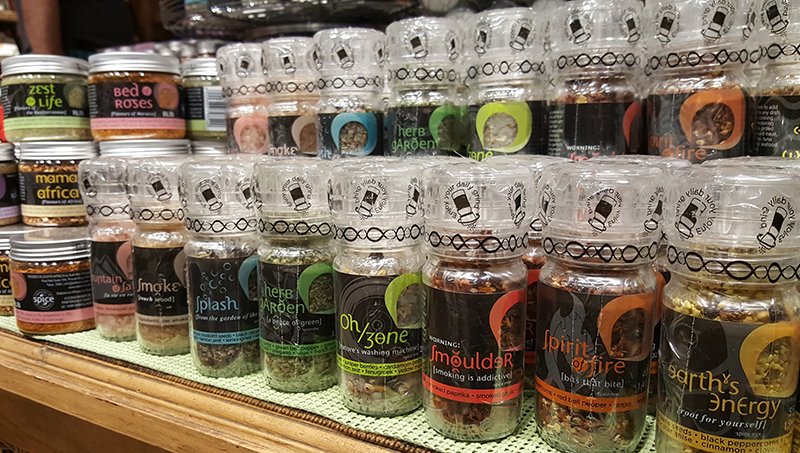 We have been importing spice grinders and rubs for well over 10 years, and the company we work with developed the spice grinder concept over 20 years ago with interesting taste profiles. They are called Elements with catchy names like Splash, Oh Zone and Heatwave. We have watched the spice grinder trend ebb and flow, and we just received a new shipment. Similar to grinding pepper, grinding quality herbs and spices fresh tableside or right on to your food, releases flavors and can easily turn a more ordinary dish into something inspired. Our customers continue to be loyal to Kalk Bay (formerly Cape Herb) products and are quick to re-order or try something new when we get a fresh shipment.
Kalk Bay Foods produces product for export to many countries and sells directly to some leading stores like Galerie Lafayette in Paris and Globus in Switzerland. They work at designing new and innovative foods that also work well as gifts. A trend that goes with South Africa and is strong worldwide including in our hometown, NYC, is smoke and BBQ. Included in our new shipment of products are grinders with Smoked Salt and Smoulder Spice Grinder which is a mixture of BBQ spices that are all smoked in a smokehouse to give a genuine flavor as opposed to having liquid smoked added. Whether you are grilling or cooking in or just using it as a finishing salt on maybe some scrambled eggs, these are a great way to add flavor.
South Africa is the home to what is called Braai or grill in Afrikaans, the Dutch-Malay-Zulu-Xhosa- English mashup language according to a recent New York Times article about South Africa, One Nation United by the Grill. Similar to the BBQ concept in the States, Braaiing can include beef, pork, lamb, chicken, seafood and vegetables, and unites all people from varying socioeconomic places and can be done over charcoal or wood. As you might expect, the food to be grilled is flavored with many spices. Braai spice rubs typically includes pepper, paprika, garlic, coriander, cumin, cayenne pepper and cloves.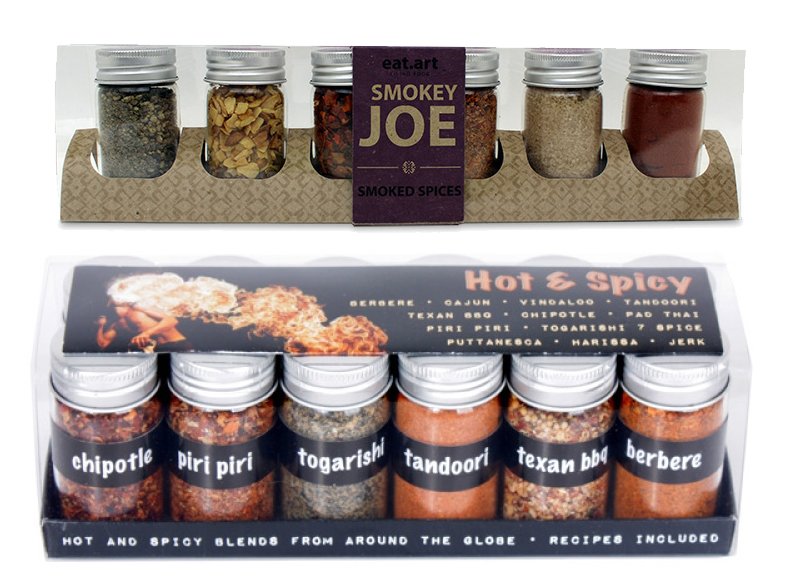 Two new gifts that take up on this concept are Smokey Joe Spice Gift ($19) that includes 6 smoked spices including salt, paprika, sweet rub, garlic, pepper and chilli flakes. And the Kalk Bay Hot & Spicy Gift ($29) that features 12 Jubes (a made up word of jars and test tubes) or little bottles of ethnic spices mixes that easily enhance and turn on a little heat  for an international summer cook-outs. Whether Harissa or Berbere, this gifts takes you on a culinary journey and includes recipes. Other destinations or mixes include Cajun, Pad Thai, Jerk, Vindaloo, Puttanesca, Texan BBQ, Tandoori, Togarashi, Piri Piri and Chipotle. All can make for a good summer vacation and you never need to leave your Weber!