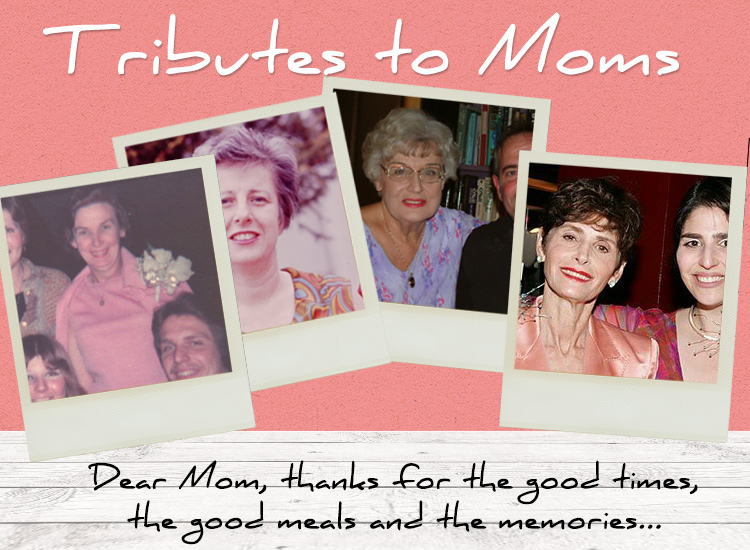 The most remarkable thing about my mother is that for thirty years she served the family nothing but leftovers. The original meal has never been found. ~ Calvin Trillin
On Mother's' Day, it nice to give back to a mom with a gift of food or a nice meal since mothers are forever associated with the nourishment they provided during our growing years. As time goes on, we reflect fondly on our mother's good cooking or laugh about the bad. In honor of Mother's' Day, we thought it would be nice to pay tribute to Chelsea Market Basket moms. Below, some of our staff members reflects on how a mother they have known viewed food and provided for their families
Mary, a Mom who Understood the Importance a Food
My mother-in-law Mary Remch, who passed away a number of years ago, was a wonderful mother and grandmother. She raised five kids in a two-bedroom apartment in the Bushwick section of Brooklyn. My wife was the second oldest and she well remembers how her mother made sure that there was good fresh food to eat. Mary shopped for her meat, produce and baked goods in separate stores on Saint Nicholas Ave, Dekalb Ave and Knickerbocker Ave; everything in the world was available within a few blocks. The family never had a car so the shopping was done by walking to the store. While she wasn't a gourmet, she enjoyed and took pride in preparing food for the family. When my wife was in grade school, she would take the bus home for a hot lunch where the table was set when the kids walked in the door. This was a different era–a hot lunch at home doesn't happen anymore and never will again!
Mary visited us often when we had children of our own. She would stay close to the kitchen and liked to cook chicken or veal parmigiana for us. She wasn't much of a socializer, and after dinner she insisted on doing the dishes and preparing the kitchen for the next meal. When we occasionally went out to dinner, she liked restaurants that served their bread warm. Her favorite dish to order was fried shrimp or seafood. Mary believed in simple home-cooked food and her values toward food seem forever fresh. ~Andy
---
Shirley, A Mom Who Made Meatballs
Mothers-in-law are notoriously tough. Joanna's mom, Shirley, married into a big Italian family. With the exception of their respective love for their shared son and husband, Marty, the two had little in common; to his mother's dismay, Shirley was never going to be Italian. She gave her recipe for meatballs and sauce ("not gravy") anyway.
Meatballs and sauce became Shirley's signature dish which she prepared for holidays and family milestones. Growing up, her children loved mixing and shaping the meatballs by hand and stirring the sauce as it simmered for hours. Cold meatball subs on fresh Italian bread were favorite school lunches the following week. Joanna has carried on the tradition of making meatballs with her own five year-old, Johnny.
Meatballs were, of course, on the menu for Joanna's father's 70th birthday. As the party grew near, Joanna's brothers staged an intervention; they never liked the meatballs and neither did their father.
They served prime rib instead.
~ JoAnna
---
Carol, Champion of the Arts
My mom is a consummate entertainer and such a good cook. It's annoying.
Save the time she served tongue for dinner when I was three years-old, my thoughts of my mom and food are endlessly pleasant.
My parents often hosted dinner parties; Dad handled the wine and Mom, everything else. Part of her well-timed preparations included handing me a selection of cookies and instructing me to "design the cookie platter."
The dichotomy between the prosaic nature of the assignment and my sense of mission and vision can't be overstated. I was an artist and cookies were my medium. I chose from among my great-grandmother's silver trays, cleared a space in the small New York City kitchen and carefully crafted flower, star and striped patterns so that two of the same kind were never next to one another. I ate the broken ones.
And if I was awake when it was time to serve the coffee and dessert, I'd come out of my room in pajamas so that my mother could announce with great enthusiasm that I composed the cookies.
I accept commissions.
~Victoria
---
Sylvia, and her Spinach Pie
My mother, Sylvia, is a lover of food like none other, and she shaped my love of food. She used to call me her "good eater" as a child and praise my ability to consume multiple plates of food. Not great for the waistline, but my sister and I learned to really love and relish our food, which I now appreciate as a welcome change from the food-fearing values many girls are taught.
My mom emigrated from Egypt with her family in the 1950's and still loves to make traditional Middle Eastern recipes: spinach pie, a meat & green bean dish called fasoulya, stuffed grape leaves– the works!
My favorite dish of hers is spinach pie, which imparts a warm familiar feeling that stays with me for days. The recipe is a family secret, so you'll have to hope for a dinner invitation.
~Lauren
---
Hopefully this Mother's Day, moms can feel some appreciation for their role in nourishing and sustaining their families. Should you be looking for a way to express your appreciation, here are a few Mother's Day gift suggestions from our online catalog.