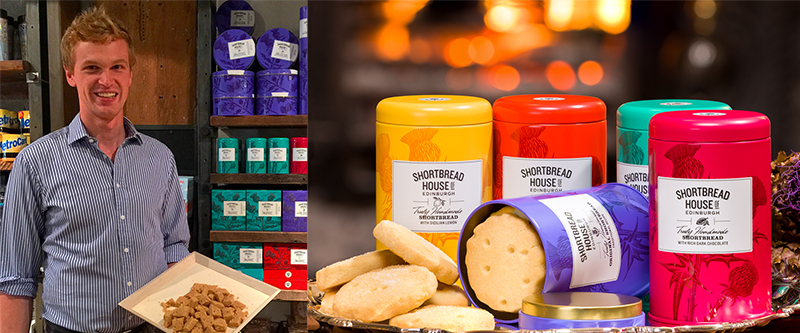 Shortbread House of Edinburgh is our April Producer of the Month. For almost 20 years, Chelsea Market Baskets has been the proud North American importer of Shortbread House of Edinburgh, a heritage brand with a bold new look.
Owned and operated by a family that has run large-scale bakeries for generations throughout the United Kingdom, Shortbread House insists on producing its variety of biscuits, oaties and fingers by hand.
I had a nice chat with Rupert Laing, who recently began sharing management duties with his parents, and with his brother Christopher, who I have known from since they were wee lads. Below are his answers to my questions about the art of shortbread and working with the family.
You dropped out of the working world to return to the family business. What is it like to work with them so closely?
Fun and busy! In a family business it is up to you to create the ethos of your company. We have a fantastic team here so it is wonderful to work with them all. So far all of the family members are still talking to each other, which is a bonus!
What are the challenges of rapid growth and expansion?
They are welcome challenges to have. People are learning how good shortbread can be when it is made properly. At the moment the entire car park is being dug up to create an addition to the bakery that will increase production capacity by 50%. The construction has turned into a somewhat compulsory cycle to work scheme.
For the holidays we began running the bakery 24 hours a day and that is the biggest challenge we've faced and massively hard work.
As we become better known we are getting approached by large companies who would like for us to make custom items. We welcome the opportunities, but we will not compromise our quality; including cutting batches by hand and using the finest ingredients, even though they do cost a bit more.
How has the updated packaging changed the business?
A couple of years ago, we decided to completely rebrand Shortbread House for the first time in its history. The essential consideration was to ensure that our shortbread appealed to a younger market without losing its traditional nature. We kept the Scottish thistle at the core of our designs, but brought in vibrant new colors. We already knew that our shortbread stood out for its taste, quality and texture but now the packaging stands out as well.
With your help last year at wholesale trade shows and in our store, we increased sales significantly, which I think is a direct result of the new look. Your kilt also helped. What do you see as the essence of the brand?
The essence of our brand is the quality of the biscuits that we produce. We have won 59 Great Taste Awards which is more than any other shortbread producer in Scotland. Shortbread House is committed to looking forward with an eye, always, on the past.
Shortbread House of Edinburgh I like to say is the the real McCoy of Shortbread not to be confused with the other brand which is good but our product I think tastes better and with the new look it makes a great gift for any season or occasion especially if there is some for gift giver, too.
View Shortbread House of Edinburgh products on our website