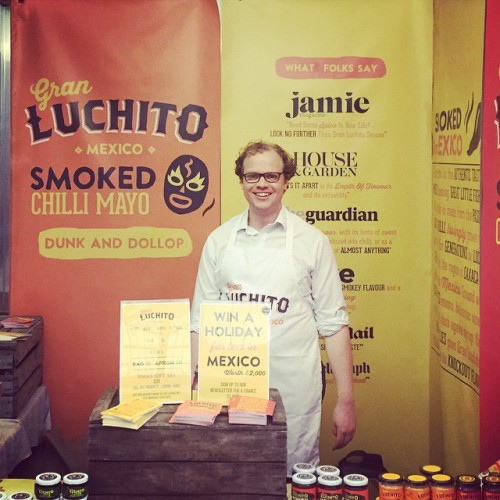 By Caitlyn- aka Cait the Great, CMB Employee
Chelsea Market Baskets is known for importing some of the finest specialty food products from all across the world and after being with the company only a few short months, I have already discovered an outstanding line of products that I can truly stand behind (and obsess over). Gran Luchito is a fairly small company based out of the United Kingdom, which produces a variety of full flavored condiments personified through their unique blend of ingredients.
Gran Luchito was created by Englishman Fergus Chamberlain out of a dissatisfaction with the market's chili-laced condiment offerings. After searching far and wide, he found the perfect chili in Mexico– the Pasilla Oaxaca chili– and went to work. All of the products Fergus makes carry the chili's unmistakable smoky flavor with hints of sweetness, nuttiness, and garlic tones. Currently, Chelsea Market Baskets carries four of their star products; Smoked Chili Honey, Smoked Chili Mayo, Smoked Chili Paste, and our newest addition, Gran Luchito Smoked Chili Ketchup.
Gran Luchito has truly captured the genuine taste of Mexico through the star ingredient in all of their products, the Pasilla Oaxaca chili. For generations these chilies have been grown and smoked by local farmers in the region of Oaxaca, Southern Mexico, which lends to its authentically bold, smoky flavor. The Pasilla Oaxaca chili possess a bit less heat than the chipotle chili, for example, but packs twice the smokiness as it is smoked for several months before it is ever used in any Gran Luchito product; perfect for the foodies who don't mind a little heat but still crave a full, smoky chili flavor.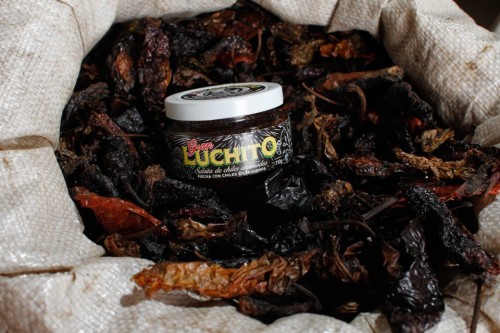 Being that we just recently got in the Smoked Chili Ketchup, I haven't been able to thoroughly experiment with it just yet, but I can say it has quickly become the missing link to my egg sammies. The Smoked Chili Ketchup possess the consistency and aroma of a standard ketchup, but offers a truly unique twist to an American staple. It has that initial hint of vinegar that we're accustomed to with other ketchup, but finishes with this smoky, barbecue sauce'y kick at the very end that completely throws your taste buds for a loop. When I took the first bite of my morning egg sandwich, dipped in some of this glorious condiment, I realized that I would never again be able to look at my egg sammies in quite the same way. Although I haven't yet tried the ketchup with much else, I could definitely see this as the perfect accompaniment to some salty french-fries, a greasy burger (or veggie burger) and can most definitely be used to add some pzazz to moms boring old meatloaf casserole. Hallelujah!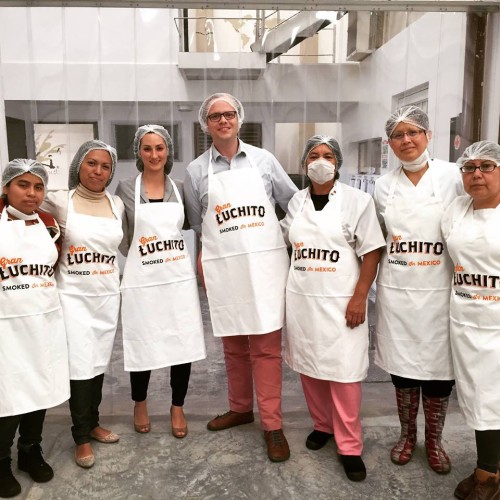 As for the other three Gran Luchito products, I can honestly say that there really isn't any dish I haven't been able to use them in! For breakfast, I found that adding just a small tablespoon of the Smoked Chili Paste to my scrambled eggs (along with some cheese and fresh veggies, of course), I had created THE best chili-cheese egg scramble I've ever had in my life. Although Gran Luchito's Smoked Chili Paste is out-of-this-world good, it is definitely not just for scrambled eggs. It can be used to spice up marinades, to bring just the right smokiness to homemade chili, add some spice to soup, or completely transform a veggie stir-fry and it's completely vegetarian/vegan friendly for those veggies like myself! Check out a great recipe of mine [here] for some vegetarian Mexican style dumplings where I used the chili paste as a base for the filling!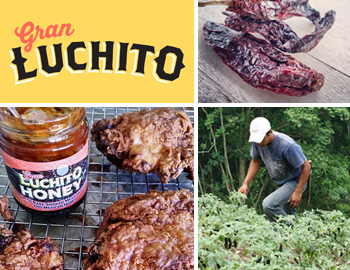 The Chili Mayo is a fantastic replacement for any recipe that calls for regular mayo (deviled eggs, chicken salad, coleslaw, etc.) and it's even great by itself as a dip (I know, mayo as a dip, but trust me on this one). Gran Luchito Chili Honey works exquisitely in recipes where you want a sweeter, smoky and slightly spicy flavor (salad dressings, marinades, sticky wing & barbecue sauces) I am beyond excited to have had the opportunity to share my newest food obsession with you and can't encourage you enough to grab yourself a  jar (or three) of each. We also sell a sampler pack for those who just want a little taste, but act fast, they're one of our best sellers!!!