Recipe by Caitlyn- aka Cait the Great, CMB Employee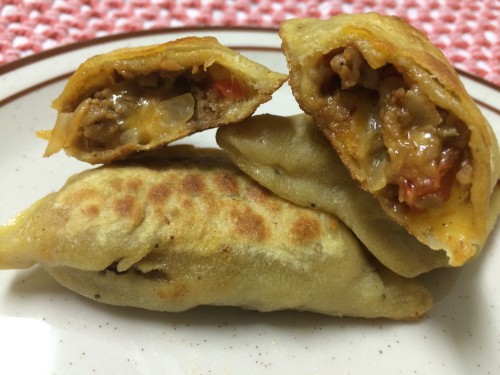 Preparation Time: 40 Minutes
Ingredients:
Filling:
12 oz. of vegan ground "beef" (substitute with real beef or ground chicken if preferred)
1 cup finely chopped sweet bell pepper
1 cup finely chopped onion
2 cloves peeled and minced garlic
2 tbsp. Gran Luchito Smoked Chili Paste (you can use a bit less if you don't want it too spicy) ($8.95)
2 cups Mexican blend shredded cheese (or your own preferred blend)
1 Pack of taco seasoning
1 tsp. cumin
1 tbsp. chili powder
Salt & pepper to taste
1 large egg
1/2 cup water
2 tbsp. – 1 cup Extra Virgin Olive Oil (for frying, more if needed)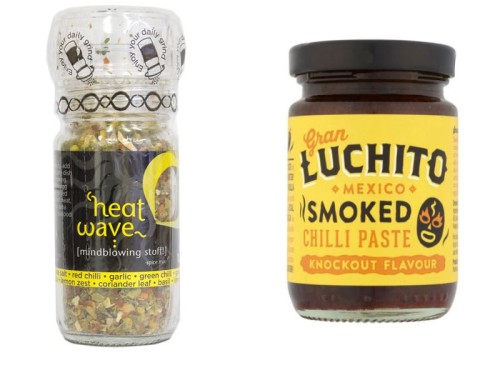 Dumpling Dough**
3 cups of all-purpose flour
1.5 cups water
1-2 tsp. of Elements of Spice- Heatwave Spice Grinder ($6.50)
Salt & pepper to taste
Dip:
2 tbsp. Gran Luchito Spicy Lime Marmalade (or more if you prefer stronger flavor) (Newly designed label on its way to the US)
1 cup sour cream
Freshly squeezed lime juice (about 2 tbsp.)
**If you're in a time crunch, you can also substitute making your own dough for a pre-made croissant dough or pre-made dumpling wrappers found in most supermarkets.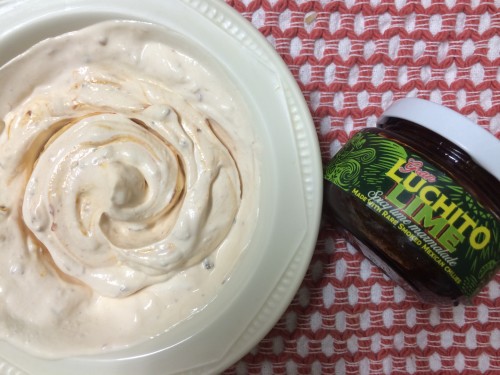 Directions:
Filling:
In a deep frying pan on medium-low heat add 2 tbsp. olive oil, minced garlic and sauté 2-3 minutes until soft and aromatic. Add Gran Luchito paste, diced peppers and onion, sauté until veggies become soft.
Add ground "beef" (or meat of your choice), cumin, chili powder and taco seasoning.
Sauté mixture 2-3 minutes stirring occasionally, add water, stir and cover another 3-5 minutes until everything is heated and meat is fully cooked (if using vegan 'beef' just make sure everything is well heated, if using real beef/chicken, meat should no longer be red or pink in color and have a firm texture – about 5-10 minutes).
Once mixture is a thick consistency and everything is evenly incorporated turn off heat and let mixture completely cool to room temperature.
Once mixture is completely cooled, add shredded cheese, egg and combine well.
Homemade dumpling wraps:
In a large mixing bowl combine flour, water, Heatwave spice, salt & pepper and mix with hands until a soft dough forms. Continue to mix until you have a large ball of dough, remove from bowl (if dough is too sticky add a little more flour
Lightly dust your workspace with additional flour, and begin to knead dough until the dough becomes smooth and there are no longer any lumps (5-10 minutes)
Once you have the dough well kneaded, place on a plate and cover with saran wrap, let rest 30-60 minutes.
Separate dough into 4 equal sections and work in batches.
Take first piece and roll dough flat about 2mm in thickness
Use round cookie cutter (or whatever you have handy, a cup works just fine!) and cut as many rounds as you can get. Roll scraps up into a ball and repeat process until you have no dough left.
Continue this process with each of the 3 remaining pieces of dough. Stack each dumpling wrap and make sure to use a piece of parchment or saran wrap between each wrap so they don't stick together.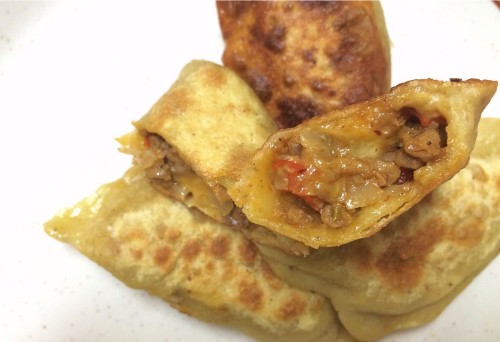 Editor's Notes:
The staff at CMB are always looking for new ways to use Gran Luchito's. It is one of our faves and you will generally find an opened jar in the employee refrigerator. Whether it is the Ketchup that we use to dip our french fries or the Mayo that we spread on a sandwich.