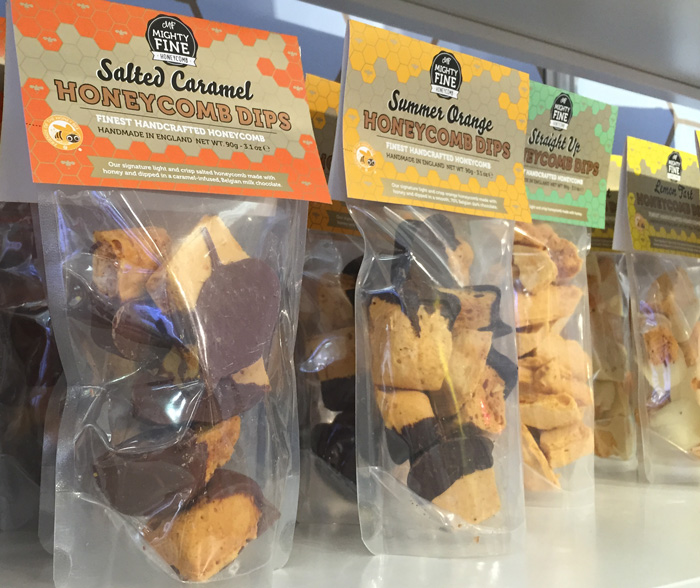 We are excited about a new import from England – home of the original candy bar. Mighty Fine Kitchen, a small company started by two young men in England, took a very old fashioned idea and made a new fashioned handmade artisanal line of treats. Nicole and I tasted the product at a Specialty Food Show in London in September, when Mighty Fine was previewing their brand new packaging. Some of the flavors that we choose for the store are Honeycomb with Dark Chocolate, Honeycomb with Peanut Butter with Milk Chocolate, and a Salted Caramel variation. Aside from the bars, the honeycomb is offered in chunks that are dipped in chocolate and in a gift tote which we have included in our catalog under new and trending gifts – Mighty Fine Honeycomb Gift Box- Salted Caramel ( $16).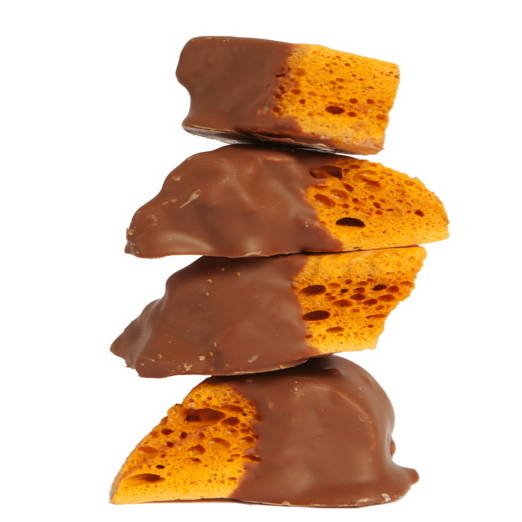 A bit about Honeycomb – some of you may remember your first chemistry experiment as a child when you would combine baking soda with vinegar or half a lemon and immediately the magic bubbling (formation of carbon dioxide) would bring excitement! Well, this process is the same idea Mighty Fine uses in making their Honeycomb that are then baked off and become very crispy, which is not an easy process for mass production. This type of candy which can be found from many differing places is similar to an English Crunchie Bar made by Cadbury's and created in 1929. Honeycomb often does not include real honey but the Mighty Fine uses real honey and in addition they donate some of their proceeds to ensure that bees continue to make honey!
Our first order of Mighty Fine products has moved quickly in our store. We just ordered a full pallet of  product that is due here in early December.
Take the Honeycomb Challenge below. Bring your answers to the store and receive a Mighty Fine Honeycomb Dip. Please note that prize quantities are limited.
Name any three States where honeycomb candy is called SEA FOAM?
In which States is honeycomb candy called OLD FASHIONED PUFF?
What do New Zealanders call honeycomb candy?