Recipe by Caitlyn- aka Cait the Great, CMB Employee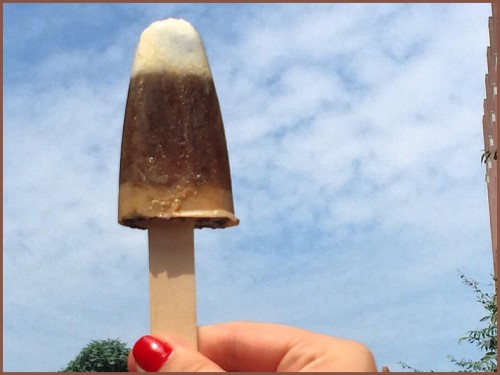 Being a native New Yorker, I have been blessed with the opportunity to try some of the best coffee this city has to offer, but it was here in Chelsea Market Baskets where I came across my hands down favorite blend EVER: La Colombe's Corsica.
Each one of La Colombe's coffees is exceptionally tasty, but this whole bean blend is a strong dark roast with a character all its own. This particular roast is a sinfully rich blend of beans harvested from Brazil, Colombia, Honduras, and Mexico which lends to its smooth, chocolatey flavor and bold kick. The Corsica blend is great as a pick-me-up for those early mornings when getting out of your warm, comfy bed feels impossible or as a perfectly sweet treat during a walk through Central Park on a chilly winter afternoon. But, alas…it is summer. So how is one to enjoy this delectable beverage?
Here in the good ol' Big Apple, with the blazing sun and humidity peaking at 80%, no person in their right mind carries a hot cup of coffee. I found myself in the same predicament I do every summer: how can I enjoy my favorite treat without sweating into a puddle? You might be saying, Well, duh, there's iced coffee! But, many of us find that ice can water down the flavor of our beloved beverages. I decided to come up with something even better (and slightly more fun): Creamy Coffee Ice Pops. I was excited when I first had the idea, and I quickly began jotting down different ways I could customize the recipe to suit my different moods. With a little sugar and a touch of cream, you have an icy treat that's full of flavor without it ever getting watered down (unless you can't lick fast enough)! If you're sensitive to caffeine, you can always substitute in La Colombe's full-flavored decaf blend, Monte Carlo, which would make a perfect after-dinner treat. You could even switch it up entirely and pour the mixture into an ice cube tray for coffee-flavored cubes if you are an iced coffee fan– and these cubes won't water down your drink!
All of La Colombe's roasts are perfect for any style of ice pop you crave as they all have wickedly bold flavor, and rich, smooth taste; perfectly balanced to handle the cold without getting watered down. Try one of these recipes, or make up your own and share it with us!
Preparation Time: 25 Minutes (freeze for at least 5 hours)
Ingredients:
1 ½ – 3 Cups of freshly brewed La Colombe Coffee (left to stand until room temperature or left overnight in the refrigerator if possible) ($14.00)
1/2 – 3/4 Cup heavy cream (to taste)
2 – 3 tbsp. Little Pod Vanilla Extract (to taste) ($11.95)
½ bar of Mast Brothers Stumptown Coffee chocolate bar – chopped ($9.50)
Sugar (to taste)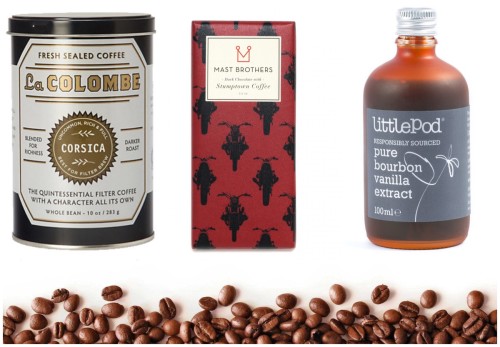 Directions:
Combine coffee, cream, & vanilla syrup into small bowl.
Chop up chocolate bar into small pieces and sprinkle a little into the bottom of each mold.
Pour coffee mix into each mold just until it reaches the top (about 3mm below the rim of mold).
Sprinkle a little more chocolate on the top of each (some bits will fall and mix into the pop).
Take one piece of tin foil big enough to cover all of the pops and cover the molds completely.
Stick one Popsicle stick through the tin foil into each mold (the tinfoil will hold the Popsicle stick straight up).
Place the entire mold into the freezer for a minimum of 5 hours or until frozen solid.
To remove, run lukewarm tap water over the mold to loosen the ice pop. Enjoy!