Recipe by Nicole, Employee at CMB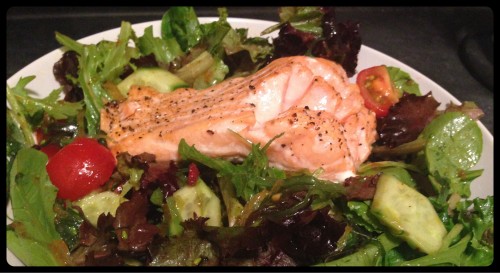 Ever have one of those nights you just don't know what you are in the mood for? That is generally me at least 3 nights a week. I am very lucky to work in Chelsea Market, so I can just go for a walk and get inspired. One of my go to places in Chelsea Market is the Lobster Place. They have some the of the freshest seafood in NYC. I took a walk over and I was immediately attracted to the gorgeous pink salmon in the case. In my opinion, you can never go wrong with salmon (raw or cooked).
Preparation Time: 35 minutes
Ingredients:
8 ounce salmon fillet
Coarse-grained salt
Freshly ground black pepper
1 cup of Spring Mix
½ cup of cut fresh tomatoes
1 large cucumber sliced
½ cup of Ton Ton Ginger Japanese dressing ($5.50)
½ cup of seaweed salad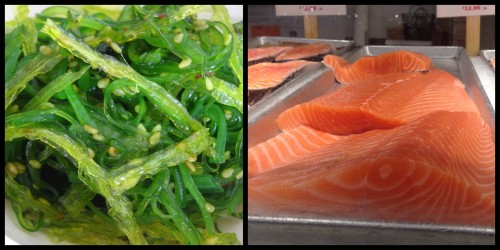 Directions:
Preheat the oven to 350 degrees F.
Season salmon with salt and pepper. Place salmon, skin side down, on a non-stick baking sheet or in a non-stick pan. Bake until salmon is cooked through, about 12 to 15 minutes.
Ton Ton Green Salad: In a large bowl, combine the green salad, cucumber, tomatoes and seaweed salad.
Pour dressing over salad, and toss. Refrigerate 5 to 10 minutes.
Place warm salmon over salad
Enjoy!!