Over the last 18 years, we as a company have constantly evolved and we pride ourselves on exciting new products to experience and taste. An interesting chapter in this is the story is how our Bacon Peanuts or what we cheekily call CMB Goin' Nuts product came into existence.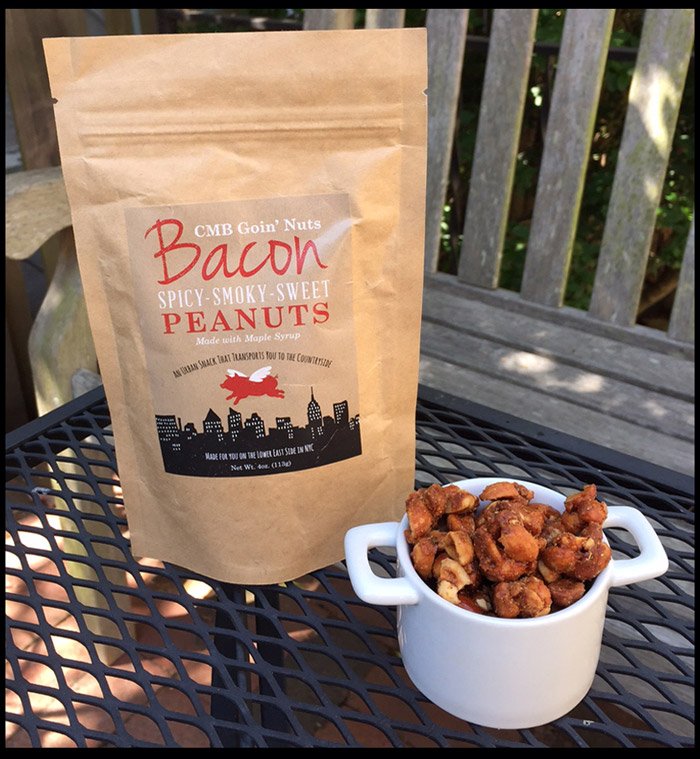 It started in September 2009 when two people from The Redhead Restaurant, in the East Village appeared in the store with their Bacon Peanut Brittle that was written about shortly before by Frank Bruni in New York Time Review. The end of the review included the words: "and that brittle, well, it goes a long, long way. It was there almost from the start, and my bet is that it will be there until the end." Having read the review and those words in the New York Times, when the people selling the product appeared at our door, I said, "sure we will try it."
It did strike a cord and was a success from the beginning. The familiar American flavors of peanuts, bacon and maple syrup do create a synergy both from a "point of sale" appeal and a taste combination that works. Not to mention a NYC identity that in this case is refreshingly not Brooklyn. The Redhead Bacon Peanut Brittle went on to become a best seller for us. We included the product in gift baskets, sold it on our website and hopefully always had a basket full of product in our store. Sometimes the product was not easy to get and would take a good amount of lead time, presumably because it was being prepared in the restaurant or at an off-site kitchen.
Last November we placed our fall order for a few thousand units and late in November we got an email saying that the product is no longer available for wholesale. The same day I got an email from a Brooklyn based company asking if we had extra product, that they could buy from us for their mail-order business. Ok, what do you do now, as an entrepreneur and someone who could "turn things around quickly," you start making your own.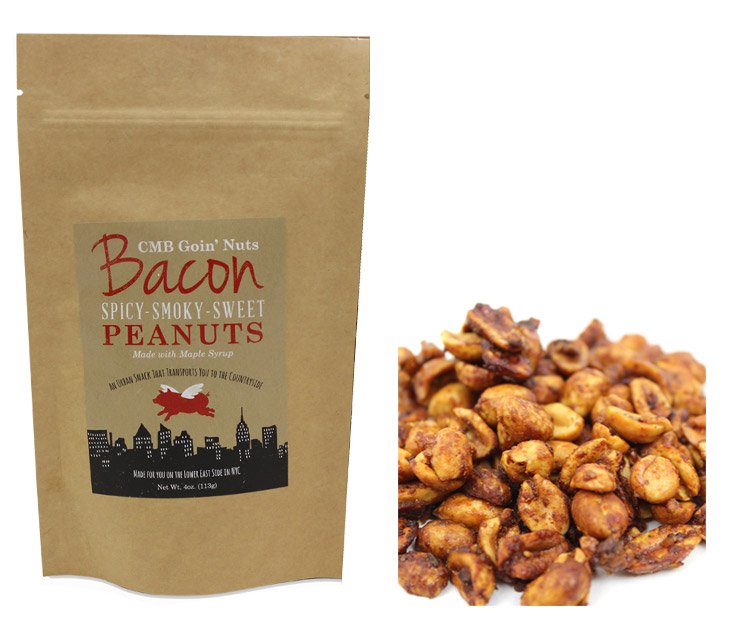 I worked with my friend Paul Neuman who owns Neuman's Kitchen to create a similar but different product that we call CMB Goin' Nuts Bacon Peanuts (available online, $12 for 2 pack-4oz each) and added the tag line "an urban snack that transports you to the countryside." Our product is a bit different. It is not a peanut brittle but a spiced nut mixture that includes a spicy-smoky-sweet flavor made with maple syrup and naturally cured bacon.
To our surprise, we are selling it now not only to our retail customers, but our wholesale customers are asking for the product, going out of their way to say, can you add some of those peanuts to our European specialty food orders. We are getting ready to go into the Summer Fancy Food Show now and we will be offering our new local product as an add-on to our regular imported assortment.