This recipe was originally posted on CornishSeaSalt.co.uk. A big thanks goes to our friends at Cornish Sea Salt Co for sharing their recipe with us.
Combining salt and chocolate is a pairing that works well in many of the sweets that we offer. Sprinkling a few salt flakes on top of home-baked cookies or brownies adds a special touch that accentuates the flavor, texture, and appearance of the final product.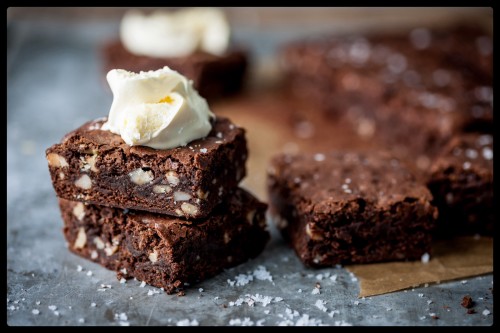 The sea salt cuts through the sweetness of the sugar and the chocolate resulting in an indulgent treat. There's only one problem – one is never enough… You have been warned! Recipe makes approximately 16 brownies.
Preparation Time: 60 minutes
Ingredients:
1/2 lb Valrhona French Dark Chocolate ($15 per pound)
1 cup Butter
2 cups white sugar
4 large eggs
1 cup Flour
1 teaspoon baking powder
1½ teaspoons Cornish Original Sea Salt ($7.00)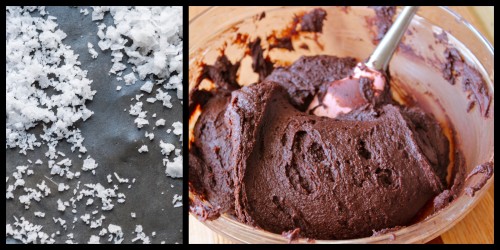 Directions:
Pre­heat the oven to 180 degrees.
Line the sides and base of a 8×8 inch baking tin (for 16 normal size brownies, larger tray for mini ­brownies) with foil or baking parchment.
Melt the dark chocolate in a bowl over a pan of simmering water.
Whisk the butter with an electric mixer until pale and fluffy.
Add the sugar and whisk again.
Add one egg at a time and whisk in between.
Pour in the melted, cooled chocolate, add 1 teaspoon of Cornish Sea Salt and whisk for about 30 seconds.
Sieve together the flour and baking powder and fold gently into the chocolate mixture.
Pour into baking tin and sprinkle evenly the remaining ½ teaspoon of Cornish Sea Salt over top.
Bake for 60 min (normal size brownies) or 50 min (shallower mini­-brownies), cover with foil after 30 min.
Leave brownies to cool in switched off, opened oven.
Cut into squares and enjoy!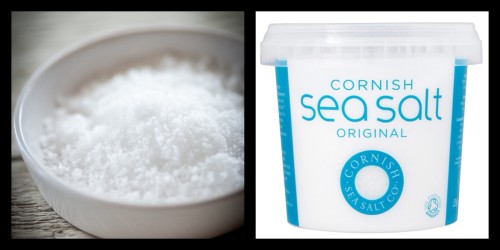 Editor's Note:
Cornish Sea Salt was started by Tony Fraser in Cornwall, England. In 2008, he began using the ancient methods of his ancestors to extract sea salt by boiling it in clay urns. Today, the company distributes their high quality salts around the world, and we are proud to add them to our list of exclusive imports.