By Tiffany, CMB Employee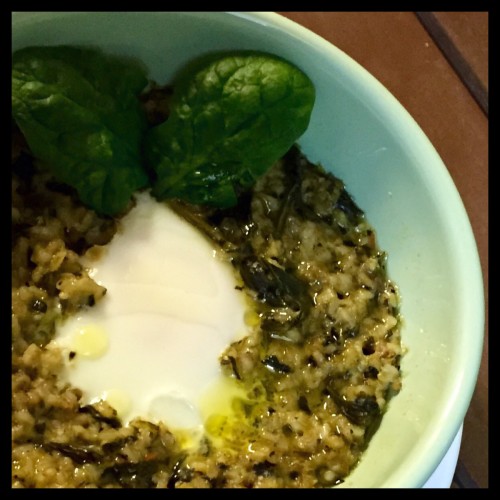 If you mention the phrase "Healthy Breakfast" to any responsible eating adult, surely oatmeal will come to mind. It is a superfood packed with protein, calcium, iron, trace minerals, b vitamins, and soluble and insoluble fiber for healthy digestion. With all its amazing benefits, it's fair to say oatmeal is the king of the breakfast jungle!
My personal favorite is pinhead/steel-cut oatmeal. When prepared it has a hearty and chewy texture with a bite similar to al dente pasta. Cooking time can take up to 30 minutes, so spare yourself the morning rush and cook large batches and store them in the fridge for up to 4 days.
Let's be honest, oatmeal can be both bland and boring, especially if you are trying to limited your intake of butter, sugar, salt, and cream….did I say butter? The web is full of cutesy recipes calling for "precious sprinkles of cinnamon", "dainty dollops of butter" and "sheepish slices of bananas"….OVER IT! I like to shake things up and try something out of the oat-inary with savory oatmeal dishes which could be used for breakfast, brunch or dinner. I've created flavor blends such as: sundried tomato and garlic, harissa and chorizo, coconut curry with mini lamb meatballs, and my brunch all-star….Spinach Pesto with a baked egg!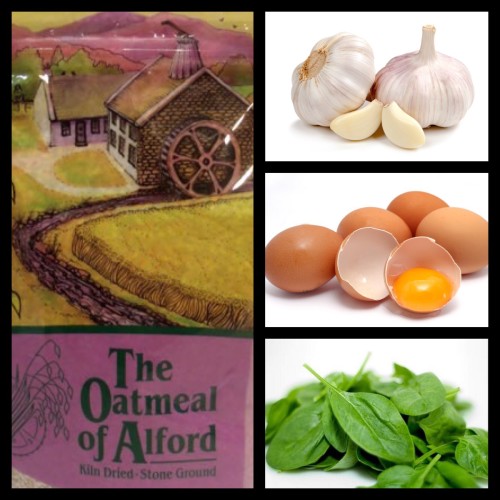 Preparation Time:45 minutes
Ingredients:
1 cup Pinhead Oatmeal of Alford ($9.00)
2 cloves of garlic
Fresh Spinach
1 cup of your favorite pesto blend
Grated cheese – I went with Idiazabal, a smoky Spanish sheep's milk cheese with notes of nutmeg.
Extra virgin olive oil
6 eggs
Directions:
Bring 3-4 cups of water to a boil with 1 cup of oats.
In a separate bowl, mix in 1 cup of your favorite pesto along with a handful of spinach leaves and minced garlic.
Once your oatmeal is cooked, pour the hot mixture into your mixing bowl with the fresh spinach and pesto sauce.
Grate in the cheese of your choice – I went with Idiazabal because it's smoky and contains notes of nutmeg.
Spoon about a ½ cup of spinach pesto oatmeal in each bowl, make a small hole in the middle of your bowl and crack an egg in the center.
Bake for 10 minutes and serve!
Enjoy!!
*No additional salt added to this recipe, your salt will come from your pesto and added cheese*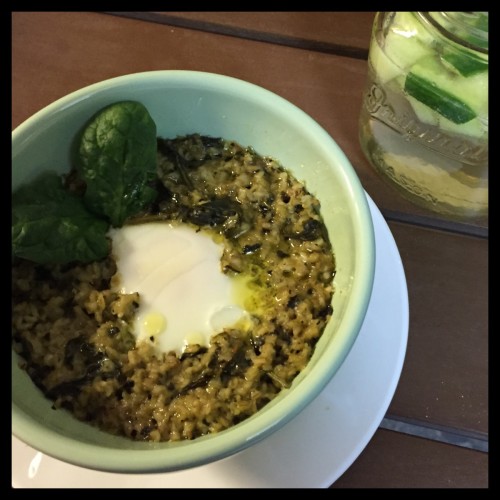 Editors Note:
The Oatmeal of Alford is produced at Montgarrie Mill in the rich agricultural lands of Aberdeenshire in northeast Scotland. Master miller Donald MacDonald mills just as his great grandfather did, using the best Scottish oats and a specialized process that gives the oatmeal a crisp texture and nutty flavor. The family running The Oatmeal of Alford continue to use their tried and true flat-bed kiln and water-powered mill stones to bring you the best Scottish oatmeal with a traditional nutty taste and crisp texture.