Recipe by Caitlyn- aka Cait the Great, CMB Employee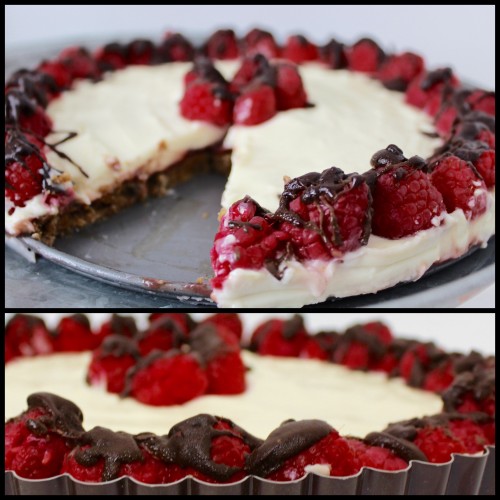 Ingredients:
Crust:
Filling:
1 package of softened cream cheese (8 ounces)
2/3 cup of powdered, confectioners' sugar
2 tbsp. Nielsen-Massey Madagascar Bourbon Pure Vanilla Extract (available in our store, $5.95)
1 tsp. Nielsen-Massey Pure Orange Extract (available in our store,$5.95)
2 ½ cups fresh whipped cream
½ cup Chelsea Market Baskets Chelsea Epicure Raspberry Curd (available in our store and online, $7.50)
Garnish: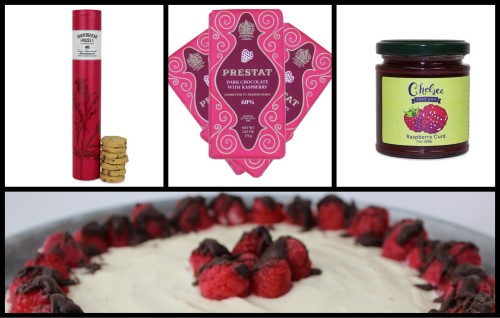 Directions:
Crust:
Into a large zip-lock bag, place the shortbread cookies and with a heavy wooden spoon or rolling pin, crush cookies into a coarse powder (similar to the texture of sand).
Pour crumbs into a 9 inch spring form mold (or whatever pie mold you have available) and add melted butter.
Mix butter and crumbs together and press mixture firmly onto the bottom and slightly up the sides of mold, place in freezer while you prepare for the next step.
Filling:
In a large bowl, beat the cream cheese, confectioners sugar, orange and vanilla extract until light and fluffy.
Gently fold in whipped cream (fresh whipped cream is recommended, but Cool Whip works just as good, avoid using anything canned as it will not work for this recipe!).
Grab the pie crust, gently spread thin layer of raspberry curd along the bottom of the pie.
Spread cream cheese mixture into crust. Then place into fridge while you prepare for the next step.
Garnish:
In a glass bowl, melt the Prestat chocolate until it's a smooth liquid.
Take pie out of freezer and drizzle with chocolate (as much, or as little as you prefer).
Garnish with fresh raspberries as desired
Chill minimum of 2-4 hours in refrigerator and serve, yields 8 servings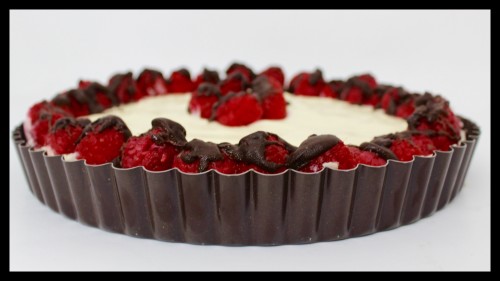 Editor Note: Prestat Chocolate, Shortbread House of Edinburgh and Chelsea Epicure are brands that are imported by our company. **There are substitutes in the recipe that can be made to lessen the price. However, we would not suggest to remove the CMB Raspberry Curd as it is a main component to the success of the recipe.
Prestat Chocolates have been enjoyed worldwide since Antoine Dufour opened its London doors in 1902. Prestat has held a Royal Warrant from Her Majesty the Queen for over 35 years, and continues to be the Queen's favorite chocolate. The company was immortalized by author Roald Dahl, who used it as inspiration for "Charlie and the Chocolate Factory." Prestat Chocolates all come playfully packaged in signature bright pink, and come in a wide variety of styles, flavors, and shapes. We're proud to import them and bring their luxurious creations to our customers.
The Shortbread House of Edinburgh is a small, family run bakery started by Anna Wilson. It has since become the premiere brand of shortbread throughout the British Isles. Their products use no shortcuts or preservatives, and they are always made with the same recipes by hand. Baked slowly until golden brown, buttery, and nutty, these shortbread and oat biscuits have a crunchy yet delicate texture seldom found except in the finest homemade baked goods. We are proud to call Shortbread House of Edinburgh one of our signature imports.