Recipe by Emily & Caitlyn, CMB Employees & Enthusiastic Food Lovers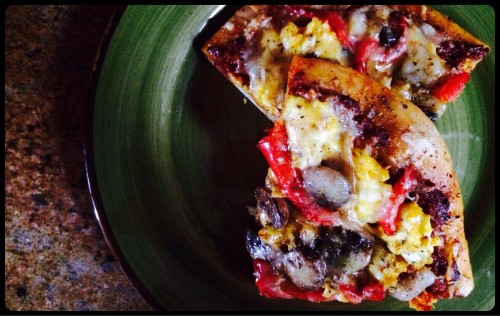 Being native New Yorkers, it's not surprising that pizza is one of our all-time favorite foods. With a pizzeria on almost every corner, serving everything from deathly delicious, deep fried slices to pies with toppings like smoked salmon and caviar; it has caused us to really branch out from our 'plain-slice' comfort zone. We came up with this pizza recipe when we were trying to validate a cold slice of leftover pizza as a sustainable enough breakfast one Sunday morning and boy we are glad we did!
This pizza is not only outrageously delicious, but it's flexible enough to accommodate any diet restrictions or food preferences. The sweet taste of the sun dried tomato pesto is perfectly balanced by the subtle, smoky flavor from the bacon spread; but the spread can definitely be replaced with a veggie-patty or just meatless altogether for those vegetarians, like Caitlyn.
For this recipe, we chose to use some bell peppers, onions and fresh mushrooms but you're open to use whatever's in season at your local market. Scrambled eggs have always been a favorite of ours so that's what we chose to use for this recipe, but a fried or sunny side up egg would work beautifully as well. The pantry items we picked up from CMB definitely gave this pizza a nice epicurean feel while still keeping its home-made quality making it a perfect little treat to surprise to our guest with. With the fresh ingredients from our local farmers market combined with a few specialty items found here at Chelsea Market Basket's, we wound up creating a masterpiece of breakfast pizzas that's easy and fun to make with kids, but impressive enough to serve for, lets say, a Mother's day brunch (hint hint).
Ingredients:
     1 lb. ball of pre-made pizza dough
     ½ lb. (3 cups) Raclette Cheese shredded ($18.00 per pound)
     6 large eggs
     1 tbsp. unsalted butter
     4 tsp of Kalk Bay Olive Grove Spice Blend ($7.50)
     2 tbsp. Skillet Bacon Spread ($6.95 for 4oz)
     1 jar (6oz) of Bella Cucina Sundried Tomato Pesto ($10.95)
     Olive Oil no-stick spray
     Veggies of your choice (peppers, mushrooms & onions used)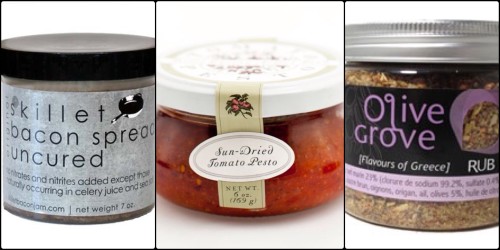 Directions
Heat oven to 350° F.
Split dough in half and roll out the dough into 2 round pizzas (about ¼ inch thick) and spray both sides with a little olive oil no-stick spray.
Place pizzas on a baking sheet and sprinkle each with 1tsp of Olive Grove Spice. Bake 5 to 10 minutes just enough to stiffen up the dough.
Meanwhile, crack eggs into a large bowl along with 1tsp of Olive Grove spice and whisk until eggs are frothy and smooth. In a large nonstick skillet over medium heat add butter and egg mixture.
Cook 5-10 minutes, stirring frequently until eggs are no longer runny, and become fluffy. Remove eggs from skillet and reserve.
In same skillet, add the CMB Bacon Spread along with the finely chopped veggies (in this case we added some onions, peppers and mushrooms) and sauté until veggies are soft.
Remove pizzas from oven and spread a layer of the tomato pesto (1/2 of the jar on each of the two pizzas). Add scrambled eggs (1/2 the mixture on each pizza) and top with veggies.
Cover top of pizzas with shredded cheese and cook until cheese has melted and crust turns a medium golden brown on the bottom.
Remove pizzas from the oven and garnish with remaining Olive Grove Spice Blend, let cool 2-3 minutes and serve.
Enjoy!!