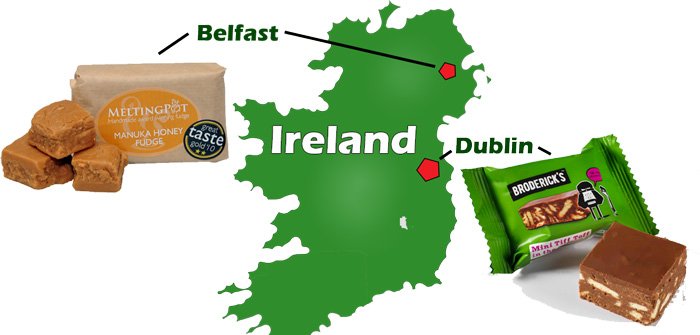 I recently traveled to Cologne, Germany for the International Confection Market Show (ISM), a huge show for European sweets and snacks. There I discovered two companies from Ireland that we are testing now in our store. Both brands are exported to many countries but neither can be found in the USA until now!  The Melting Pot company was started in Belfast by three sisters. Broderick's  is from Dublin, the capital of Ireland and started by two brothers. Barry and Bernard Broderick who have created baked sweets based on their mom's bakery business, Ina's Kitchen Desserts.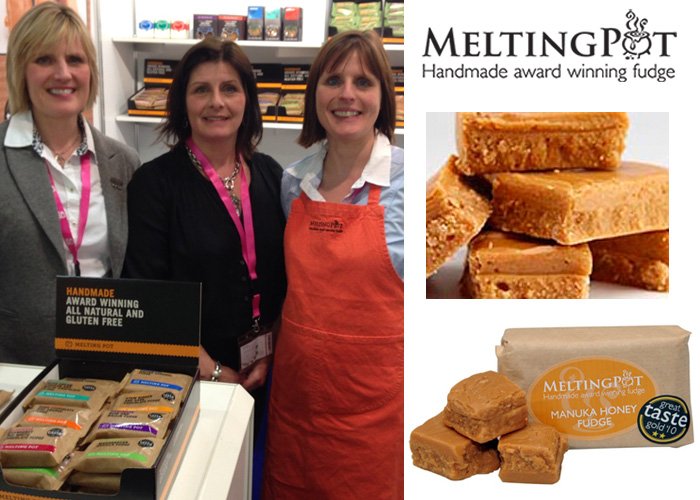 We are a bit of family business here at Chelsea Market Baskets. The Melting Pot was started by three sisters in Belfast and makes by hand many flavors of English style fudge which basically is butter, cream and sugar that can be made with chocolate. The original natural flavor of the fudge is highlighted with the dairy or creamy flavor. Their business was started in 2004 and uses all natural ingredients and Irish butter. Many fudge products in the USA use vegetable shortening and in some cases corn syrup. We are starting with the following flavors: Traditional Butter, Irish Cream Liqueur, Madagascar Vanilla, Rum & Raisin, Stem Ginger & Chocolate, Salted Caramel and of course, Chocolate.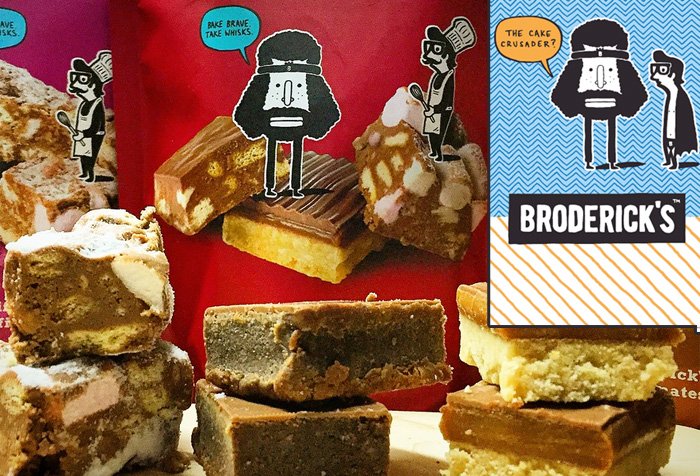 Broderick's make what in Britain are called tray bakes or similar to an oatmeal flapjack bars, somewhat the ancestor of the Kind Snack Bar. These are a variation of the American brownie, but flavored like a cookie. With varieties like Rocky Road, Tiffin, Nevin and Caramel Square, they are cut and wrapped like brownies. The packaging includes fun cartoons of the two feuding brothers with their dry Irish sense of humor (Bake Brave, Take Whisks). Made also by hand with all natural ingredients, we currently are selling the minis in a pouch for $5.95 and the wrapped slices in clear plastic wrap in our store for $1.50. So far so good as they are selling well in our store. We have supplied our Irish friends at Café Grind on 10th Ave and have heard positive feedback from them after a few days.
Both of these companies are very successful at home and export to many countries but coming to the USA is a big move. It is hard to find the right partner here in the US because some of the companies are very large and expensive to work with, and some maybe are too small but we like to think that we are a good partner to grow artisan specialty food brands in the US as we have done for many years. Stay tuned and we hope to share our Irish family with you.