Holiday time is hectic and finding just the right gift for your next of kin or a gift of appreciation for someone helpful in your life is often not easy. Our passion is for food gifts that you do not find everywhere, tell a story, and most importantly taste great.  We can make your life a bit less hectic and bring a bit of joy to an important palate in your life. Here are some of my favorite items this year – some that we import and some that we source locally.

Shortbread House Gift Tins
New this year our favorite shortbread from Shortbread House of Edinburgh is dressed in very handsome tins that reflect their fresh new design using the flower of Scotland, the Thistle. In addition we have also expanded our assortment to include their Sicilian Lemon flavored shortbread with its perky yellow graphics. This Shortbread House 3 Tin Variety Pack is available online for $28, and in our store we have wide selection of Shortbread House products.
---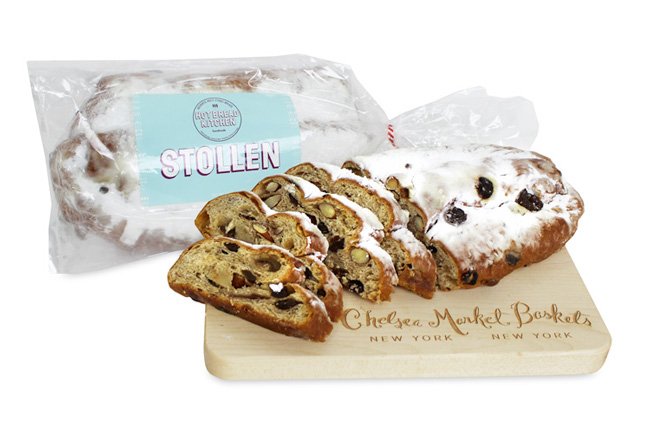 Hot Bread Kitchen Stollen Gift
This is a moist marzipan filled traditional German Stollen or sweetened fruit bread similar to ones that our family enjoyed when I was a child. This comes to us from the Hot Bread Kitchen, a Harlem based non-profit that employs immigrant woman, and by working along side an expert baker, trains the woman for careers in baking. A very good tasting product that supports people in need and encourages them to grow. We offer online – Pack of 2 Stollens for $28. They are also available in our store at $14 each. 
---

Prestat Orange & Cardamom Chai Thins
A new product from Prestat Chocolate, an old English chocolate company that is often busy creating new flavors, is their Orange & Cardamon Chai Wafer Thins. These delicate fragrant chocolate wafers are flavored with orange and cardamom, and  present an exciting new flavor pairing for chocolate. The cardamom elicits the Indian flavors that were featured in the movie The Hundred-Foot Journey. The orange complements the cardamom and gives the chocolates a holiday taste. Prestat Orange & Cardamom Chai Thins (200g) are online for $19. We also have Prestat Orange & Cardamon Chai Chocolate Bars in our store for $5.95.
---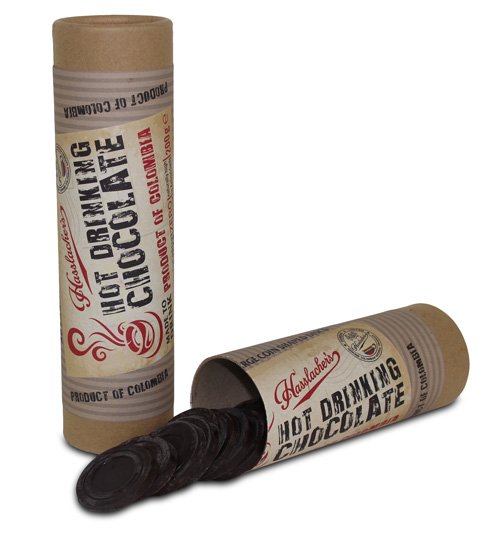 Hasslacher's Drinking Chocolate Discs
Colombian 100% cacao molded in 5 gram discs to create an easy way to make really great tasting Hot Chocolate.  Add sweetener to your liking and whether you make a small cup with 2 discs or a big pot (13 mugs worth in the tube), you will satisfy yourself and others with what we believe is the best tasting cocoa, directly from where it is grown and where they know their chocolate.  Hasslacher's Hot Drinking Chocolate Discs 200g is available for $14 online and in our store.
---

Ritrovo Salt Gift
The folks who put truffle salt on the map or actually invented it, Ritrovo still make a very good one and it is included in this 6 pack of Italian flavored sea salt that also includes fennel, saffron, fiori (flowers), porcini, and herbs.  Six flavors that can spice up a variety of dishes or be separated and stuffed into the stockings of everyone at home, this is one of our top sellers in the store and is more recently available online. Ritrovo Salt Gift  ( $29)
---

Kalk Bay Hot & Spicy Gift
For those who love the heat, six variations on pepper seasoning from Piri Piri to Texan BBQ with Chipotle, Tandoori, Berbere and Togarhi along the way  and recipes included. Our import from our spice friends at Kalk Bay in South Africa did particularly well last Christmas so we got a good bit more and put it in our catalog this year. Kalk Bay Hot & Spicy Gift $28  includes 12 jars of spice mixes from all over the world.
---

Mallow and Marsh Flavored Marshmallows
A young and quickly growing company from London, Mallow and Marsh make a confection they describe as "on scale of jelly to nougat we sit as close to nougat as is marshmallowy possible." The marshmallows are delicate, with clever packaging. Flavors include Vanilla, Raspberry, Cappuccino, Roasted Coconut, and Peppermint & Dark Chocolate. Each package contains 3 pieces and they would make decadent stock stuffers for any sweets lover. Available in our store for $4.95.
---
So there you have it, a quick round-up of what think will be special and very welcomed by friends and family during the Christmas season and make your life a bit easier in the coming month, and remember it is good to treat yourself!