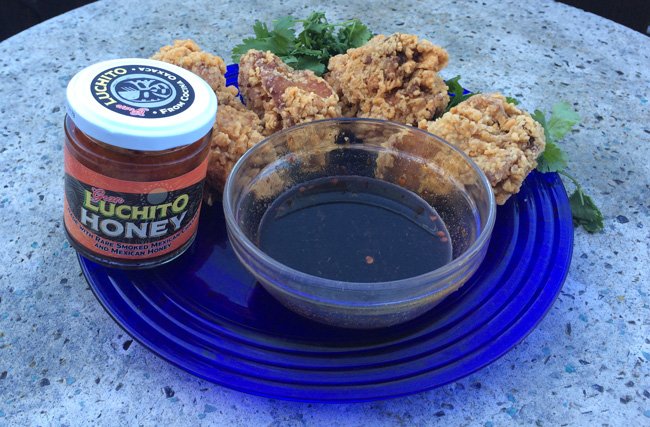 Here is a simple-to-prepare dipping sauce that uses  Gran Luchito Chilli Honey and is great for fried chicken, but you can use your imagination; how about pork sate? The recipe starts with the spicy hot honey that combines Pasiilla Oaxaca Chillies with honey from the Caribbean coast of Mexico.
Fried chicken is a guilty pleasure for me and I think that I am not alone – somehow having fried chicken in a Korean restaurant that features KFC chicken on the menu converts this guilty pleasure into a cultural adventure.
This recipe was inspired by watching the PBS show, Mind of Chef and having some leftover fried chicken from an evening at a Korean restaurant. In one episode of this show about Kentucky, (Season 3, Episode 5 show preview) Chef Edward Lee, a Korean American who grew up in Brooklyn, but adopted Louisville, Kentucky as his home, described his love affair with fried chicken (youtube video). With his Kentucky-Korean roots, Chef Lee seems well qualified to elaborate on the culinary aspects of fried chicken. In this show, Chef Lee prepared Korean Style Fried Chicken covered with a sweet and spicy sauce. This simple sauce is loosely based on his recipe.
Mix Together:
2 tablespoons Gran Luchito Chilli Honey
1 juice from one lemon
1/4 cup parts soy sauce
1/4 cup wine vinegar
Bring to a boil and allow sauce to thicken slightly. Serve with fried chicken and cilantro.