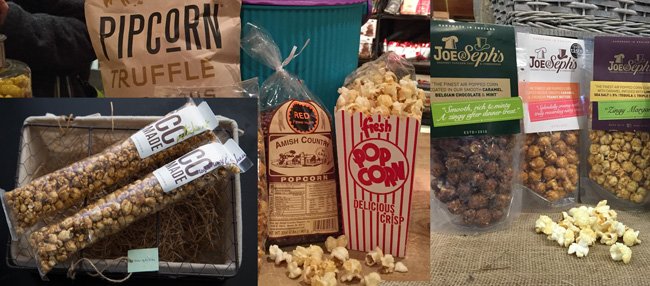 Get your next party popping, with the Super Bowl and the Academy Awards on TV in the next few weeks we thought it was a good time to survey the popcorn landscape. Popcorn has been around for hundreds of years but artisan food companies are constantly exploring new ways of turning a good old popcorn into novel and natural snacks. We have tasted a lot of popcorn in the past week at the Winter Fancy Food Show in San Francisco and we are happy to share with you some of our favorites. As an added advantage, many of these healthy snacks are gluten free and suitable for vegetarians.
We stock a variety of popcorn creations that cover a wide geographic swath. Here are some highlights: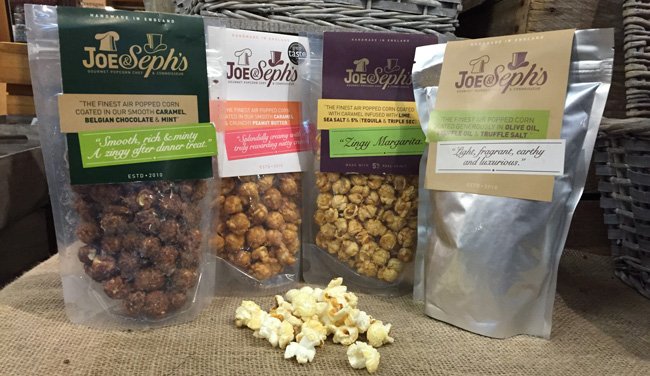 Joe & Seph's Popcorn
We have been importing Joe & Seph's Popcorn from England for a little over a year. This popcorn is available in a variety of traditional and curious flavors. Currently we have French Goat Cheese with Black Pepper and Whisky Macchiato. The selection does vary seasonally in our store and you can also find some of their classic flavors in our gift basket selection online. We currently import this product for the Ian Schrager's Edition Hotel in Miami Beach for their mini bar.
---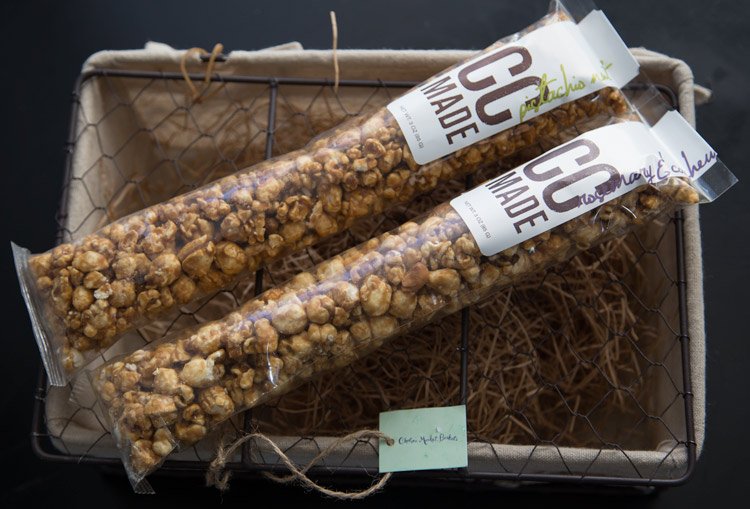 CC Made Popcorn
Based on good reports from the west coast, we now stock  CCMADE Caramel Popcorn ($4.50) from Berkeley, CA. This is a relatively new company started by Cassandra Chen, a former banker, who followed her passion into the food business. Their caramel corn popcorn has some fun flavors such as Pistachio Nut and Rosemary & Cashew. We are also stocking a few variations on their caramel sauce.
---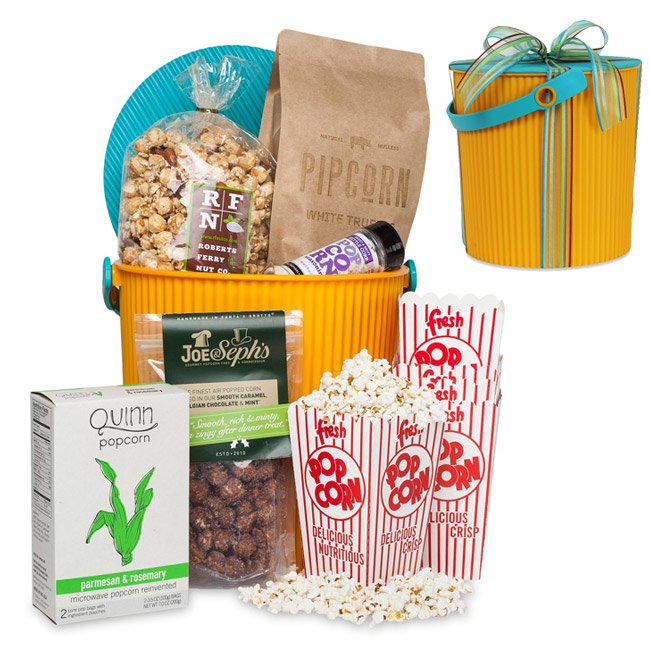 Popcorn Party Pail
Online we feature a Popcorn Party Pail ($68) gift. This gift features an assortment of sweet and savory popcorn variations that are sure to give the popcorn aficionado a variety of flavors. It all comes packed in a colorful pail that can serve many uses after the popcorn is consumed. In this gift we feature Pipcorn which is made with special smaller kernels that produce more delicate popcorn and flavored with natural flavoring that are vegan friendly. In our store we feature a variety of Pipcorn flavors including the White Truffle and Rosemary ($5.00).
---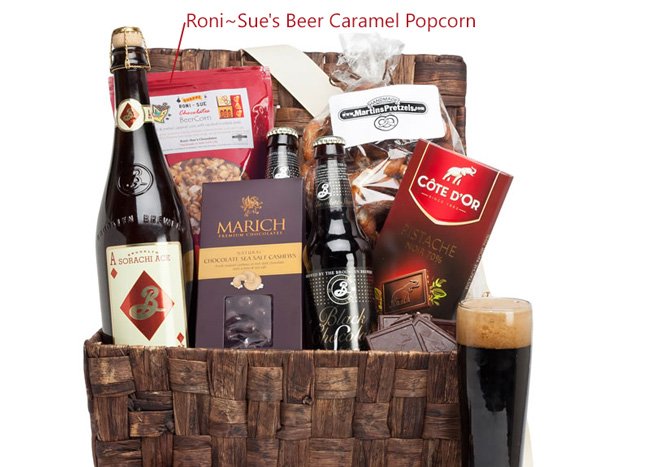 Craft Beer, Snacks & Chocolate Basket
Our Craft Beer, Snacks & Chocolate Basket ($74) includes craft beer and a local popcorn-based snack, Roni~Sue's Beer Caramel Popcorn ($5 & $7.95) Rhonda (Roni-Sue) takes crunchy bits of Martin's Pretzels (a local NYC Greenmarket fave), coats them in handmade caramel concocted with Brooklyn Brewery beer, and tops them with candied mustard seeds. She describes this as a "compellingly-addictive snack with a slightly bitter, hoppy note."
---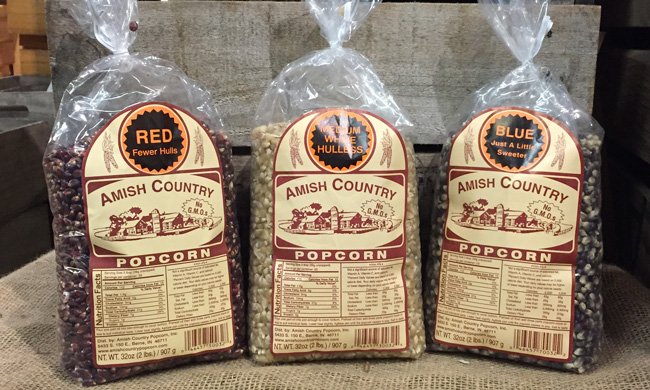 Amish Country Popcorn
For the DIY folks, we recommend Amish Country Popcorn ($4.75 for 2lb Bag) which we stock in our store and is available online at a variety of retailers. This Non-GMO popcorn is grown in Indiana, and is available in a few different variation including: Red, White, Yellow and Blue hulled kernels. Unfortunately, when the kernels pop, the popcorn does not retain the color of the hulls. The popcorn has a great flavor and it pops consistently well.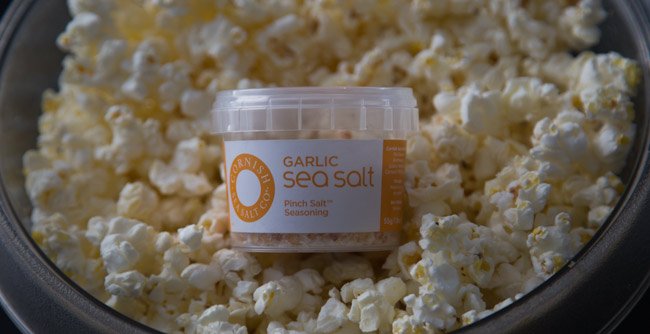 Of course you can pop the popcorn on the stove but if you really want to use your microwave, we recommend the Presto PoperPop Microwave Multi-Popper. With this device you add your own seasoning and oil, and still use your microwave. We like to experiment with various oils for popping, olive oil or truffle flavored oil are our favorites. And for seasoning, popcorn is a great test bed for trying out new flavors. We have a variety of flavored sea salts from Cornish Sea Salt that are a great way to add personality to your homemade popcorn. We just made some with their Garlic Salt (55 grams $6) and butter,  and it make for a tasty savory flavored popcorn.
Enjoy and may all your popcorn kernels pop with flavor.