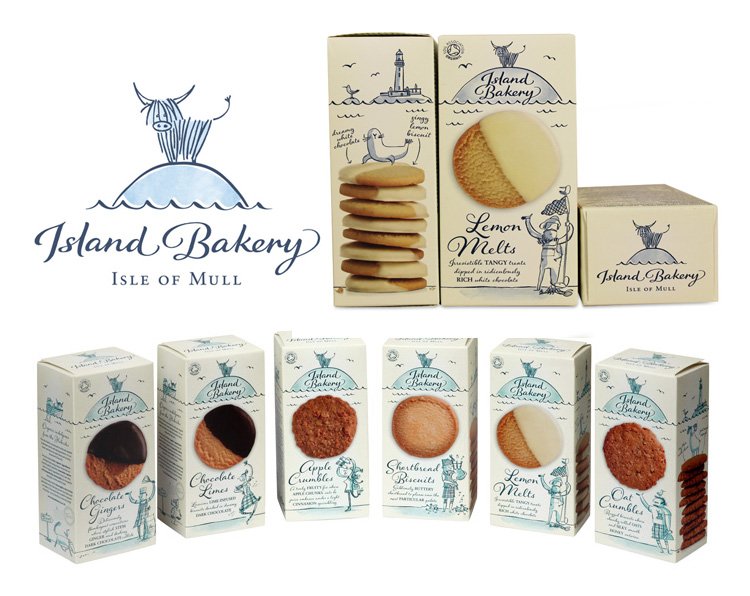 I did recently return from one of my more adventurous trips in Ibiza, Spain and then to Scotland and England. Instead of going to a show, I worked the field so to speak and visited manufactures and stores getting inspiration from the country and the Farm Shops of England.
One of the more interesting stops was the Island of Mull and visiting the Island Bakery home to our well cherished Lemon Melts among other sweet biscuits. The Isle of Mull or Mull is on the west coast of Scotland and is fairly large island with a population of only about 2,800  people.  Getting there is a bit of an ordeal, which I in the past never made the time for.  Ferries leave from the pretty and remote seaside town of Oban, a small resort town on the coast of Scotland. Ferries sail to the many inner and outer Hebrides Islands. Mull is closer and about one hour by ferry, and particularly in good weather the light off the water makes for some outstanding views.
I took my rented car and experienced a good bit of Mull partly because the bed and breakfast I choose was on one end, near the island of Iona and Tobermory and where the Island Bakery is, is on the other end. The road and there is mainly one road that connects both tips of the island and spans almost 50 miles, is in many parts just one lane for both directions. This means if you are looking at a car coming toward you, you have to find a passing point possibly by backing up so that you can pass one another.  Did I mention there are a good number of big tour buses and trucks, not a road you are likely to doze off on, and getting a flat tire on a remote section of that road was a character building experience, ask me if you see me.  It was one of 4 punctures that I got while on my road trip, they do make for some good stories.
The Islands and there could not have been more of a contrast between Ibiza and Mull, both were intriguing, Mull had you feeling you were very far away from the fastness of life, which I enjoyed quickly. I spent time with Joe and Dawn Reade and the Island Bakery which we have been importing for over 10 years yet I never visited.  Joe is the youngest son of Chris Reade and she and her husband Jeff came to the island about 30 years ago and have created the Island of Mull Cheddar, an internationally celebrated farmstead cheddar made from organically raised cows and the cheese aged in their basement.
Their homestead is across a field from the new bakery that is powered by hydro generated electricity  from the Tobermory River and the ovens are heated by a furnace than burns wood chips from wood grown on the island.  Joe choose to stay near his family and created a business that could provide sustenance for his family and now manages to do it in a very sustainable way. Island Bakery Cookies have been around for maybe 15 years and are sold so of the finer shops and department stores in England and Europe. We have been selling them for 10 or so years on this side of the Atlantic. Recently Island Bakery started supplying British Airways with their biscuits so they are now served on flights from Heathrow and Gatwick airports.
Joe and Dawn are very genuine in their approach to business and their organic products comes to us from this charmed corner of the world, and interestingly they have been selling better than ever, and while not inexpensive, they do taste great, have interesting lineage and are produced in an environmental sensitive way. We take pleasure in the story, success and connections that has been created by Island Bakery Lemon Melts and more.