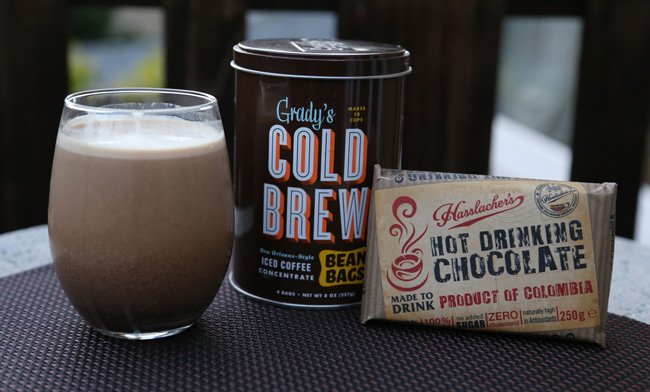 Warning: this recipe may turn you into a morning person.
Recently, we exhibited at the Fancy Food Show where we promoted Hasslacher's ($12.95), our drinking chocolate brick from Colombia. We wanted participants to enjoy the rich, creamy chocolate despite the extreme heat of New York on a summer day. That's when CMB owner David Porat had the great idea to blend it with Grady's Cold Brew to create a fabulous mocha smoothie. We've made it every morning since!
Here's our recipe for the Perfect Frozen Mocha. The key here is the quality of the ingredients: pure bean to bar Colombian chocolate, handcrafted cold brew concentrate with chicory and spices, and British golden syrup produced the same way since 1881.
Chelsea Market Baskets Frozen Mocha
3 tablespoons Hasslacher's Chocolate Syrup (see recipe below)
7 ounces Grady's Cold Brew Concentrate
7 ounces Half & Half (or your milk of choice)
Ice
Pour Grady's Cold Brew and Half & Half into the blender.
Add Hasslacher's Syrup and desired amount of ice to the blender.
Blend in the blender until combined. Sweeten to taste.
Hasslacher's Chocolate Syrup
1 part Hasslacher's Drinking Chocolate
1 part Lyle's Golden Syrup
Microwave Hasslacher's Drinking Chocolate and Lyle's Golden Syrup together in a microwavable bowl. Stir to combine. Other non-sugar based sweeteners can be used in place of Lyle's Golden Syrup such as Organic Blue Agave. This syrup is good on its own and can be used as ice cream topping.
We hope this recipe will put some pep in your step. Enjoy!