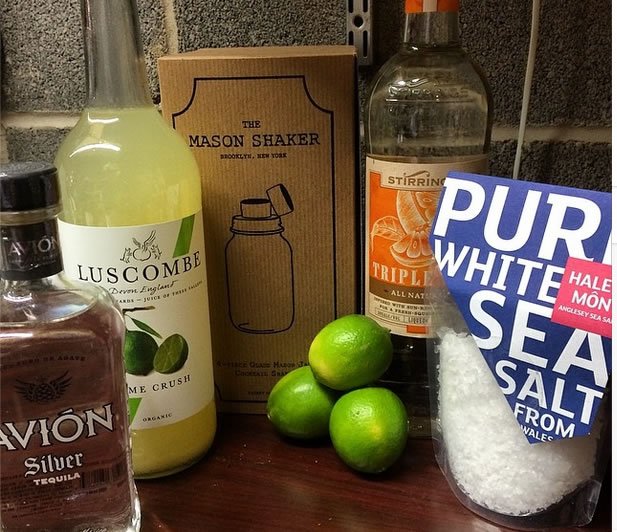 Here at CMB, we're determined to drink in every last bit of summer – literally. We are making avid use of our new Mason Jar Shakers ($28) to mix up cooling summer cocktails. Our recent margarita experiments went very well. It was a great day at work!
After gathering supplies from our store, Halen Mon Sea Salt ($8.95) and Luscombe Lime Crush ($3.50), and picking up a few things from neighbors Chelsea Wine Vault and Manhattan Fruit Exchange, we settled on the following recipe to make the perfect easy margarita with a fizzy twist.
The Very Chelsea Margarita
Halen Mon Sea Salt for the rim of the glass
Ice
1 ½ oz silver tequila – we used Avion from our neighbor Chelsea Wine Vault
1 ½ oz triple sec – we used Stirrings Triple Sec, also available at Chelsea Wine Vault
¼ oz fresh lime juice
1 oz Luscombe Lime Crush
Place Halen Mon Sea Salt in a shallow dish. Moisten the rim of a rocks glass with a dampened paper towel or a lime wedge. Dip rim of glass in salt.
Fill Mason Shaker with ice. Add tequila, triple sec, and lime juice; shake until chilled and slightly frothy.
Fill your salted rocks glass with ice. Pour in Mason Shaker contents.
Top off drink with Luscombe Lime Crush. Stir.
Serve immediately and savor slowly.
We hope you enjoy our recipe. Try it at your next BBQ or as an after-work treat (but please, as always, drink responsibly). Here's to living up summer and beating the heat!