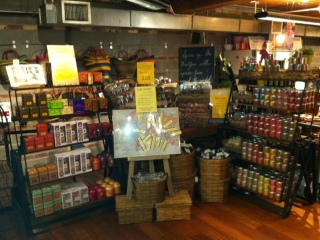 The main topic of conversation these days in the store, and most of New York for that matter, is the weather: it has been downright cold the last few days, and I actually heard a guest at CMB talking about letting her brain dethaw for a moment because she couldn't think clearly so soon after coming inside! Why everyone is surprised at the cold is funny to me—we do live in the Northeast and it is January—but what is interesting is the blistering cold has driven people indoors and they want to be cooking! Not just grilled chicken, hamburgers, and pizza, but new, experimental recipes from the far-flung corners of the earth, and to achieve those unusual flavors, you need spice (or lots of spices). Fortunately, CMB has a selection of spice mixes blended by
The Art of Spice (7.50, approx. 2 oz each)
to take the guess work out of new recipes
and  
to keep your spice rack from overflowing (seriously, how much star anise can a person use in a year- I'm happy to have it already integrated!).
Here's what is in the store right now to spice up your life (can you even say those four words without thinking about the Spice Girls' hit song?).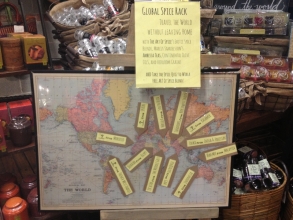 We created this quiz to see how well people know where their spices blends originate.  On a map, there are arrows to Egypt where Dukkah is from, Argentina where you get Chimichurri, and Malaysia for Mah Mee, but we left five arrows blank. Can you match up the following spices with their country/area of origin? The answers are at the very end of the post.
   a. Paella                     1. Kashmir
   b. Rogan Josh                 2. Indonesia
   c. Ras El Hanout              3. French West Indies
   d. Colombo                    4. Morocco
   e. Bahmi & Nasi Goreng        5. Spain
One of the spices in the quiz, Ras El Hanout, is the perfect example of a spice blend that saves a lot of work in the kitchen. Ras El Hanout means, "the head of the shop," or the best mix that a souk vendor would sell, so the spices can vary from merchant to merchant.  But the common base notes in Ras El Hanout are chillies, coriander seeds, cinnamon, and cumin, with smaller amounts of ginger, black peppercorns, cardamom, and cloves. These spices are the core of Moroccan (*hint, hint*) cooking, so they are the perfect accompaniment to a lamb tagine. 
I found a perfect cold-weather recipe in this month's Specialty Food Magazine, and can't wait to try it at home myself: Lamb Tagine with Prunes, Butternut Squash, and Chickpeas.
So come on by for a jar of Ras El Hanout, or Dukkah or Vindaloo for that matter, and share with us how you are spicing up 2013 so far. See you soon at the store!
Quiz Answers: a 5,  b 1, c 4,   d 3,  e 2   How did you do? 🙂