Happy 2013 everyone! To say that it has been busy at CMB would be an understatement: between our mailorder baskets and the store's specialty food and gifts, we were full steam ahead for the month of December. Which meant that all of my holiday baking took a bit of a backseat (luckily, showing up with a ½ pound of Leonidas was just as pleasantly received by several hosts/hostesses as my homemade peanut butter blossoms would have been), and on the first day of this year, I finally had a chance to try some of the cookie recipes I've been tucking away during 2012.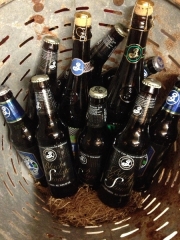 The most successful of the recipes I tried were Soft Stout Cookies from Brooklyn's Lillie Auld, who writes the
Saveur
-nominated "
Butter Me Up, Brooklyn!
" blog. Luckily in my pantry I had
Callebaut Chocolate Chips (8.5oz, $5.95)
,
Droste Unsweetened Cocoa  Powder (8.8oz, $9.50)
and, the pièce de résistance,
Brooklyn Brewery's Brooklyn Black Chocolate Stout (12oz, $2.95)
. A small aside about the beers that we now carry at CMB–after carefully considering all the options out there, we have decided on a collection of small-batch, artisanal, mostly local beers and ciders.  The Brooklyn Chocolate Stout is a perfect example of the caliber that has been brought in:
Beer Advocate
 gave this Russian Imperial Stout a 93 out of 100 rating. These easy cookies call for 6oz, which gave me a remaining 6oz to enjoy while baking!
Before: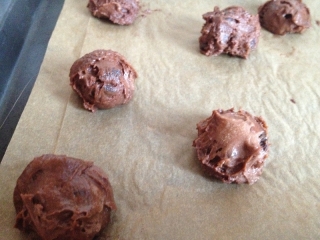 After: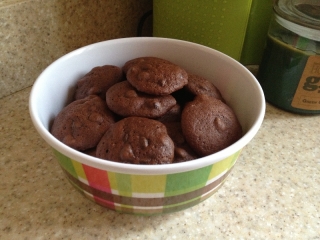 I brought the cookies in today to share, and they were as well-received here as they had been among other friends and cookie-tasters.  Some of the comments included "light and fluffy," "not too sweet, but very chocolate-y," and "I ate one in less than 5 seconds" (granted, this is probably because I scooped the dough with a melon baller, so they are fairly small rounds). I was pleasantly surprised that they stayed so light a day after baking, and the chocolate flavor became bolder overnight.
We'll be bringing more recipes, restaurant reviews, and fun new products to the store blog this year, so keep reading and we'll see you soon at the store!
Recipe Testing: Soft Stout Cookies from Butter Me Up, Brooklyn!
Makes about 3 dozen
6 ounces stout beer
1 stick butter, softened
1 1/2 cups flour
1/4 cup unsweetened cocoa
1 tablespoon black cocoa (or unsweetened cocoa)
1/2 teaspoon salt
1/2 teaspoon baking soda
1 teaspoon baking powder
1 1/2 cups chocolate chips
1/2 cup brown sugar
1/4 cup sugar
1 tablespoon molasses
1/2 teaspoon vanilla
1 egg
Preheat the oven to 350 and line a baking sheet with parchment. In a medium bowl whisk together the flour, cocoa powders, salt, baking soda, baking powder and chocolate chips. In a larger bowl, beat the butter with the sugars until light and fluffy. Add the molasses, vanilla and egg and beat well. Alternate the flour and the beer with the egg mixture until combined.
Chill the dough for about 30 minutes, or until it has firmed up enough to scoop out cookies. Scoop on the prepared baking sheet and bake for 15-17 minutes or until the top springs back lightly when touched. Cool completely.