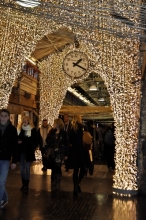 The waterfall of Christmas lights is up in Chelsea Market and we're definitely in the holiday spirit, and starting on Saturday we'll be opening up our advent calendars! The advent calendar originated in the 19th century in Germany when people made chalk lines beginning December 1st on their door to count the days down to Christmas. Because Christmas occurs in the darkest part of the year, it was also traditional for families with means to light 24 candles (an additional candle everyday) so that by Christmas Eve, the home was bright and shining with anticipation!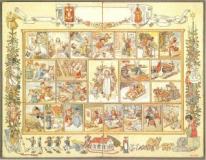 The modern idea of the advent calendar, opening a window to reveal an image, became popular in 1908 when Gerhard Lang, a printer from the printing firm Reichhold & Lang in Munich made 24 little colored pictures that could be affixed to a piece of cardboard. Several years later, he introduced a calendar with doors or flaps.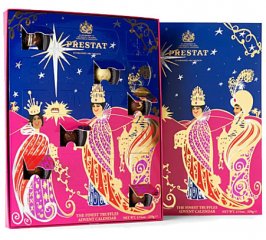 And once there were doors, there was no stopping what could go behind them: pictures, poems, toys and treats…here at CMB, we have found the end-all-be-all
advent calendar from Prestat ($49)
.To make the countdown to Christmas sweet and luxurious, Prestat has developed a traditional advent calendar that has 24 doors and behind each door a chocolate truffle awaits to be enjoyed.
British artist Kitty Arden
designed the Prestat Advent Calendar with a metallic accented picture of the Three Kings- the magi following the star with their gifts of gold, frankincense and myrrh. One of the truffle flavors in the assortment is Orange and Frankincense: "Sweet orange oil combined with aromatic frankincense infusing butter, cream and chocolate filling in a velvety smooth milk chocolate truffle shell," which pays homage to one of the original Christmas gifts. One feature of the box is that it comes with a cover that is also printed with Kitty's magi image that won't end up bespekled with holes as the doors are opened daily, so you can keep the exterior for future holiday seasons…
the  Ghost of Christmas Yet to Come
 would approve!
All told, there are 11 truffle flavors (each is repeated once during the month), besides the Orange and Frankincense, including: Pistachio Summer, Hazelnut Feuilletine, Honey Glow, Ginger Fire, Sea Salt Caramel, Key Lime, Gianduja, Cinnamon, Milk Chocolate, Coconut, and Earl Gray.
It's the sweetest way to countdown to the holidays- an advent calendar makes a great gift and is also a great purchase to make your own home festive during the season. Keep checking back to our CMB blog for additional gift ideas throughout the month of December!