One food trend of 2012 is the ever-growing interest in Nordic food, but in 2003, when Marcus Samuelsson took over the helm at the midtown Swedish restaurant, Aquavit, there was less enthusiasm for a cuisine based in pickled herring and dill.  Since then, Marcus has become synonymous with global flavors rooted in tradition and adventurous dining with a good portion of soul! Today's blog is a small tribute to a chef who has truly changed the face of dining in  New York City, in four parts.
First, Marcus Samuelsson is a philanthropist as well as a chef: you may know him from his win in 2010 on Top Chef Masters, where as well as the title, he won $115,000 on behalf of the UNICEF Tap Project.  He followed that up by winning Chopped All Stars: Judges Remix, and $50,000 for Careers Through Culinary Arts Program (C-CAP). In a very topical act of serving his community, recently Red Rooster Harlem, Marcus' restaurant on 125th Street, announced a Sandy Prix Fixe Menu with 20% of the proceeds from each dinner ordered going to City Harvest. His attitude of giving extends from a deep root of gratitude- Marcus understands how food builds community and humanity, but I'm getting ahead of myself! Let me backtrack a bit, and share a few thoughts about his recently published memoir, Yes, Chef.
As an author, Marcus has published multiple cookbook titles, including: Aquavit and the New Scandinavian Cuisine, The Soul of a New Cuisine, and New American Table, but in June of this year Yes, Chef: A Memoir ($27) was released to great praise. Ruth Reichl, best-selling author and final edit0r-in-chief of Gourmet, said, "I've read a lot of chefs' books, but never anything like this one. Marcus Samuelsson has had such an interesting life, and he talks about it with touching modesty and remarkable candor. I couldn't put this book down."
It's true: Marcus has led a very unusual life, and at every turn has taken the high road, let seeming challenges or roadblocks become opportunities and new directions. Beginning with his adoption, with his sister, and flying from Ethiopia to Sweden, it becomes clear from the first chapter that Marcus is grateful for the life he now leads and that all the stops along the way have fed into his current success. Much like flavors in the kitchen are layered with a deft hand, his artful retelling of years in Sweden, Europe, aboard cruise ships, and finally arriving in New York allow the reader to get caught up in his experiences and drawn into his world. It is a delicious world, too: as a reader, you root for his success with new ventures like Red Rooster Harlem and being chosen as the guest chef for President Obama's first State Dinner.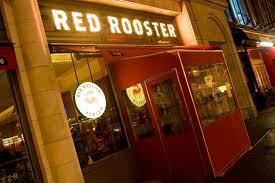 Now I've mentioned Red Rooster Harlem at least three times, so I should tell you about a recent dining experience at Marcus' uptown establishment.  The name, according to the
restaurant's website
, came from "…the legendary Harlem speakeasy that was located at 138th Street and 7th Avenue, where neighborhood folk, jazz greats, authors, politicians and some of the most noteworthy figures of the 20th Century – such as Adam Clayton Powell Jr., Nat King Cole and James Baldwin – would converge to enjoy drinks and music in an inviting atmosphere."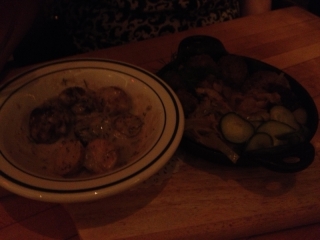 Our own Tina Kehoe, who started this blog for the store, visited the restaurant while staying on the Upper West Side. She and her dining companions ordered several signature items from the menu: Helga's Meatballs were  "the best thing on the table" according to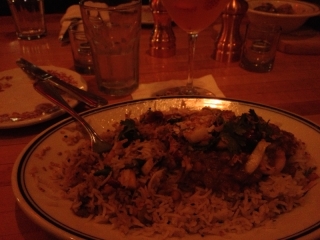 Tina, Berebere Chicken that Marcus writes about in the spice blend inspiration in
Yes, Chef
, and Dirty Rice and Shrimp that is the most popular appetizer and brings a lot of soul to the table!It is a nightly hub of energy that reflects the neighborhood: Latin Nights on Tuesday, Ella Fitzgerald-inspired concerts, and Halloween Costume Contest all happened in the last two weeks. You'll still need a reservation to get a table if you are making a special trip, but if you're in the neighborhood, it is becoming a local hangout with walk-ins welcome. As
Vogue
reported and Tina confirmed, this is "American food through the eyes of an immigrant," and it twists the classics from something familiar to something new, and in most cases, wonderful.
Lastly, you cannot write about Marcus and not look at the products he has created to grow his brand, specifically the line of teas from Harney and Sons that reflect the different stages in Marcus' culinary development. CMB proudly carries all four flavors of Ambessa in our store, which translates as "Lion" in  Amharic and has a graphic lion on every tag, in 20 sachet tins ($8.95). Begin the day with Safari Breakfast, a blend of African black teas, "it's the embodiment of Africa's fine lineage of outstanding teas, spices and vibrancy."  Choconut provides a warming mid-day treat, "velvety undertones of dark chocolate, caramel, and peanuts in this rich, aromatic black tea blend."  East meets West, but not in a traditional manner in Lingonberry Green, "years of Japanese and Scandinavian tradition come together in this elegant blend. The fruit-forward notes of tart Nordic lingonberries strike a delicate balance with the refreshing green tea." And in a not-so-subtle nod to his home in New York, the Earl of Harlem makes for a nice finish to the day with "citrusy layers, bergamot and floral aromas [that] mingle with lingering smoky base notes for a rich and fragrant finish" (all quotations provided by Harney and Sons).
I can imagine nothing nicer then spending a day sipping through the entire tea line and matching each chapter to a different flavor! Can you ever have too much Marcus Samuelsson? The answer is a resounding "no!" and we wish him all the best in his future endeavors.