Announcing a new product, specially designed to raise funds for Hurricane Sandy relief.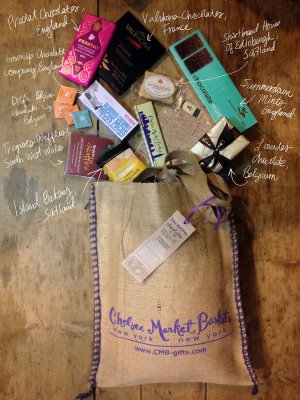 C
MB Chocolates to the Rescue
– a reusable bag filled with over $50 of imported chocolates and will be sold for $25. The jute fabric bag includes fine chocolates from Leonidas, Grown Up Chocolates, Prestat, Summerdown Mints, Valrhona, Dolfin and more. Chocolates from Belgium, England, and France all helping out NYC!
All proceeds from the sale of this item (100% of the purchase price) will be donated to the Mayor's Fund to Advance NYC, a non-profit created to support Hurricane Sandy Relief, recovering and rebuilding the hardest hit areas of NYC.
This special gift will be available on Thursday, November 15 at our retail location in Chelsea Market, 75 Ninth Ave, New York, NY 10011. If you have any questions about CMB Chocolates to the Rescue, please call 212-727-1111. Limited quantity available, so plan on coming to pick yours up soon. Please note that we are not able to ship this item and there is a limit of 4 bags per customer.
We would like to take a moment to thank our vendors that helped us with supplying product for the gift bags, including Leonidas Chocolates, Valhrona, Belgium's Chocolates, and Prestat.

To celebrate the launch of this special item and our new holiday catalog we will be having a tasting event on November 15, 5:30pm to 7pm. We welcome everyone to stop by, get a drink and sample some of our delicious chocolates and products. We look forward to seeing you there!
Press Release – CMB Chocolates to the Rescue