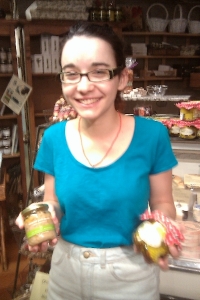 One of the qualities we look for in a potential employee at CMB is an interest in specialty foods and enthusiasm about trying new things in the kitchen. To encourage a growing knowledge of food, and especially the products we carry, if a staff person is curious about a product at CMB, we have a tendency to give them the product (great perk!), and then ask them to bring in the results of their labors for our weekly staff meeting (or at least be ready to share some thoughts with the rest of our staff). This week on the CMB blog, I am thrilled to share the reportings of Jessie H. who has recently joined us from England and splits her time working in the store and answering the telephone downstairs. Jessie was quite taken with the idea of easy summer meals- and she has a serious thing for garlic- so we packed her bags with new Mediterranean products, and without more ado, here is what she thought of CMB's newest offerings (in her own words).
This week, I was lucky enough to be asked to test out two of our new products; Les Moulins Mahjoub's Sundried Garlic Spread ($8.95), and La Cabra Verde's Medallas de queso joven en aceite de oliva (goat's cheese medallions in olive oil, $18.00). These were pretty appropriate samples for me, because I rarely cook without garlic and my feelings on Cheese have been aptly addressed by Tim Minchin in a Music Video posted on YouTube.
Les Moulins Mahjoub grow all their products in Tunisia, and oft quote the Roman natural philosopher Pliny
(see Previous Blog Post: Cheese Please: Le Chevre (Decoded))
are immersed in organic extra virgin olive oil of the highest quality- from the Sierra de Cadiz – with spices and herbs, to give their goats cheese such a unique flavor (so unique, that it has in fact, won four awards throughout Europe).
I tried mixing it in with ketchup, as a sauce to a steak and vegetable meal. I'm not usually a big ketchup fan, not only did it improve it for me, but my mother (whom I have never seen eat ketchup) took second dollops!
I tried the goats' cheese in two separate recipes, once in a chef's salad with salami, tomatoes, avocado, lettuce, spinach, carrots and onions. I then made up a dressing in the sundried garlic jar, so as not to waste a milligram!
I'm pretty in love with the goat cheese, it is the perfect summer cheese in my opinion, light and creamy, a perfect addition to most lunches. The sundried garlic on the other hand, while could be a little more garlic-y for my taste, but then, when it comes to garlic I'm practically (to stereotype) French (or an anti-vampire, your choice). I feel it makes a good ingredient within sauces, dressings or marinades but alone is missing something.
How fun to get Jessie H.'s thoughts, and hopefully it inspires your own summer meals! I do want to mention that everything in this review was purchased in Chelsea Market! Truly one stop shopping along the corridor, and your complete list of ingredients and where to find them includes:
Sundried Garlic Spread, La Cabra Verde's Medallas, The Fine Cheese Co.'s Olive Oil Crackers, Sir Kensington Ketchup, Zoe's Olive Oil, Cape Herb's Herb Garden & Lemon Pepper: Chelsea Market Baskets
Salami: Buon Italia
Peppers, Cucumber, Mint, Limes, Lettuce, Tomatoes, Avocados, Spinach, Carrots, Sundried Tomatoes & Fennel: Manhattan Fruit Exchange
Calamari, Scallops: The Lobster Place
Steak: Dickinson Meats