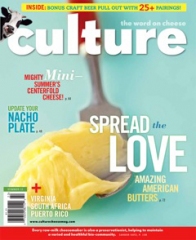 On my way home from the Fancy Food show, I was going through my collected product literature- all sorts of fliers, printed tri-folds, and booklets from people we had purchased from or I wanted to remind myself of later, and I came across the most recent issue of
Culture Magazine
(Summer 2012 "
Spread the Love: Amazing American Butters"
). In a way, I started reading it to procrastinate from the actually sorting I needed to do, but found myself both learning and completely entertained, and when I realized how long I'd been engrossed, we were touching back down in New York!
We happen to carry Culture at Chelsea Market Baskets, but I rarely have time to read it cover-to-cover, and when I'm shopping for cheeses, I am happy to rely on our in-house cheesemongers for their recommendations. Discovering something new that you really like is such a pleasant surprise!  I've learned that, starting with a fairly well-known flavor or type of cheese can lead to tasting more unusual, rarer varieties, and I'm no longer as intimidated by our cheese case. For example, I love our Fleur Verte ("Green Flower")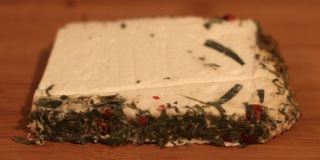 which I took home a wedge of in my first few weeks of work at CMB. It is a young, herb-covered goat cheese from France. It doesn't have a rind per se, but it is dusted in dried thyme, tarragon, and pink peppercorns, and the herbs enhance the tang I've come to expect with a chevre: overall this cheese is part crumbly, part creamy and almost citrus in its "brightness." I appreciate that goat cheese on a baguette with some barely dressed leafy greens becomes dinner in the warmer months, and I so this summer, armed with my knowledge of Fleur Verte, I can help the cheesemonger guide me to something else I might really enjoy and I've found two new go-to goat cheeses that I'm excited to share with you!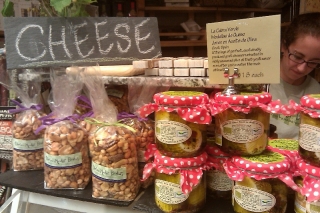 La Cabra Verde Medallas de Queso Joven en Aceite de Oliva ($18)
, a Spanish cheese (did you guess) that translates as "The Green Goat Young Cheese Medallions in Olive Oil." The buttons of organic, hand-rolled, sustainably produced goat cheese are marinated in richly seasoned olive oil after only curing a few days. After translating the ingredients and label (thank you Google Tranlations), I learned that the milk is from the Payoya goats,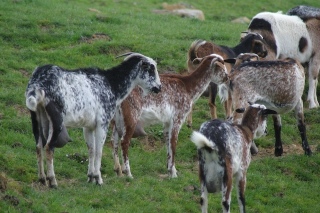 a heritage breed native to Andalusia (Southern Spain), and that in 2009 the Spanish Government awarded this cheese the Best Organic Cheese in Spain! I love the cheerful red polkadot cap and smiling goat label, but the cheese is pretty fabulous, too, and with all the herbs in the Extra Virgin Olive Oil, I don't even need to buy dressing for my salad- it's built right into the jar!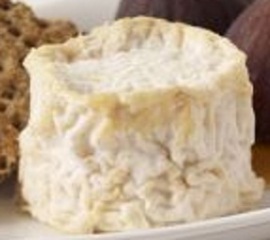 So now I have a great alternative for a young goat cheese with herbs and spices, but my explorations can go even further afield when I tell my cheesemonger that I also like aged cheeses, something with an edible rind, and even a little "gooey" or runny  in the center! Her suggestion:  an American-made (from Maine) pasteurized goat and cows' milk cheese
Seal Cove Farm's "Pearl" ($12)
. We opened a sample recently to taste at a CMB staff meeting, and while the blue mold and pungency was too much for some, others of us fell for the unctuous, buttery middle and swoon-worthy rind.  Also, the fact that the "Pearl" has a sweet story behind it goes a long way with our team (I've copied the story here from Seal Cove's website):
"Pearl was a much-loved spunky goat whose mother and grandmother were part of the foundation of the Seal Cove Farm herd. Over her lifetime, Pearl produced over 3,000 gallons of milk! Today, many of Pearl's daughters and granddaughters produce a similar abundance of milk. Like Pearl, these offspring are inquisitive and inclined to make the best of every opportunity to have fun on the farm. 'Pearl'…is a bloomy rind cheese similar to a chaource, which is a member of the Brie family."
I think what I've learned the most in this series of tastings is that cheese, like anything worthwhile, can involve a steep learning curve at first, but becomes a wonderful, tasty hobby and even obsession (for some of us)!  While three kinds of goat cheese just begins to scratch the surface of these dairy delicacies, I hope that you'll stop in the store and ask for a sample, get to know our CMB cheesemongers, and have fun stepping up to the cheese counter instead of feeling trepidation. You never know what you'll taste, and so you never know if you're going to find a new favorite. See you soon at the store!