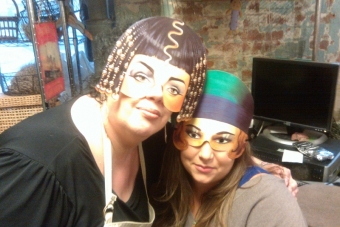 After a great blog post from Jessie H. last week, we had lots of interest from other CMBers who wanted to share their favorite products, too. This week, I'm excited to turn the blog over to Nicole, our super-hardworking Mailorder Basket Coordinator, who has, ironically since we work in a specialty food store, a limited palate of things she will and will not eat. Her ringing endorsement of Sallie's Greatest Fig, Sweet Onion, & Rosemary Jam ($9.50, 9.5 oz), along with simple instructions for a weeknight dinner, makes me want to pick up a jar immediately!
Fig, Sweet Onion, & Rosemary Jam
from
Sallie's Gourmet
during a recent staff meeting I was pleasantly surprised. I took the product home, pretty excited to cook something new and different for dinner. Though, when it got down to it, I had no idea what the jam would taste good with. I knew it worked with cheese, and I'd read a few recipes online about using it as a glaze, but that is way above my after-work skill level and I didn't have the time to marinate something for hours.
I'm not going to lie I was pretty impressed by how well it turned out. It made a great dinner, and I even had enough left over for the next day's lunch.
In taking a cue from Nicole and using the jam as a marinade, I [Elizabeth] also want to include a recipe for Fig, Sweet Onion, and Rosemary Glazed Pork Roast straight from Sallie's Greatest's own recipes- it gussies up an everyday roast, and makes it something special using the same jar of preserves!  Enjoy, "Love Thy Farmer," and we'll see you soon at the store!