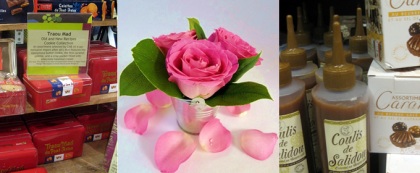 Spring is in the air, and with it a very special occasion: Mother's Day!  We have already added special gifts to our online collection, and in the next week leading up to May 13th, we're hosting several mom-friendly demos and events in the store. It is a little Parisian, a little sweet, and a lot of ways to say "thank you" to the special moms and women in your life!
On May 5th, CMB welcomes back Tammy Fahey and Suss Sweets caramels from New Hampshire.  We're excited to introduce a new flavor from her: Vanilla with Sea Salt. We also will be demoing Valrhona's signature Grand Cru Guanaja 70% for the classic mom that would appreciate having the preferred chocolate of Jean-Georges Vongerichten in her pantry!  And a brand new demo for CMB- we are thrilled to welcome Carolyn Hansen and Cathleen Peck, the authors of the PowerHiking guide book series that outlines great walks in metro areas, for a book signing.  While the rain may keep you from doing a lot of walking today, their New York book does a great job of educating about a certain neighborhood and lays a path through the area that is easy to follow and includes lots to see and do.  Moms will love this series, whether they are visiting New York or looking to explore the city they call home.
On May 6th, CMB is one of the stops for the D'Artagnan Duckathlon, an afternoon event where restaurant teams use their brains and tastebuds to complete challenges all over the Meatpacking District.  It is always entertaining watching chefs trying to guess ingredients blindfolded or estimate the weights of the ducky D'Artagnan products.  We are also kicking-off the warm weather pop-up series for Les Caneles de Celine at CMB.  Last summer, to great success, we sold Celine's delicate mini caneles and financier pastries (hot out of her oven in the Bronx) in the Chelsea Market corridor, and after a winter hiatus, she's back with new flavors (pink praline, caramel, and lime financiers).  We also are hosting a New York Times contributing author and dessert-aficionado Amy Thomas, who wrote the book Paris, My Sweet while living abroad chronicling a great list of patisseries to visit in Paris and New York.  Amy will be signing books and of course providing personal recommendations for places to indulge your sweet tooth.
Skipping ahead to May 12th, we are focusing on all things French with more mini-caneles and financiers from Celine paired perfectly with Kusmi Tea.  We also have several gift books that will be available that weekend with a French theme.  Paris vs. New York is a designer's dream with graphic representations of the best of both cities, and Home Cooking with Jean-Georges makes difficult French recipes accessible to anyone!
Lastly, and definitely not least, CMB is offering a special gift for anyone in the store purchasing a gift for their mother: we are partnering with French florist Ode a la Rose and offering a 3 rose arrangement in a galvanized vase with a purchase of $60.  The roses arrived yesterday and are a beautiful bright pink that liven up the store!  While we have a limited quantity, we encourage you to come and get yours before they disappear. The arrangements are also available for purchase, $12 each, and will be around through Mother's Day (5/13).  We hope it is a very special spring for you, and look forward to having you join any and all of the activities in the store!