Chelsea Market Baskets imports biscuits or, as we call them, cookies from England, Scotland and France. We take great pride in finding cookies that come from smaller bakeries,  made by people passionate about what they do. We include many in our gifts and in addition, sell some online and all in our store.  Below is a review of the brands that we import:
 Shortbread House of Edinburgh
(Edinburgh, Scotland) – makes shortbread the old-fashioned way: by hand using a much coveted recipe, handed down from the original owner.  Having tasted many brands, this recipe offers more nuance in the flavor and texture that we believe makes it a better shortbread or best amongst what is available from Scotland.  Handsomely packaged with the Scottish Thistle logo, we offer rectangular tins of fingers and the traditional, round petticoat tail tin, that make great gifts on their own. (
www.shortbreadhouse.com)
Island Bakery Organics
(Isle of Mull, Scotland) – produce their celebrated organic cookies  off the west coast of Scotland in the romantic village of Tobamary on the Isle of Mull.  Joe and Dawn Reade settled on the island after attending school and opened a bakery where Joe's parents had created a dairy and the Isle of Mull Cheddar.  Figuring a bread bakery went well with cheese, they had not yet realized there was not a year-round customer base to support the bread bakery, hence the EEC Organic Cookie range was created.   Butter cookies flavored with lemon and dipped in white chocolate called "Lemon Melts" are our best sellers.  Other flavors include a Chocolate Ginger, an Oatmeal Crumble and an Apple Crumble. (
www.islandbakery.co.uk
)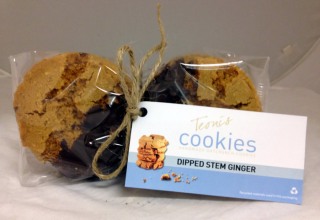 Teoni's Cookes (Devon, England) – makes large crunchy oat cookies that are simply packaged and tied with twine.  Teoni created her signature cookie and company 10 years ago based on a recipe that includes oatmeal and all natural ingredients.  They are very popular in many farm stores and delicatessens in England, and the favorites at CMB are the chocolate dipped varieties that pair dark chocolate and ginger or white chocolate and cranberries.  Our store and online assortments also include her butter mini cookies and some of the new oat fingers and biscotti. (www.teoniscookies.co.uk)
Tregroes Waffles
(Wales, England) Kees, a Dutch immigrant to Wales, created Tregroes in the village of Tregroes based on the Dutch Stroopwaffle cookie, well known in Holland.  Two thin waffle textured outside cookies sandwich a soft milky caramel that goes perfectly with a cup of coffee or tea.  Placing the cookie on top of a steaming mug helps crisp the outside and soften the inside caramel (or you can heat in the microwave for a few seconds for a similar effect).  In addition, these cookies are available coated in milk chocolate or dark chocolate which makes for a special treat.
E. Botham of Whitby
(Yorkshire, England) Situated in the historic Victorian seaside town of Whitby, Elizabeth Botham established her tea room and bakery in 1865.  You can still take tea or buttered plum bread in the tea room and transport yourself back in time (perhaps catching a glimpse of Yorkshire's most famous inhabitant, Captain James Cook), but if you can't get to Northern Yorkshire, the Yorkshire Brack and Shah Biscuits travel well- CMB carries Shah biscuits (a ginger cookie) and its chocolate chip variation year round. We do get their fruit cake and brack seasonally as well.  (
www.botham.co.uk
)
Traou Mad
(Brittany, France) In northwestern France, where butter is a prized staple, Traou Mad de Pont-Aven has been making the lightly sweet Traou Mad biscuit since 1920.  Since then it has expanded to supply many of the top Parisian specialty food stores with sweet and savory products.  CMB imports many products, including the cheese crepes, and puts them into many gifts.  Brand new this year is a distinctive red tin packed with the original Traou Mad recipe as well as Galettes with caramel bits and crisp mini crepes filled with hazelnut chocolate cream.  We call this exclusive collection "Old and New Recipes from Brittany."  (
www.traoumad.fr
)
You can find these special imported sweets in our store or online through our website, and many of these products are components in our gift baskets and hampers. We work hard to find authentic, unusual and delicious cookies that are too good to just give as gifts!