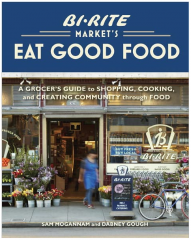 Years ago when we were selling a good deal of imported wholesale food products, we did have this good customer in the Mission District of San Francisco with the unlikely name of Bi-Rite. They were always interested in the food we were importing – they looked carefully at the ingredients of everything they purchased.They were interested in buying products from smaller manufactures who were not selling to the big grocery stores.
Bi-Rite is run by Sam Monagnnnam. He grew up in the store which was owned by his father and uncle. In the 1980's Bi-Rite was a working man's grocery store that sold some food and a good deal cheap wine. After college,  Sam had a variety of food related jobs, including working in Europe, where Sam experienced how food is primarily sold in smaller stores and shoppers had fewer choices than in the US. But the products offered in those small European stores had more quality and integrity.
Back home in San Francisco, Sam bought out his father and uncle, and transformed Bi-Rite into one of the most influential community markets in the nation. Now, when I visit San Francisco for the Winter Fancy Food, I always make it a point to stop there and see the business. And as I browse this great little store, I always recognize a few other food professionals sniffing around.
Sam will be in our store October 29 starting at 2 pm to sign his just published book Bi-Rite Market's EAT GOOD FOOD. Come meet Sam, learn about his business that includes a farm and an adjoining ice cream business and pick up a copy of this Californian original's passionate words about food and what we should eat.