Fall flavors are filling Chelsea Market Baskets shelves!!!
In NYC the weather has changed and harvest is here. CMB celebrates the new season with bold autumn tastes.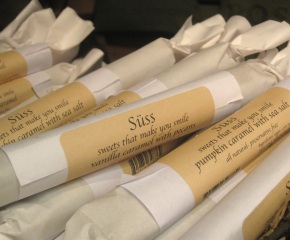 One of the items that we are excited about is Süss – Sweets that make you smile.
Homemade in New Hampshire, these caramels came about because friends and family encouraged Tammy Fahey to take her caramels to a local farmers market. After her debut at the farmers market she knew she has something special (We think so too!).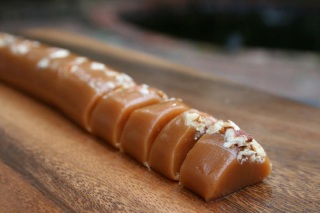 The Süss (Means sweet in German) caramels are made with all natural ingredients; each batch is made by hand, including the pouring, cutting and wrapping. The ¼ lb rolls can be sliced to share or easily kept for your own enjoyment.
They are soft & chewy, but not sticky, so your teeth will be fine… The favors include, pumpkin caramel with sea salt, vanilla & pecan, and cinnamon apple. $8.95 
Doin' the Pickleña is another hot and cool company from Westport, CT!!!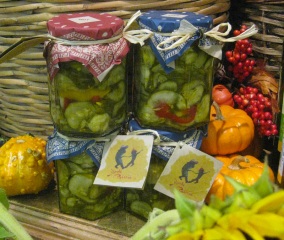 Coke Anne and Jarvis Wilcox started their pickle company because they would receive delicious jalapeno pickles from a friend every year but always thought there was something missing! They finally realized they weren't Texan enough.  As a result, they gave their restaurant chef a challenge, to make a Jalapeno Pickle that screamed Texas, and they finally figured it out!
Doin' the Pickleña is their vision of  perfect pickles, robust combination of sliced pickled Kirby cucumbers with jalapeno, red peppers, and onions.  At CMB we carry both the hot and cool versions; either of these can be used to liven up things, like tuna salad, egg salad, hamburger or a cheese platter.  $9.00 a jar