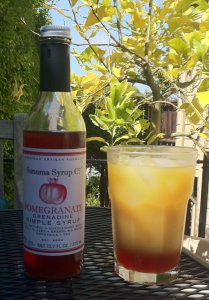 Since the Fancy Food Show last month, our shelves have been filled with new products. I recently came across new drink mixers from Sonoma Syrup Co. With summer quickly coming to an end, use these syrups at your Labor Day barbecue and give everyone one last reminder of the summer of 2011 (and your amazing party of course)
Sonoma Syrup Co. created in 2002 by life resident of the Sonoma, California, Karin Campion.
She developed the idea for the company when she was experimenting with ingredients from her kitchen garden and simple syrup. Growing up in the region known for world-class blending and ingredients she uses these principles with her syrups.  Hand crafted in small batches, these simple syrups can be used in coffee, tea, cocktails, sorbets, sodas, and lemonades or cooking.
To try this product line, I took home the Grenadine No. 28 and made a Tequila sunrise and of course everyone's favorite Shirley Temple.  This product did not disappoint, my one Tequila sunrise turned into two…
The Grenadine from Sonoma Syrups uses over 45% pure pomegranate juice.  The syrup is thick with a deep red/brown color, exactly like the outside of a pomegranate.  The syrup is not sweet and taste like the fruit that it is make from but with hints of vanilla.
This is nothing like the red liquid that is passed as Grenadine in your local grocery store.
CMB also carries Sonoma Syrups Co., Olive Juice, Sweet & Sour, Classic Simple Syrup, Mint Infused Simple syrup, Vanilla Bean and Meyer Lemon. Priced between $7.95-$11.95.