The end of the summer is daunting; however, the plethora of local harvested fruit and vegetables are one delicious reason to look forward to the approaching season. We have a few brands that are truly "fresh from the farm" this year.
LowCountry Produce– Handmade and Hand-packed, a company from South Carolina that produces all-natural southern style chutneys, relishes, jellies and preserves.  All produce sourced locally  at the peek of their season. They started 5 years ago by collecting friend and family favorite recipes, these old fashion recipes allow them to provide their customers traditional low country southern flavors.
Our favorites include- Peach Preserves, this is one hardy preserver full flavor that includes red chili flakes and raisins (I think its perfect on a piece of sharp cheddar cheese); Pickled Garlic, so crunchy a real treat for garlic lovers; and sweet potato butter, slow cooked a southern treat that can be added to soup, pancakes, sauces or even over ice cream.
The Taste of the North Fork– Homegrown flavor with a sophisticated taste.  Owner Jeri Woodhouse, runs an all women business that concentrates on sourcing all produce locally on Long Island. Their mission is to come up with the best jarred products. They has done quite well so far! Some of their jarred savories include: Bread Pickles, Pickled Mini Peppers, Dilly Beans, Cheddar Cauliflower and our favorite Pumpkin Pickles (Which will be available later this fall).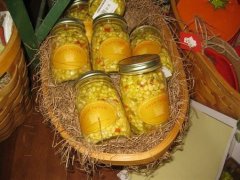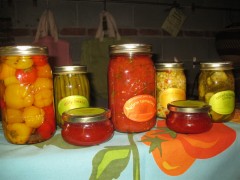 Katchkie Farms– is a 60-acre organic farm upstate in Catskills, NY, they are committed to celebrating local flavors while supporting sustainable agriculture. Made in small batches Katchkie is committed to showcaing the flavors of the vegetables and fruits grown on their farm- you can just taste the freshness of summer in their products.  Products include: Katchkie Ketchup, Salsa Verde, Bob-B-Q and Tomato Jam.
Once they're gone, they are gone until next years harvest……