It's summertime! It's time to squeeze in as many parties and gatherings with friends and family before the cooler days of autumn return. Why waste time on bland watered down "Happy Hour" drinks? Instead, treat your friends to a backyard stocked with good food and an aromatic refreshing summer cocktail made with fresh basil, strawberries, gin, and Fee Brothers Old Fashion Bitters.
Bitters are a highly aromatic product made by distilling down herbs, barks, roots or plants.
CMB features the Fee Brothers Bitters in 8 flavors that will brighten up any drink. It will be fun challenging your friends to create new cocktails using Fee Brothers Grapefruit, Traditional, Peach, Mint, Lemon, Celery, Rhubarb, or Aztec bitters. Mixing the flavors adds layers and dimensions to your cocktails and it  can even be added your favorite food recipes.
Fee Brothers, a four-generation business located in Rochester, New York, produces  beverage ingredients that include cocktail mixtures, bitters and flavored syrups.
Summer is not over. Grab some bitters at CMB and get your party started!
Fee Brothers sold at our store for $7.95  Fee Brothers is also included in our  Summer Cocktail Basket available online for $79.00.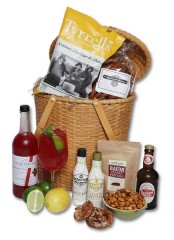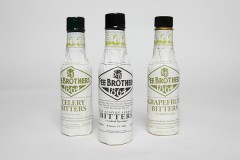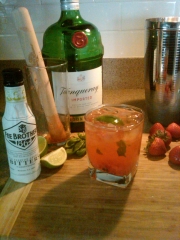 Strawberry Gin Muddler
3 Strawberries
3 Basil Leaves, torn
1/4 of a lime
1 tablespoon white sugar
1.5 oz London dry gin
2 Dash Fee Brothers Old Fashion Aromatic Bitters
Throw the strawberries, basil, sugar and lime in a pint glass and muddle until the juice and oils are extracted from the lime and the basil is incorporated. Add the gin and 2 dashes of Old Fashion Aromatic Bitter, put over ice, and shake vigorously for 10 seconds. Take the top off of the shaker and pour the whole thing, pulp and ice included into a glass. No need for much garnish, as the strawberry and basil muddle makes for a nice looking cocktail. Recipe is adapted from "The Noble Experiment."