Bacon Peanut Brittles is a new product in our store.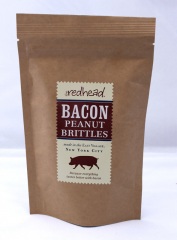 Made my the Redhead restaurant in NYC, Bacon Peanut Brittles is a delicious concoction of peanuts, maple syrup, bacon and spices. This item has been very popular in our store – so popular that we have included it in a few gift baskets.
The flavor do all meld together but the strong flavors might turn a few people off. They make the peanut brittle with just the right amount of cayenne so that it finishes with a little heat – enough to make you want to try some more. It is the perfect snacking food for watching a game or drinking with friends.
The 4oz brown bags retails for $5.95