This is based on my monthly column in the WestView News, a paper that serves as the voice of the West Village. In April, we  are launching "WestView Picks," a personally curated list of restaurant recommendations, along with recommendations from readers. In this article I mention well known chef's restaurant picks  from a recently published book.  I include surprisingly high- and low-brow recommendations, and all of them are accessible to the general public (reservations and feedback is encouraged!).

As someone who is often asked, where should we eat…as a community service and to help highlight what I think is food to spend good money on, we are putting together a list of where to eat in the West Village. These are not meant to be the most expensive places but the best in terms of experience and value. New York is a town of great food so we are lucky to live in what is considered the best place to eat in the United States according to the DailyMeal.com. In a recent listing 9 of the top 16 restaurants in USA are in Manhattan and another is Blue Hill at Stone Barns and just north of the city.
Curiously, having recently been in Las Vegas, a good bit of Las Vegas mimics New York and some of its ways of life and style of which maybe the closest one to my heart is the food.  My 5 star hotel had 3 restaurants that are New York City restaurant branches, and that does not include the casino resort that is called, New York, New York. NYC is everywhere there.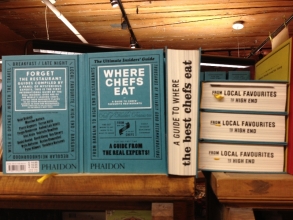 I do look at many books and websites and have found
Zagat
pretty reliable over the years but a new book that just came out is titled
Where Chefs Eat ($19.95 and available at CMB)
and is published  by Phaidon in London. You can browse and purchase this book in our store. It is fun to see where chef's like to eat on their time off and where they recommend. This book covers the world but does have many New York City listings that include local chefs and local places to eat, some selectively listed include:
April Bloomfield (The spotted Pig) recommends Kunjip (Korea Town)
Bruce Bomberg (Blue Ribbon Brasserie) recommends Barbuto, Congee Village and Wo Hop (Chinatown)
Daniel Boulud (Daniel) recommends Thelewala and Pastis
Harold Dieterle (Now of The Marrow see below) recommends Daddy-0, The Little Owl, and Minetta Tavern
Peter Hoffman  (Back Forty) recommends EN and Morandi
Gabrielle Hamilton (Prune)  recommends Barbuto and Del Posto
Anito Lo (Annisa) recommends L 'Artusi, Tertulia, and Pearl Oyster Bar
Zakary Pelaccio (Fatty Crab) recommends Great NY Noodletown along with East Corner Wonton (Chinatown)
Marcus Samuelson (Red Roster) recommends Minetta Tavern and La Taza de Oro
Also fun to keep track of are all the new places which I plan to include in the WestView Picks, some new ones right now include.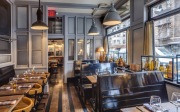 Cole's
118 Greenwich Ave
– Replacing the short lived
Lyon
which replaced the long lived
Café Bruxelles
with a higher end American menu, nicely outfitted.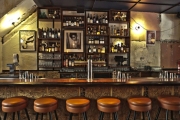 Swine
531 Hudson Street
 – Neighborhood restaurant and bar with more than just pork, offers high quality, well priced casual food.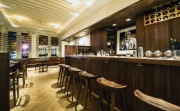 Chez Sardine
183 West 10th Street
– Newest in the Gabriel Stulman family, and self-described by the chef as unabashedly inauthentic izakaya, or casual Japanese bar food.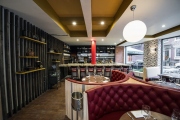 The Marrow
99 Bank Street
– Once home to the
Paris Commune
and now home to
Harold Dieterle
of Top Chef fame, celebrating his family heritage in food, German and Italian.
Now it will be our turn to come up with places that are our picks or favorites in the West Village that we want to patronize as well as endear to keep our community eating well and on the top of the Eating Game.
If you have suggestions please email me at David@CMBFFM.com, I will be sharing the suggestions with the readers of the WestView News and this blog.