The entire team at CMB has eagerly jumped onboard with the blog topic of personal recommendations after reading guest posts by Nicole and Jessie. Today, three more CMBers suggest their favorite products- the ones that they steer shoppers in the store towards when daily (inevitably) asked "what do you like?"- and offer recipes and ideas for using the product at home. It's personal shopping just for you, curated by an expert team that tries a lot of specialty food!
First up, a relative newcomer to CMB but native New Yorker, Nathaniel, who works in the store and can often be found demoing products in the corridor because of his charming disposition and upbeat attitude.  It's funny: he happened to pick a product that is brand new to the store this summer- just like himself!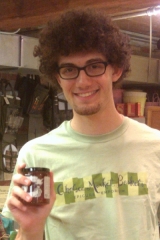 I used the 
Preservation Society Pepper Jelly ($7.95)
 as a spicy glaze on a chicken and peaches dish — perfect for summer! It added a great kick and put a new twist on a great recipe. Can also be cooked on the grill! Here's the recipe, which I adapted from the
New York Times recipe for Chicken Thighs with Peaches and Basil
:
Baked Chicken with Peaches and Pepper Jelly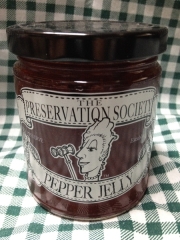 1 chicken cut in 8 pieces
2 tablespoons of olive oil
2 tablespoons of red wine vinegar
1 tablespoon of ground fresh ginger
1/4 cup of Preservation Society Pepper Jelly
2 minced garlic cloves
2 tablespoons of bourbon
1/2 teaspoon of salt
1/2 teapoon of pepper
2 tablespoons of chopped basil
3 peaches cut in 1/2″ slices (can be quite firm)
Toss all ingredients (except 1 teaspoon of basil) together. Place in a 9×13 greased baking dish. Roast at 350 degrees for 45 minutes or until done. Sprinkle remaining basil on top and serve with nice crusty bread or rice.
From Lisa comes a classic use of a Wild Thymes marinade- wildly tasty times ensue! I should mention that Lisa has worn many hats in the food and hospitality industries, including professional kitchens, and so her endorsement is a real sign of quality.  We're thrilled that this summer she came back to the CMB team as Assistant Store Manager after working in the store and in mailorder years ago!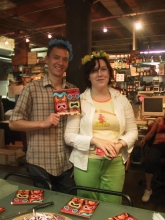 This one was pretty straightforward: I marinated a hanger steak in the
Wild Thymes Korean Ginger Scallion Marinade ($7.95)
 with a little extra pinch of chili overnight and then cooked it on the charcoal grill. I let it rest and then sliced it thinly, and served with Thai shallots and scallions.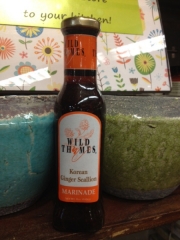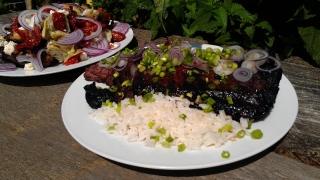 Hardly even a recipe, but it was a hit on my buffet!
And last, but by no means least, a recommendation from David, the owner of Chelsea Market Baskets, who last week wrote on the blog about his recent vacation to the Luberon Valley in France, but this week adds a second recipe from the trip that features a product normally associated with Asian cuisine more than French (talk about versatility!).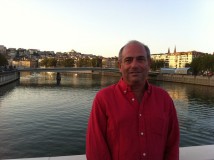 On vacation in Provence I cooked with
BLiS Fish Sauce ($28.00) 
and enjoyed it a number of ways with the local bounty. This product is actually Red Boat Fish Sauce that has been aged in bourbon barrels used previously for holding maple syrup, all making into a very sophisticated taste. An easy and fun recipe is a Capresse Salad that includes a tapenade with "added Umami!"
Quick Tapenade with Umani!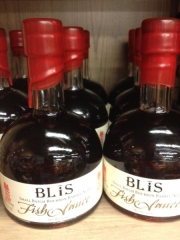 Coarsely chopped pitted green and black olives
Chopped flat leaf parsley and basil and other herbs
Olive Oil a few tablespoons, Salt and Peppers to taste
About a teaspoon or so of BLiS Fish Sauce
Above can be done in advance and to compose Salad as follows: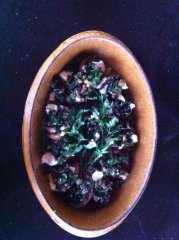 Summer Tomatoes, possibly Heirloom, I used a dark colored variety with a rich deep flavor
Buffalo Milk or other mozzarella, try for fresh!
Additional parsley and Basil coarse chopped
I like to have fun arranging the tomato, mozzarella and tapenade on top. Sprinkle with additional chopped herbs. It is best to make and let sit at room temperature for an hour before eating! Wal-la as the French say!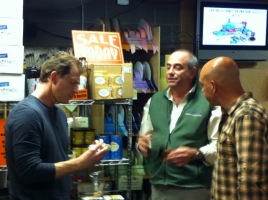 And voila, as we say, three more of our CMB staff picks for you. And, PS, asking for our favorite products, you're in good company- often our famous Food Network neighbors drop by and get recommendations. Recognize these guys? Well, now you know some of the suggestions we've offered them! Hope you're feeling inspired and hungry, and we'll see you soon at the store!