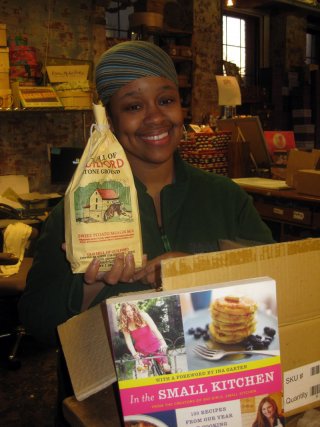 Our first staff guest blogger, Tiffany, was inspired by
In The Small Kitchen's
recipe for quick bread and muffins, and we agreed that a simple loaf of bread for breakfast was a great way to start the month because it is fast and healthy. While she was shopping at CMB for ingredients to make a tasty bread, she came across the mix for
Old Mill of Guilford's Sweet Potato Muffin Mix
, and scrapped the cookbook recipe for the wonderfully simple instructions included inside the bag of all natural ingredients. Here's more in her own words:
"Making the mix for the Sweet Potato muffins was exactly as printed on the recipe included in the mix. The slip of paper was a cute touch, almost as if I was uncovering grandma's secret recipe. It was super easy to get all the other ingredients: eggs, butter, and hot water. I started to mix the batter, and once the eggs were creamy and the buttermilk in the mix started to react, I realized I needed a larger bowl, so I swapped the mix over, and then I realized that the raisins were heavy so they had settled on the bottom of the mix! I was surprised because I thought it didn't have lots of raisins, but then they all poured out at the end, and they plumped up quickly with the hot water.  The whole house smelled like Thanksgiving or Sunday brunch- there was the natural sugar from the sweet potatoes and raisins and spiciness from the clove and nutmeg. True to the recipe, the muffins cooked in 15-18 minutes, and made a few more than 20 large muffins.  I was tempted to go ahead and make them a cupcake- you could easily frost them with cream cheese frosting for a not-too-sweet cupcake, but since we were eating them for breakfast, I chose to just serve them with butter from CMB.  It was definitely a hearty muffin- a healthy muffin- with lots of vibrant orange-brown Vitamin A and iron colors.  We ate most of them at the store meeting, but I had a few leftovers which were toasted in the oven as sweet, toasty bread that added fun new flavor to an otherwise ho-hum ham sandwich."
You can get Old Mill of Guilford's Sweet Potato Muffin Mix, Hushpuppy Mix, and White and Yellow Grits, and Whole Wheat Flour at Chelsea Market Baskets to make this recipe or be inspired to make your own!
A special thanks to Tiffany for sharing her experience- and check back soon for more staff guest posts.