During the 4th of July weekend, we had a CMB Cross-Country BBQ Sauce-Off.  John from NYC Hot Sauce helped us out with the sauce-off.  The contest consisted of the following sauces.
Scott's BBQ Sauce


Goldsboro, North Carolina
Scott's spicy, BBQ mop sauce is truly what it claims to be…an all purpose sauce! The thin texture and strong vinegar base make this a great compliment to barbeque chicken, seafood, and grilled vegetables.  If you like it thin and hot, Scott's is for you!  For an off the wall recommendation, try using it as a salad dressing for a grilled flank steak, Southwestern-style salad! $3.95
Rufus Teague Made Some Sauce— Touch O' Heat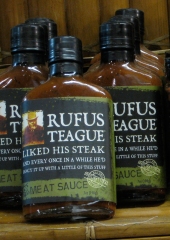 Kansas City, Missouri
Touch O' Heat describes this sauce perfectly.  If you like a touch of heat with your touch of sweet, then this is the sauce for you.  It's the perfect amount of tanginess to give you spice-lovers the kick you're looking for without overpowering the flavor of your meat.  The nice thick viscosity also makes this one a great BBQ dipping sauce! $5.95
Dinosaur Bar-B-Que— Sensuous Slathering


Upstate, New York
Just like the Harley riders that created it, this sauce is loud, smoky, spicy and a bit aggressive.  However, under that hard exterior is a tad bit of sweet making this a local must for your serious summer barbequing. Sensuously slather some of this delectable sauce on a rack today and make sure to leave some on the side for dipping. $7.50
The Salt Lick, Original Recipe


Austin, Texas
This is a great traditional, Texas-style BBQ sauce that nicely accentuates the smoky flavor of your barbeque chicken, brisket, pork, and of course, ribs.  The sweet yet spicy mustard-like aroma, coupled with its nice thick texture and subtle tastes of spicy mustard, garlic, onion and Worcestershire sauce will bring conjure up those childhood memories of family grill-outs and neighborhood block parties. $6.50
17th St BBQ Sauce, Original


Murphysboro, IL
Lots of flavors will hit your palate with this award-winning BBQ sauce.  A subtly sweet brown sugar undertone combines with the traditional flavors of ketchup, mustard, vinegar, and Worcestershire to delight your senses. This sauce's thinner texture helps it really seep into the grooves of the meat providing delicious to-the-bone flavor. It's no wonder that this sauce has coated the ribs that have earned "Best in the US" status. $6.95
American Spoon Cherry BBQ Sauce
Northern Michigan
This sauce is a great way to creatively experience the taste of Michigan cherries in New York!  The tart of the cherry in this grilling sauce balances out the sweet bringing this perfect Yin and Yang relationship to your summer dishes.  This sauce is a must, must, must for your pork tenderloin.  It also would be great on plump grilled shrimp or even on barbecue duck. $8.50
American Spoon Apple Cider Sauce


Northern Michigan
Like the Cherry BBQ Sauce, American Spoon's Apple Cider Sauce is another great way to experience the fruit of Michigan all the way over here on the East Coast.  This is definitely for those desiring a sweet sensation. The roasted onions give this marinade a unique and addicting flavor making this a sauce you can use on just about anything! $8.50
After an intense day of tasting, we have two winners in the CMB Cross-Country BBQ Sauce Off. The results were based on trying each sauce on pulled pork, that was slow cooked in orange juice, scoring them on a scale of 1 thur 3- the bbq sauce with the highest average won the round.

In the first round of tasting:
1st place: Michigan's American Spoon Cherry BBQ Grilling Sauce.
2nd place was Rufus Teague's Touch of Heat
3rd place was North Carolina's Scott's Barbecue.
In the second round:
1st place: New York's upstate contender, Dinosaur Bar-B-Que
2nd place: Texas' Salt Lick Original
3rd place: 17th Street BBQ Sauce from Murphysboro, IL
Apparently CMB tasters like their sauces sweet or smoky.