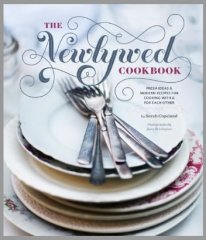 "There's a moment in a marriage, whether two days or two hundred and twenty-two days into it, where you're standing side by side in the morning barefoot on the cool kitchen floor. Everything is quiet but the hum of him making you coffee just the way you like it, with all that frothy milk and sugar.  You're stirring together his favorite pancakes, sprinkling a few blueberries in the batter and then it hits you: these simple moments are somehow the best in life.
This could happen over a fork fight for the last peach in the jar, or playing rock paper scissors for whose turn it is to do dishes.  It can happen, and will happen over and over again if you let it. That is the essence of this book." And so begins the newest addition to our Chelsea Market Baskets library, The Newlywed Cookbook by Sarah Copeland (click here for a quick visual into Sarah's life as a newlywed in The Newlywed Cookbook video).
Through anecdotes and recipes of her marriage, Sarah's inspiring writing makes The Newlywed Cookbook indispensable to newlyweds, oldlyweds, and almost-weds!  After working for the Food Network, Sarah has the know-how to keep your pantry stocked for any occasion- whether you're hosting a party, brunching at home on a lazy weekend, or making a quick weeknight dinner, and also offers advice on getting the most from your local market in any season. 130 recipes and pages of gorgeous photography make this a wonderful book to peruse or cook through cover-to-cover!
CMB is fortunate to have known Sarah when she was working in the building, and we are thrilled to be hosting a book signing and recipe tasting party in the store this Thursday, Feb 9th from 6:30 to 8:30pm.  We will have plenty of copies of The Newlywed Cookbook on hand for you to have personalized- this is the easiest wedding or shower gift you have ever given!