"The Twelve Days of Christmas" is an English Christmas carol that recalls a series of lyrically gifts given on each of the Twelve Days of Christmas, we have translated this into our own favorite fine foods and gifts that make the holiday season a truly tasteful time.
On the first day of Christmas – Cucina "Risotto Bag" gift pack, available in three fragrances and less than $20!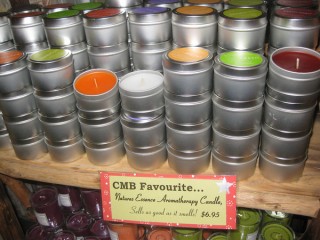 On the second day of Christmas – Aromatherapy Candles the can inspire, stimulate and relax with completely natural fragrance

s.
On the third day of Christmas – A New York City dish towels that includes some hand stitching and highlights New York Cities greatest attractions!
On the forth day of Christmas – Take time for tea with Tea Forte's Dolce Vita sweet pyramid tea bags, beautifully packaged and creating a true tea experience.
On the fifth day of Christmas – our friends from Seattle created caramels with a touch of smoked or fleur de sel, salt, now everybody is doing it but they did first and better! Fran's Chocolates is an original!
On the Sixth day of Christmas – our friend from Southhampton, New York – Kathleen with her legendary crispy cookie recipe now available with dark chocolate, walnuts, wholewheat floor and glutton free – all from Tate's Bake Shop.
On the seventh day of Christmas – Anne Taintor, whose graphics and phrases have humored us for a decade now has a brand new recipe book to be even happier, a cocktail happy hour book.
On the eighth day of Christmas – from war time England in the early forties comes the phrase, Keep Calm and Carry On, which has many, many applications in our times, and is the perfect complement to a good cup of tea.
On the ninth day of Christmas – make time for a beer and although you will need a little time to brew it but it sure tastes good home-made – kits from Brooklyn Brew Shop!
On the tenth day of Christmas – While you are waiting for the beer to brew, our favorite NYC snack from the East Village Red Head Restaurant is Bacon Peanut Brittle, spicy, slightly sweet and smokey – you can not stop.
On the eleventh day of Christmas – Imported from the Aisle of anglesey in northern Wales,  Halon Mon Salt, in original, smoked and with celery, with its clear sea flavor and delicate texture, it is the perfect finishing salt.
On the twelfth day of Christmas – Butter, sugar and floor with some tweaking, makes for the perfect bit of crunchy sweetness – Shortbread House of Edinburgh is why Scotland is famous for shortbread!
Now it is time to rest and think about next year!
We all at CMB wish you and your family a happy, healthy and of course tasty holiday and New Year.