Les Canelés de Céline online pastry shop is coming to Chelsea Market Baskets for a limited time. Formerly, you could only purchase these sweets online for delivery or pick-up. However, for two days Sunday, May 1st between 1-6pm and Saturday, May 7th 11am-2pm, these treats will make there way to our store.
Céline Legros, a French business lawyer-turned- New York Baker, has introduced a line of French style mini pastries.  Using an old family recipe as her foundation, Céline adds her own unique twist.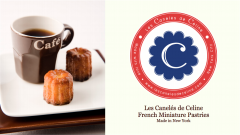 Originally, from South West of France Canelés , these delicious treats are made of crepe batter and slowly cooked at very high temperatures, which causes the outsides to become caramelized and the inside to stay deliciously moist.  Flavors include vanilla, orange, lemon, lime and rum.
Finaciers are small mini French almond teacakes, similar to a sponge cake, usually contains some type of almonds, if it's crushed, sliced or flavoring. These small cakes are light, moist and normally molded in a rectangle pan. Many say that the cakes are popular because they look like little bricks of gold. Céline has introduced her Financiers in 4 different flavors; plain, chocolate chip, almond and raspberry.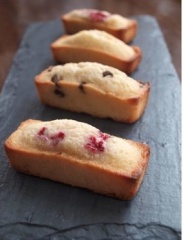 Don't forget about Mother's Day, this would be such a treat for that special woman in your life.