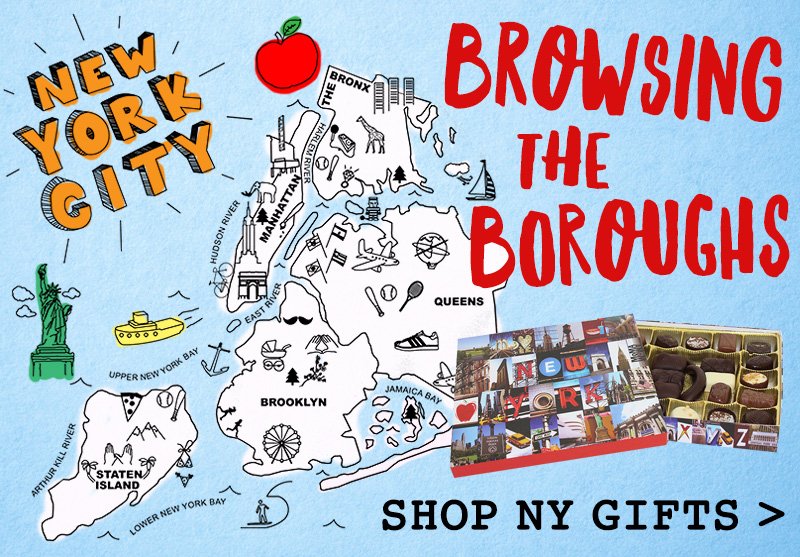 New York City has a rich culinary history and a thriving sector of young producers in all 5+ boroughs: Manhattan, Queens, Brooklyn, the Bronx and Staten Island and in this case Jersey City. We pride ourselves in offering native noshes in our store and in the gifts that we offer online. Below are some of the notable food producers that you may be surprised to know are based in the boroughs.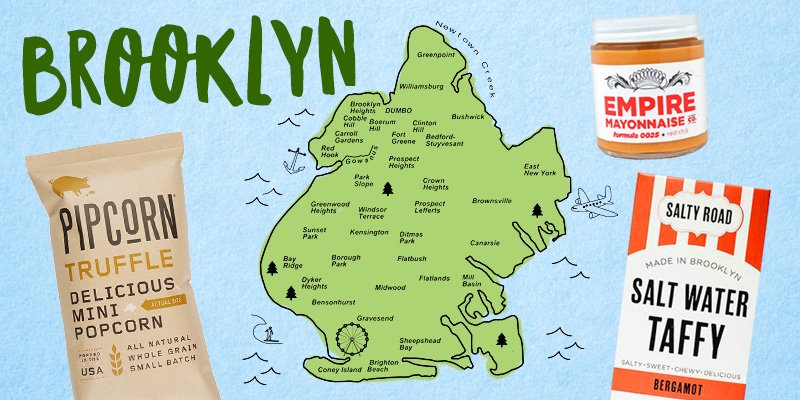 Famous for its ethnic diversity, the Cyclone and its standing as NYC's coolest and most creative borough, it isn't surprising that we are rich in offerings from Brooklyn including:
Nunu, Pipcorn, Mast Brothers, Brooklyn Roasters, Fatty Sundays, Tumbador, Salty Road, Toby's Estate Coffee, Maptote, Salt of the Earth Bakery, Bija Bhar, Brooklyn Delhi, Butter & Scotch, Cracked Candy, Eat Chic Chocolates, Empire Mayo, The Jam Stand, Mike's Hot Honey, Queen Majesty, The Truffleist, Brooklyn Shpickles, Grady's Cold Brew and many more.
We are always scouting for new foods created in the borough a subway ride east of our store.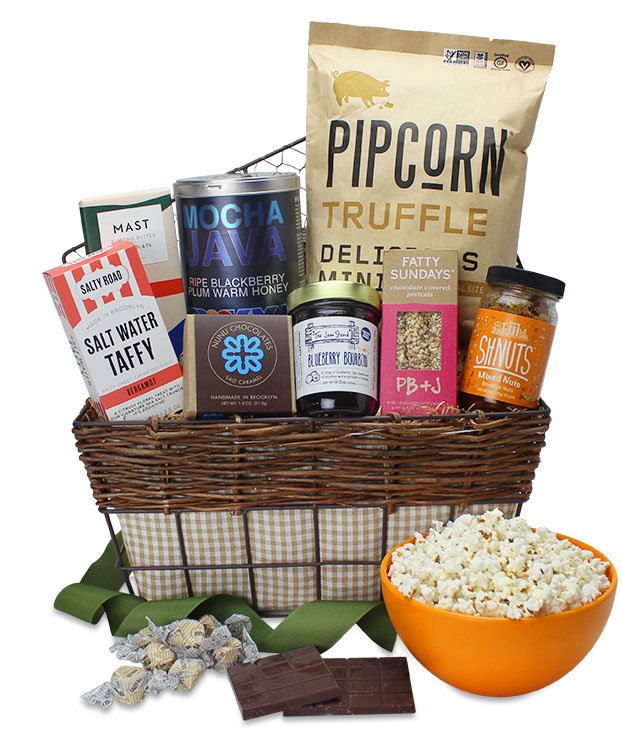 For the best of Brooklyn, we've compiled a delicious lot of the borough's famed artisanal foods right here in one gorgeous basket. Best of Brooklyn, $105
Browse our collection of gifts with roots in Brooklyn.
---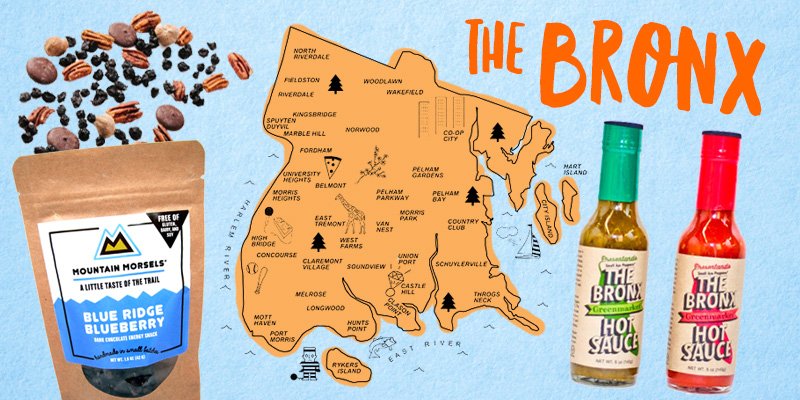 In addition to being the historical home to the biggest enclaves of Irish and Italian immigrants, the Bronx today is eager to be the new Brooklyn and is developing affordable work spaces and incubators for the current generation of entrepreneurial cooks, bakers, and brewers.
Bronx Hot Sauce and Mountain Morsels are proud to call the Bronx their home.
---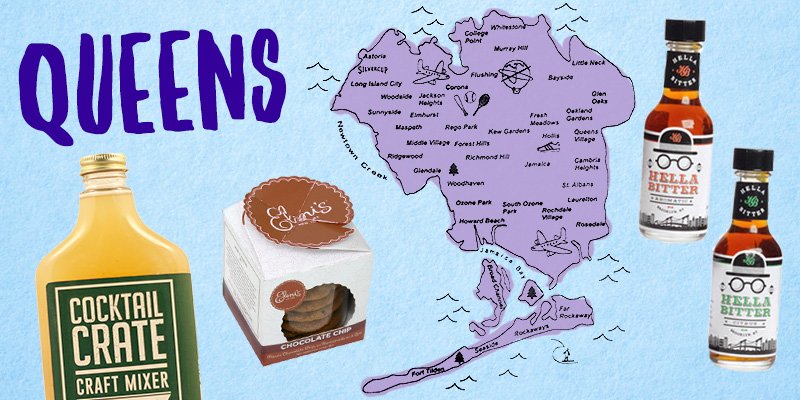 The largest borough and the most diverse – you can hear upwards of 150 languages – it is easy to eat your way through the world with a swipe of a Metrocard. Home to a world-class museum, the U.S. Open and the beaches of the Rockaways, Queens encourages a melding of tastes and cultures. The Long Island City neighborhood is the hub of the borough's newest culinary visionaries.
Producers including Cocktail Crate, Hella Bitters, and Eleni's Cookies are just a few of our friends manufacturing in Queens.
---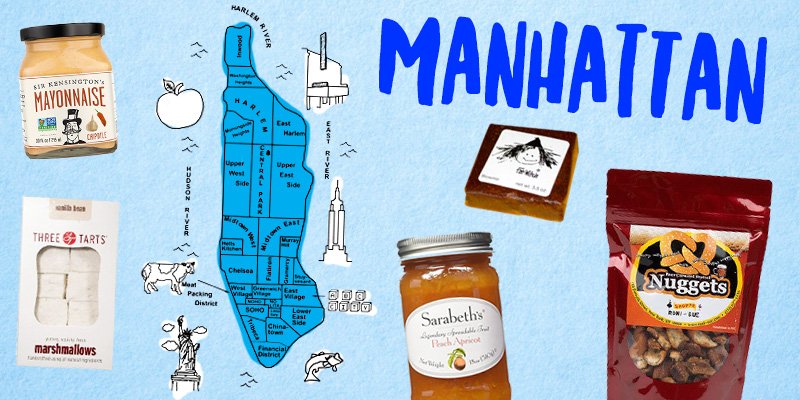 It may seem as though things are no longer being made in Manhattan, but industrious chefs, chocolatiers, confectioners, and bakers are making everything from scratch right here. One hundred years ago, the Chelsea Market was a Nabisco factory. Today, Sarabeth's and Amy's Bread keep bakers' hours and turn out bread and baked goods for their retail stores here and throughout the city. The Market's other specialty purveyors are all testaments to the chutzpah and hard work it takes to thrive in New York City.
A few of our favorites include: MarieBelle, Three Tarts, Fat Witch Bakery,Amy's Bread, Sarabeth's Bakery, Roni Sue, Hu Kitchen, Sir Kensington's and more.
---

A lot of people claim that you'll find New York's best slice of pizza, the best old-school German restaurant and best sandwich on Staten Island all of which can be reached by the free Staten Island Ferry. However, there haven't been many treats that have made it across the New York Harbor and into our store and baskets. We know they are out there!
If you know producers in Staten Island let us know and help us complete our tour.
---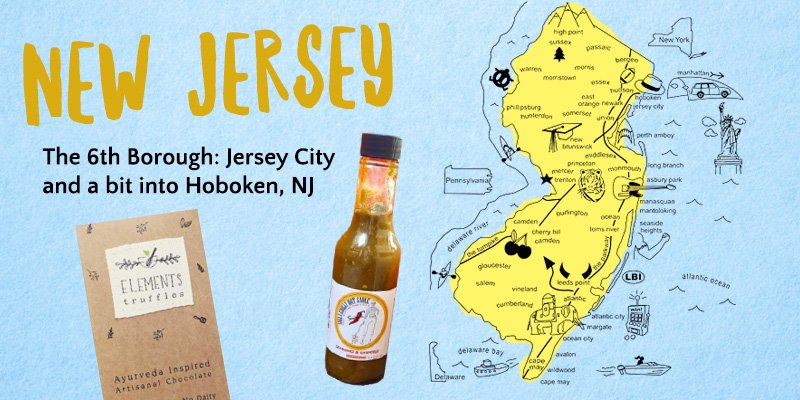 We're willing to cross the Hudson to bring to you the products being made in Jersey City, the honorary sixth borough. In addition to being the birthplace of Martha Stewart and Frank Sinatra, Jersey City has embraced its industrial grittiness and proximity to the city to become a creative force.
Alak Vasa, of Elements Truffles and SufiaHossain of Silly Chilly Hot Sauce, both followed their passion and built their businesses in Jersey City.
---
That's a sampling of what's NYC boroughs offer foodwise. All of these products are available in our store, in our NYC gift baskets and some are available online. Don't have time to browse all the boroughs?
Visit our store to see & taste these NYC products. We will be focusing on these offerings & scheduling demos this month.
Don't have time to visit the store? You can get more information from our online producer profiles. And you can always get updates on our various offerings through our Facebook page & Twitter feed.
post graphics by Amy Ashford www.amy-ashford.com