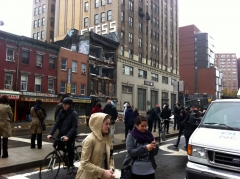 I did bicycle to work and back today from the upper west side. There is traffic on the streets of Manhattan with quite a few emergency vehicles. I did take the bicycle path down the side of Hudson river and there was some debris about but tourists were out and many people were biking and walking. South of 30th Street the city changes a bit, with no traffic lights and less taxis about that are available.
At our store and office, based on a flashlight inspection, everything looks fine, upstairs and downstairs. Some water did get into the 10th ave side of the building but did not make it up the ramp in the basement, to the best that I know. Basically the Hudson River came up to Chelsea Market's doorstep but hardly entered the building. The Eastern and Southern sides of Manhattan were not so lucky.
With no electricity south of 30th street or so, and my ATT cellphone not working well at all, downtown is much more affected. I did take the photo below of the building that has some satellite trucks around it and a CNN truck that offered a place for people to recharge their cell phones. There were many people congregated around 8th Ave and 15th Street which is a block from the Chelsea Market building.
I am not sure about Wednesday? Chelsea Market may not have electricity, and without electricity the building will not open, so we will have to remain closed. So much for Halloween this year. We do feel for the children of Manhattan who may have to sit this one out.