De-mystifying the Fancy Food Show is not easy; it is from a spectator's point of view an ultimate tasting extravaganza but making sense of it and understanding how it works is another thing. As the owner of Chelsea Market Baskets, I decided this year we would exhibit in a booth, showing our wares which include European "inspired specialty foods" and packaging or baskets mainly from China, that we wholesale. We also shop the show for new lines or new items for our store and gift assortment which sometimes involve figuring out the distribution channels of the food business.
and
a mega distributor that might do a few billion dollars of business or more and incorporate thousands of products.  Also included are "country pavilions" which may be generously state financed and are looking for a smaller or a larger importer to bring their product to the United States, sometimes they do not know what they are looking for and get excited when any interest is shown but have the challenge of getting their products here.
Many people around the world think that America is the golden opportunity as far as exports go, others think of it as an expensive graveyard, in that it takes a good bit of money to penetrate the market here and often products, if not handled well, can "die on the vine." The show is put on by a New York based non-profit organization called the National Association for Specialty Food (NASFT) that works on a fairly large budget.  The American market involves more partners or costs in distribution that can include a good bit of in-land freight, warehousing along with brokers selling the product, adding to the cost and retail price and challenging its success. People that "shop" at the show come in many forms, smaller specialty stores like ourselves to big stores or store groups, like Whole Foods. Distributors, brokers, trade and press people all educating themselves to what is out there but hoping to find that next hot item that helps chart the direction of specialty foods.
Having done the Fancy Food Show for almost 25 years, walking the show is about zeroing in on some products to highlight and determine trends in specialty food. Figuring it out can be overwhelming and is hard to make simple.  Our spotlights from this year which will be in our store soon include:
BBQ – a Continuing Trend and "Outdoor" Foods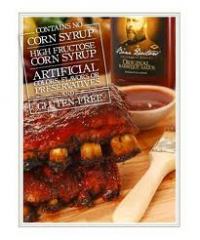 Bone Doctor BBQ Sauces – Literally a few orthopedic surgeon in Virginia who love to BBQ and worked out a Sauce and Rub line with good tastes, have clever packaging, passion and probably less cash flow problems! We're carrying the Original and Brazen Heat BBQ's and the Fire and Brimstone Hot Sauce.
N.Y.J.O. New York Joe's Onions– a retired carpenter form the Board of Education in New York City, packaging his own carefully researched recipe for onions to top hot dogs and grilled food.
Wild Thymes Mad Moroccan (Morocco as an ethnic cuisine is popular now) BBQ sauce and Thai Chili Roasted Garlic dipping sauce – a well-respected brand that is self-made and not co-packed from upstate New York.
KimKim Korean Hot Sauce
– a new company with a flavor profile that is new to the American palate and is trending well (
they won a Sofi at the show
).
Lillie's Q BBQ Sauce
– Distributed by a Chicago company named JDY Specialty, new to the market but from a well-respected Chicago, grandmother inspired southern and BBQ restaurant.  Also from this distributor, we are looking forward to BLIS Michigan-based bourbon Barrel Aged Maple Syrup, Sherry Wine vinegar and Thai fish sauce. Also coming from this distributor is
The Scrumptious Pantry
, Midwestern Farmer's market produce put up the old fashion way with heirloom vegetables.
Chocolate, more Chocolate and Salt
ki Xocolatl
, bars from Columbia –
Chocolate Santander
, and more bars from Seattle-
Theo's
Chai flavor is going to be a great addition to the store.
Seneca Salt Company
in the New York Finger Lakes has a classic lake salt option, as well as an Asian-fusion Matcha Green Tea Salt.  And two Philadelphia chefs showing for the first time at the Fancy Food Show have created –
Chef Salt
, multi-layered salts which include one flavored with Bacon and BBQ, and the original 7 Salt version that incorporates grains from all over the world (and is a beautiful blue-grey color).
Basically that is the food show both from a "selling" and "buying" perspective. We are not a big company nor are we a small company in terms of the food show, we may have a bit more perspective on what the food business is about and we try and focus on timely, quality foods that have passion and tell a personal story. This is an introduction to what we are about and what you are about to taste, hopefully.